After a long delay… let's get back to our Washington State Summer vacation!
My last installment had us touring around the Olympic Peninsula. Because I did not think to book our ferry tickets far enough in advance, we ended up seeing a little more of the eastern side of the peninsula than I intended. My original plan had been to take the ferry from Port Townsend, but by the time we checked for tickets that ferry was sold out for the day we wanted to travel. Instead, we took the larger and more frequent ferry from Kingston.
It is a 2.5 hour drive from Forks to the Kingston ferry terminal, and another 2 hour drive from the Edmonds terminal at which the ferry arrives to our lodging near Sedro-Wooley, so we decided to break up the day a bit with some sightseeing. Our first stop would be a lavender farm near Sequim. There are several farms to choose from. We chose the Washington Lavender Farm because my husband liked the look of the main building (which turned out to be an inn that we could not actually go into).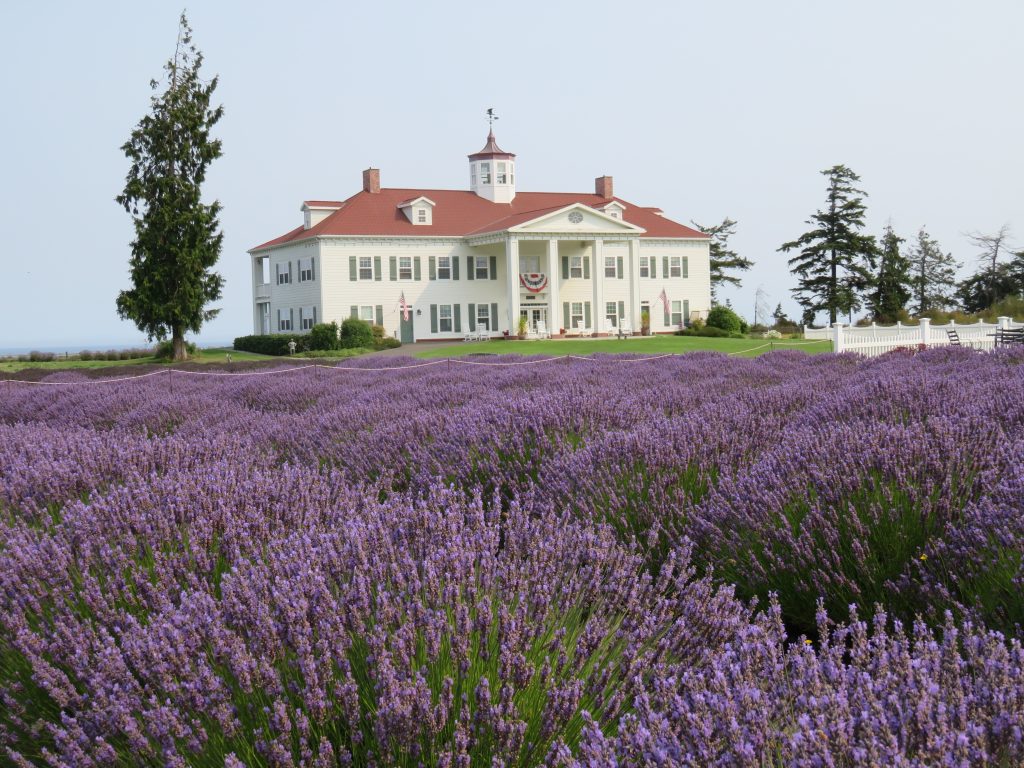 As luck would have it, we pulled up at the farm just as they were starting the festivities for a Colonial Festival. There was a British camp and an American camp, a cannon, a local playing George Washington, and various other people who had set up demonstrations of colonial era technology and activities in various tents.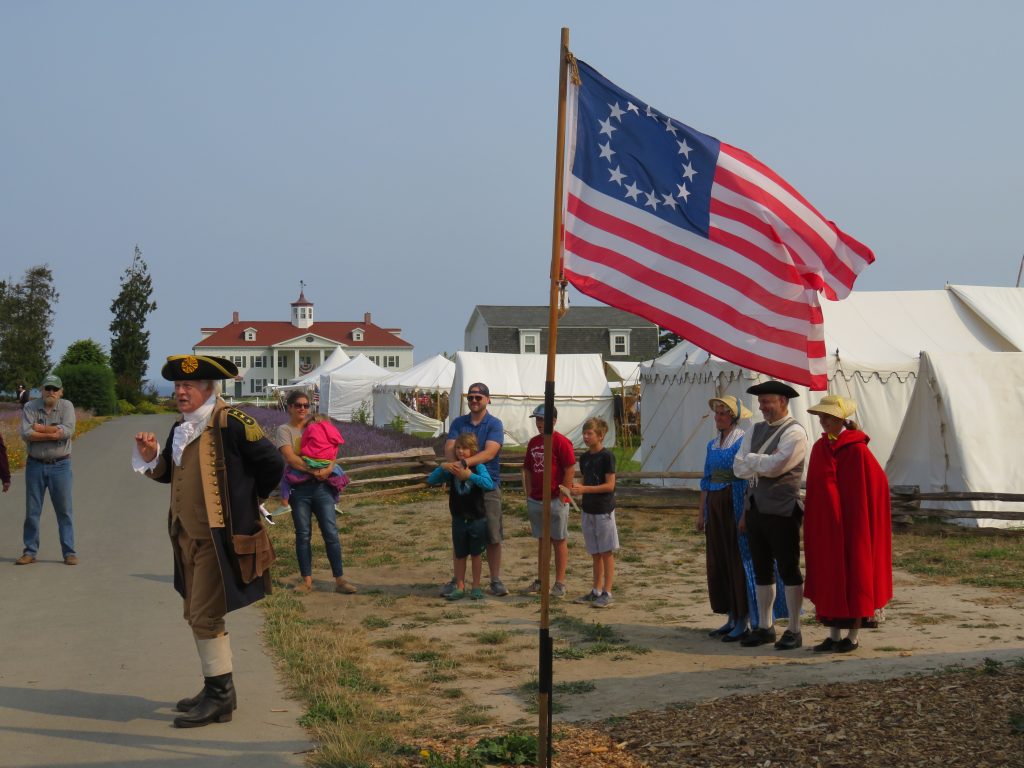 We spent a little bit of time in the textiles tent on the American side and learned about how wool and flax were spun into yarn and how homespun linen was made on a loom. We also bought a few lavender things at the shop, and then left to go find lunch.
I had picked out a Mexican restaurant in Sequim because it had food the kids would eat and a nice looking patio. We had a very good lunch at the Baja Cantina. I was unfortunately unable to really sample the margaritas because I was due to drive after lunch, but my husband seemed to enjoy his. The drive to the ferry was pretty and uneventful, as was the ferry crossing. The drive from the ferry crossing to our AirBnB was a little less scenic, at least at first, since we were driving through suburbia, but the house that greeted us in Clear Lake was fantastic. My kids call it "the castle house" and it was our unanimous choice as best lodging of the trip.
We had three full days to visit the area, so we took it easy that first night. We went to get groceries in nearby Sedro-Woolley and also picked up some take-and-bake pizzas so that we could have a laid back dinner on the lovely patio at the house.
We kept the laid back vibe going the next day. Our 11 year old wasn't so in to the hiking we were doing in the National Parks. We asked her what she wanted to do, and she wanted a day of shopping and ice cream. We chose La Conner for our outing.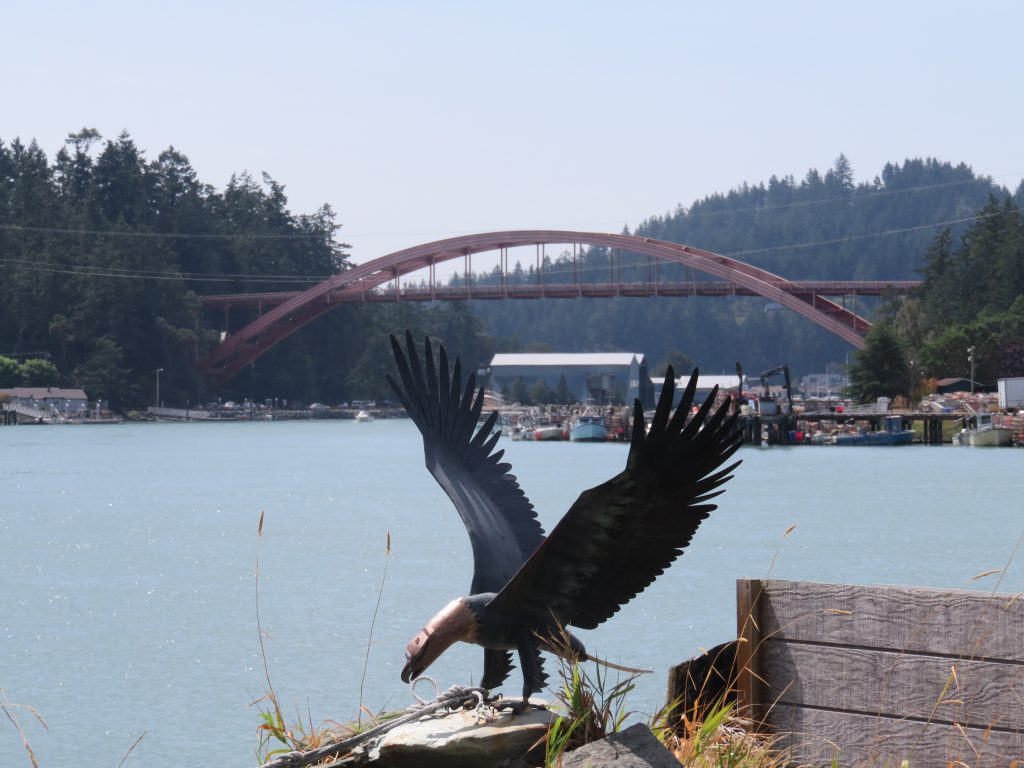 We headed over late morning and browsed some shops, had a nice lunch on the outdoor patio at The Waterfront Cafe, browsed some more shops, and then got ice cream at the La Conner Ice Cream Tower. This was a bit of a disappointment for the daughter who requested it since by the time we stopped in they were out of chocolate, but she made do with a cotton candy flavor, and the Lemon Meringue Pie and Marionberry Sorbet flavors the rest of us chose were delicious and servings were huge. After ice cream, we went back to the house and relaxed for the rest of the afternoon. It was very nice.
On our second day in the area, we decided to take a whale watching cruise out of Anacortes. The cruise didn't depart until 3:30 p.m., so we drove over and checked out Oak Harbor and Deception Pass first. Both were quite scenic. We had lunch at the Rockfish Grill in Anacortes. The food and beer was good, and my daughter was impressed when she ordered a brownie for dessert and it filled the entire plate. After our leisurely lunch, we boarded our boat for the cruise. We really got lucky with the whale watching cruise. The boat was less than half full so it was easy to get a good view, and boy did we get some great views! We cruised south into the Salish Sea and caught up with two family groups who had just finished hunting. They were in the mood to play – our first sight of the orcas was when one of the younger members of the group decided to breach right in front of the ship. We were standing at the railing and had a spectacular view.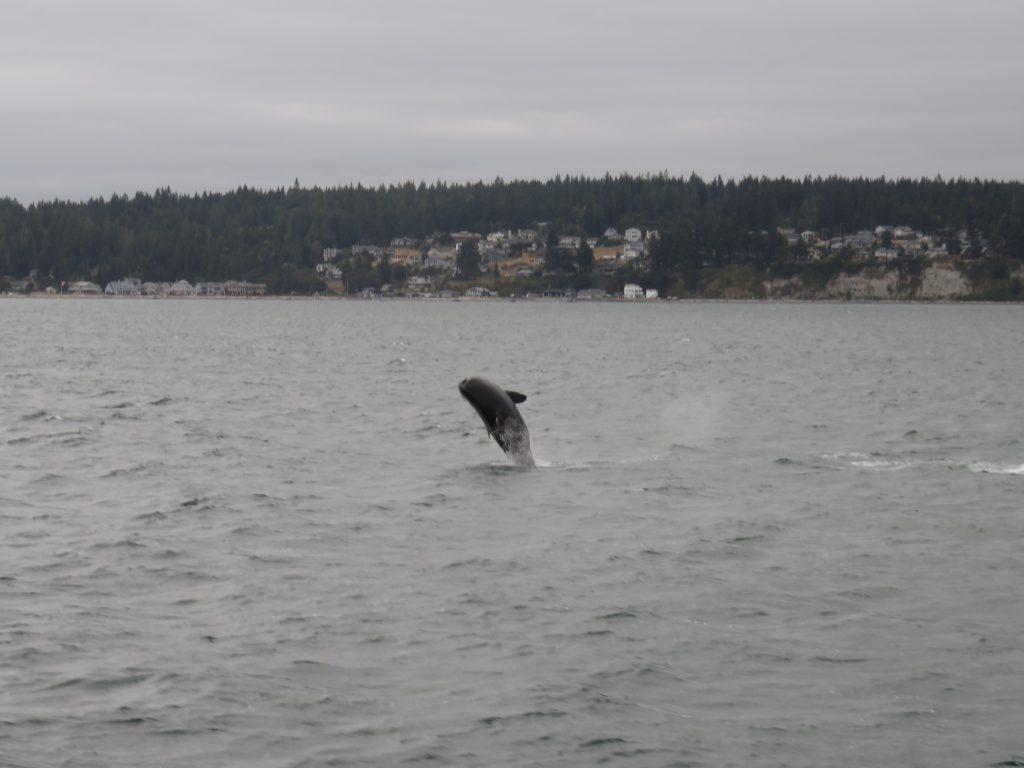 We had many close sightings with this group of whales. The naturalist on board said that the younger whales were probably curious about us and kept coming to check us out. It was a fantastic experience.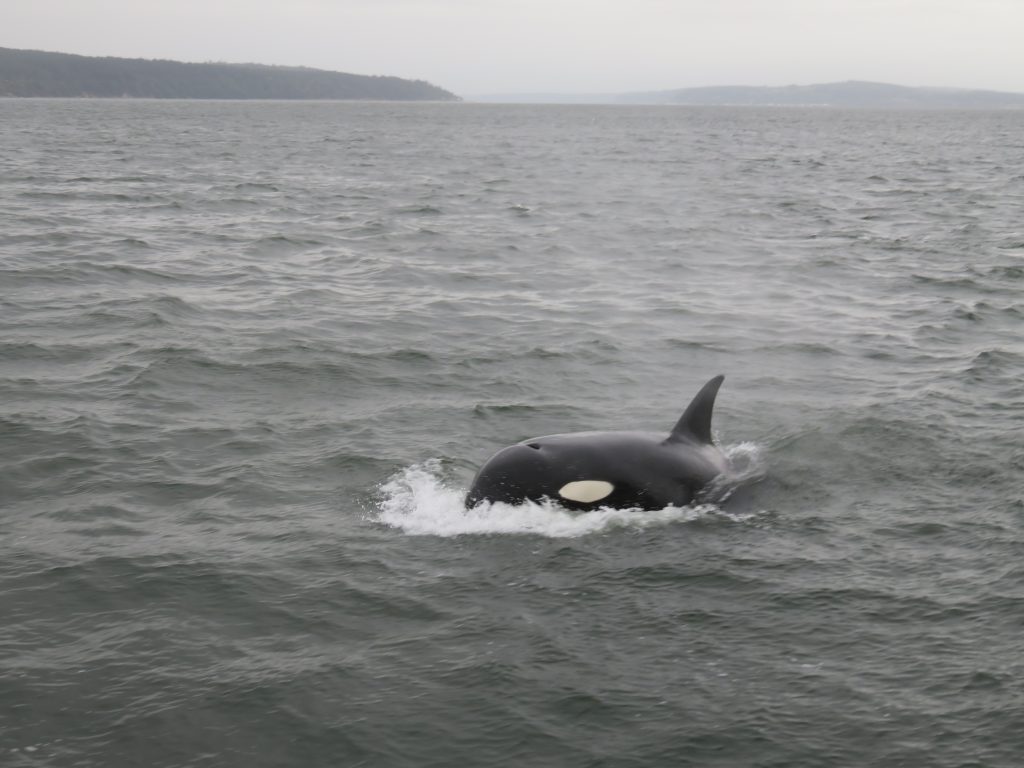 On our final full day in the area, we finally headed to North Cascades National Park, which was the attraction that drew us to the area in the first place. I had picked North Cascades as a destination in part based on reading that it is one of the least crowded National Parks, and it lived up to that billing. It is also a beautiful park. You drive in along a lovely river, and there are many impressive views.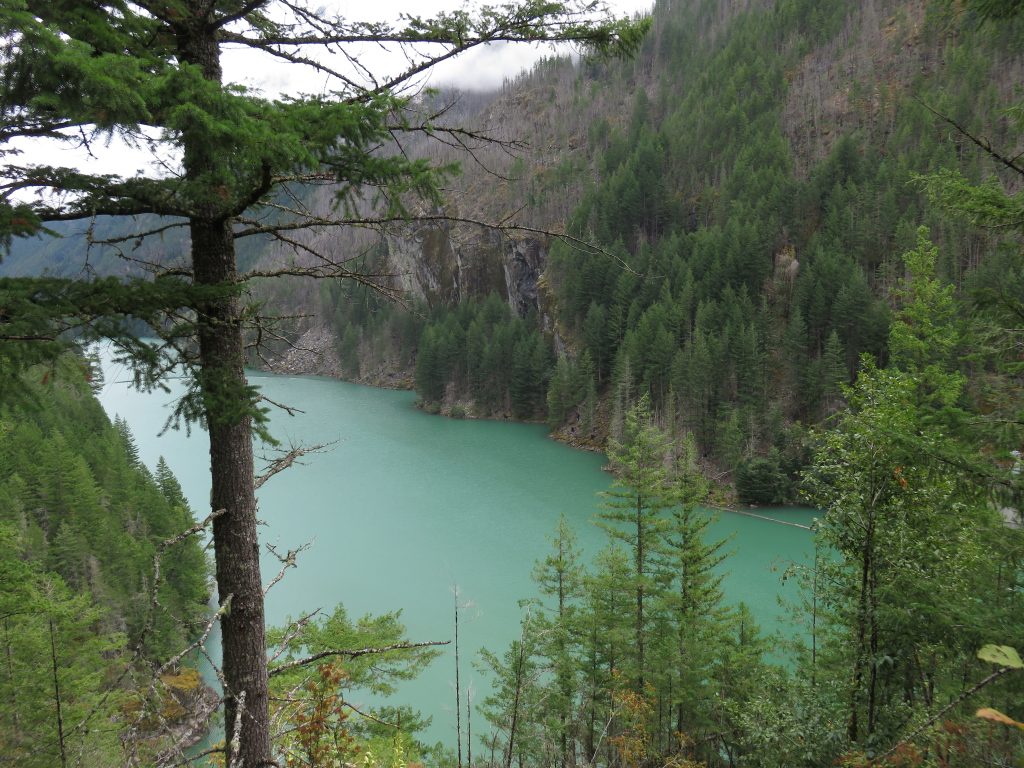 My favorite spot was the Diablo Lake viewpoint.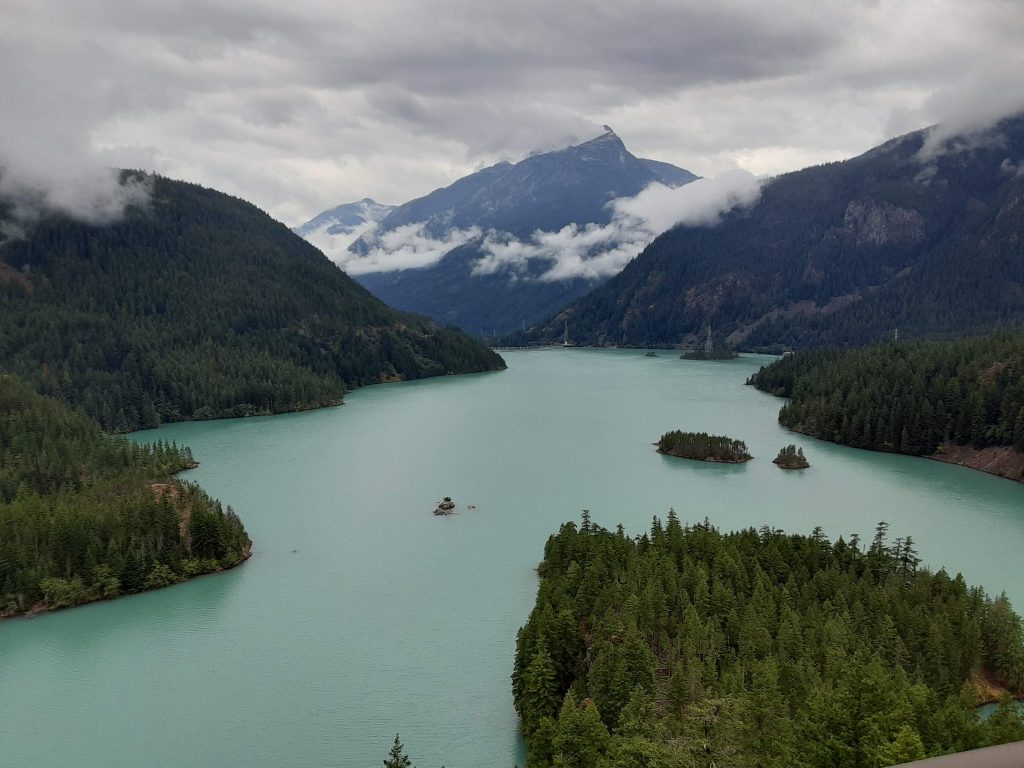 I think to appreciate it fully you would need to hike more than we did, but even with just short outings I was impressed.
We drove through to the east without many stops since we got a late start. We did stop at Washington Pass, which had a beautiful view but was perhaps a tactical error on our part. It was cold and windy and pushed our 11 year old over the edge into refusing any further substantial hikes for the day. We ate lunch in Winthrop at the Methow Valley Ciderhouse. Lunch was good and we took some cider back to our AirBnB for later. We also poked around the general store in Mazama, which had been recommended to us by the person at the information center/shop on our way into the park (the actual park vistors center was closed). The store was a pretty cool and not at all what you think of when you think "country general store" – there were gourmet snacks, fancy wine, and nice souvenirs and gifts.
We decided it was too cold and rainy for the Rainy Lake hike we'd planned and instead drove back through the park and did the short Ladder Falls and Trail of Cedars hikes in Newhalem.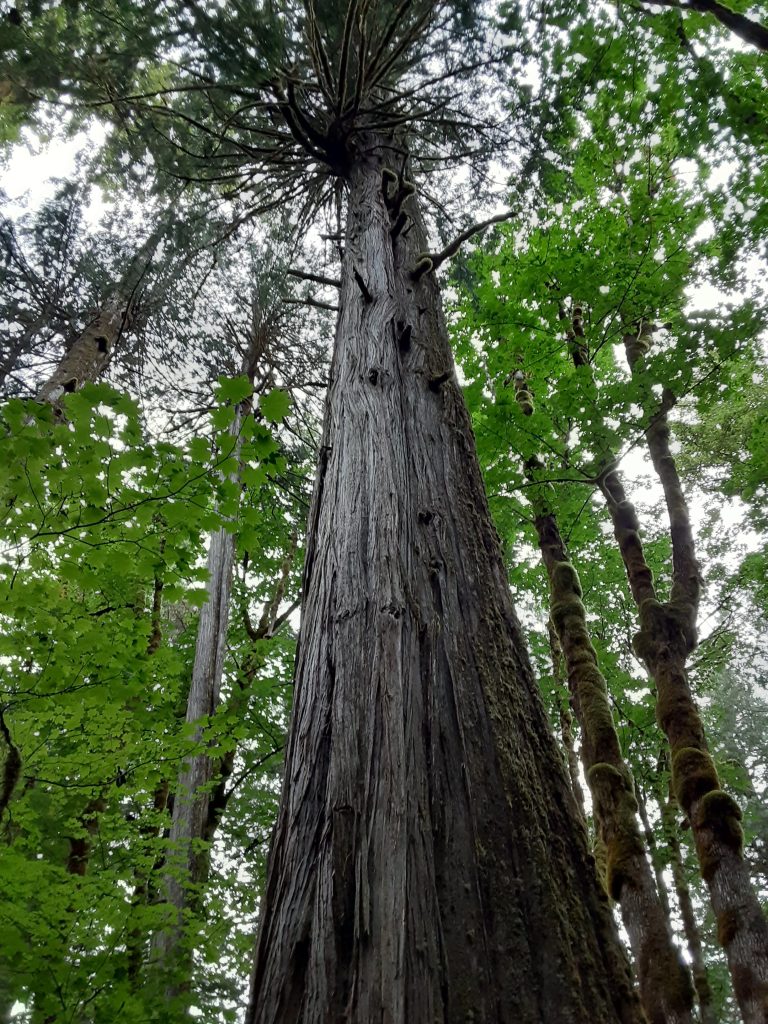 We left hoping to come back some time without any reluctant hikers, to explore the park more thoroughly.