Seattle doesn't have any National Parks, but it was our final stop on our summer vacation and so it deserves a write-up.
We took a leisurely drive from our AirBnB near Sedro-Woolley to Seattle, sticking mostly to the back roads and stopping for a snack in Snohomish. Once my husband heard about pie shakes at Snohomish Pie Co, he had to try them. I stuck to a slice of pie and honestly, I think I came out better. The pie shake tasted good but I just found it a bit weird. Snohomish has a nice main street shopping area, so we strolled that a bit after our snack before getting back in the car and driving to Seattle.
Even with the stop in Snohomish, we arrived in Seattle too early to check in to our AirBnB, so we stopped in at Woodland Park to visit the Rose Garden. It was very pretty and nice to stroll around.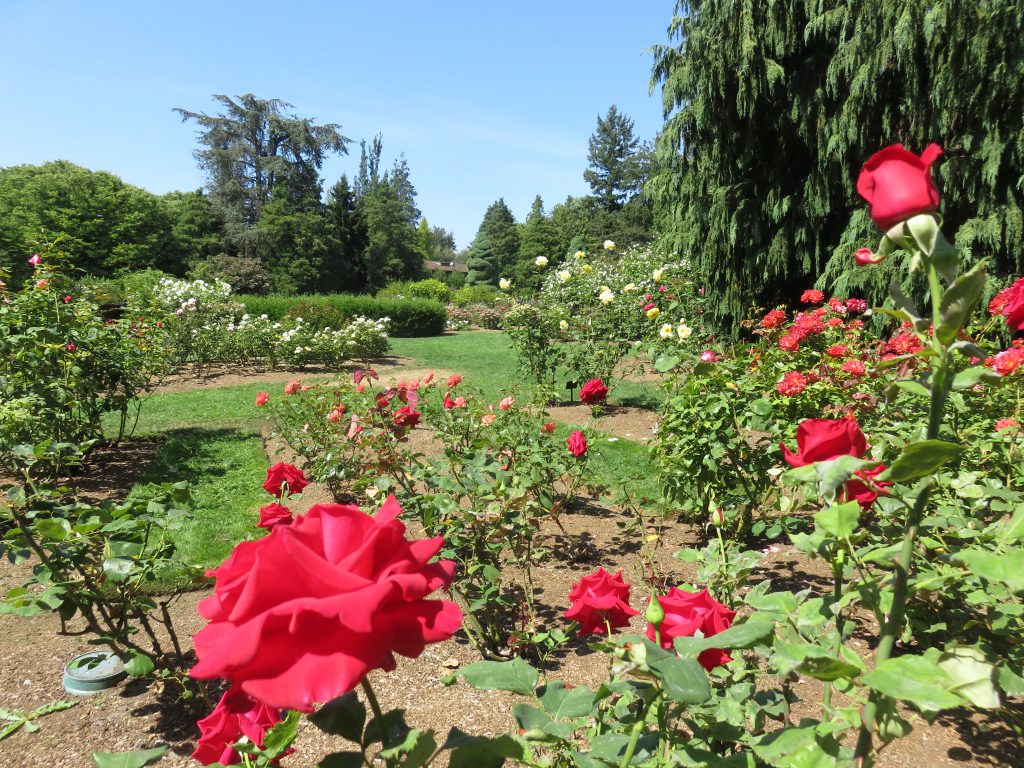 Our plan for lunch in the area was squashed by the lack of a patio at the place my husband had picked out. So we ended up eating more snacks bought at a 7-11 and then driving to Green Lake to walk by the lake. I was grumpy about the lack of lunch (I get hangry…) but my mood improved drastically when we finally made it to our AirBnB. We'd booked a place in the Mt. Baker neighborhood and it was wonderful. I particularly liked the cozy back patio with lots of sun and pretty flowers. I enjoyed sitting out there to write and read.
Dinner that night was one of our best meals of the trip, not just for the food (which was good) but for the atmosphere and the vacation vibe. It was at a neighborhood pizza place called Mioposto Pizza, and you can read about it in my awards show post about the vacation because 3 out of 4 of us chose it as our favorite meal. It is right across the street from a park. The kids played on the zipline at the park while we waited for our table and although the staff was very apologetic for the wait, none of us minded it.
The next day, we did the "typical tourist" things – we took the light rail into downtown and headed towards Pike's Place market. We walked past the first Starbucks but it had a huge line and none of us were big enough Starbucks fans to justify waiting in it. We went up in the Seattle Great Wheel and admired the view.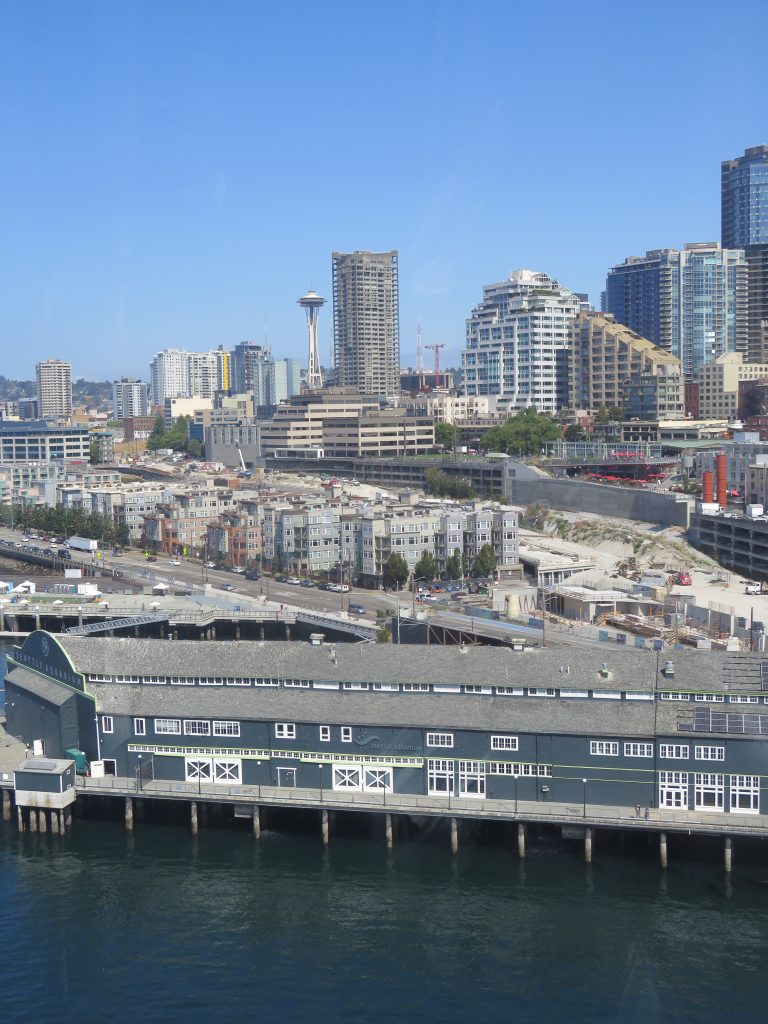 We had lunch at Old Stove Brewing in Pikes Place Market, which was really nice. The food and beer were good, and their outdoor patio was a nice spot to hang out for a bit. After lunch, we strolled through the market until the crowds got too much for us – we were still a bit crowd-shy due to the pandemic. We stayed long enough for the kids each to find a souvenir, though!
After the market, we headed towards Pioneer Square, stopping in a few small shops along the way. We visited the Waterfall Garden Park and then headed "home" to rest a bit before dinner. Dinner was in Beacon Hill at Perihelion Brewery. It was another good meal. We tried to pay off our younger daughter for the fact that the walk to dinner was almost entirely uphill by buying ice cream at Milk Drunk, which was right next door. However, her chocolate ice cream turned out to be malted and she didn't like that so I ended up eating it. Luckily for us, we decided to stop in at Jefferson Park on our walk home, and there was an ice cream truck there that sold something more to her liking. Jefferson Park also had a zipline and a nice view. So everyone ended up happy!
My priority thing to see in Seattle was the Chihuly Garden and Glass. That was our first stop on our second full day in Seattle, and it did not disappoint. I am not a good enough writer to do justice to the art in words, so I'll just say that if you get a chance to see a Chihuly exhibit, take it.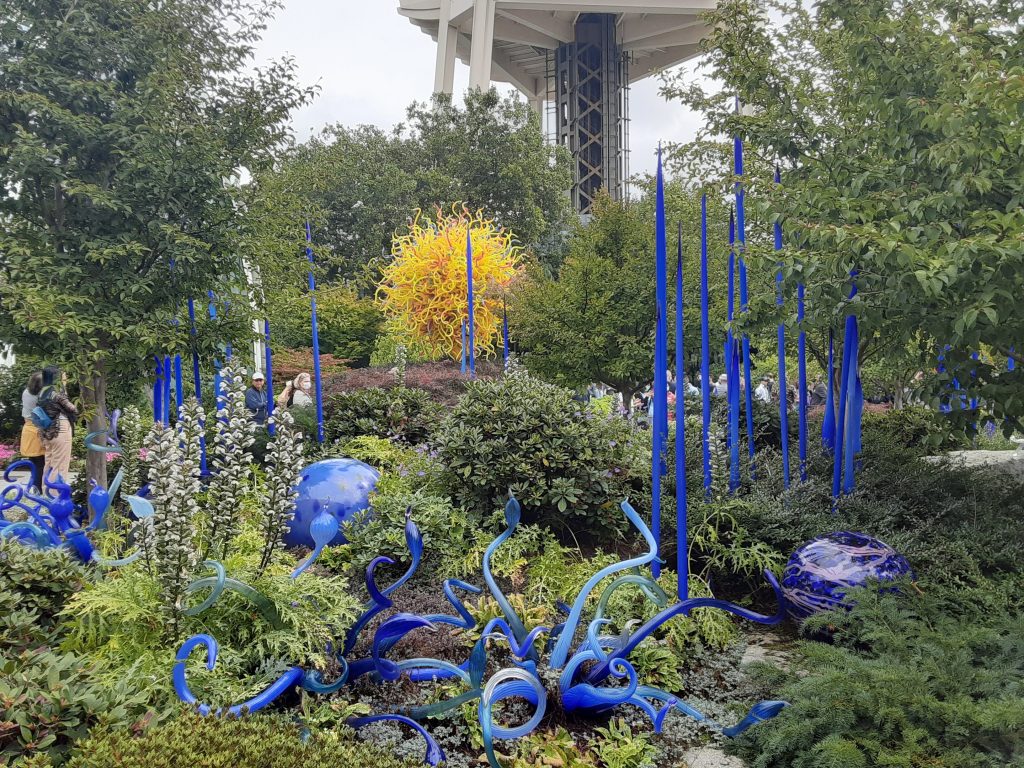 Our second stop was the Olympic Sculpture Park. I remembered it fondly from the our visit to Seattle when our older daughter was a toddler. It was even better this time! We enjoyed looking at the sculpture and also at the mini golf holes that had been set up for a charity event. Various groups made custom holes, all of which looked interesting. Sadly, the event was sold out so we didn't get to play the course.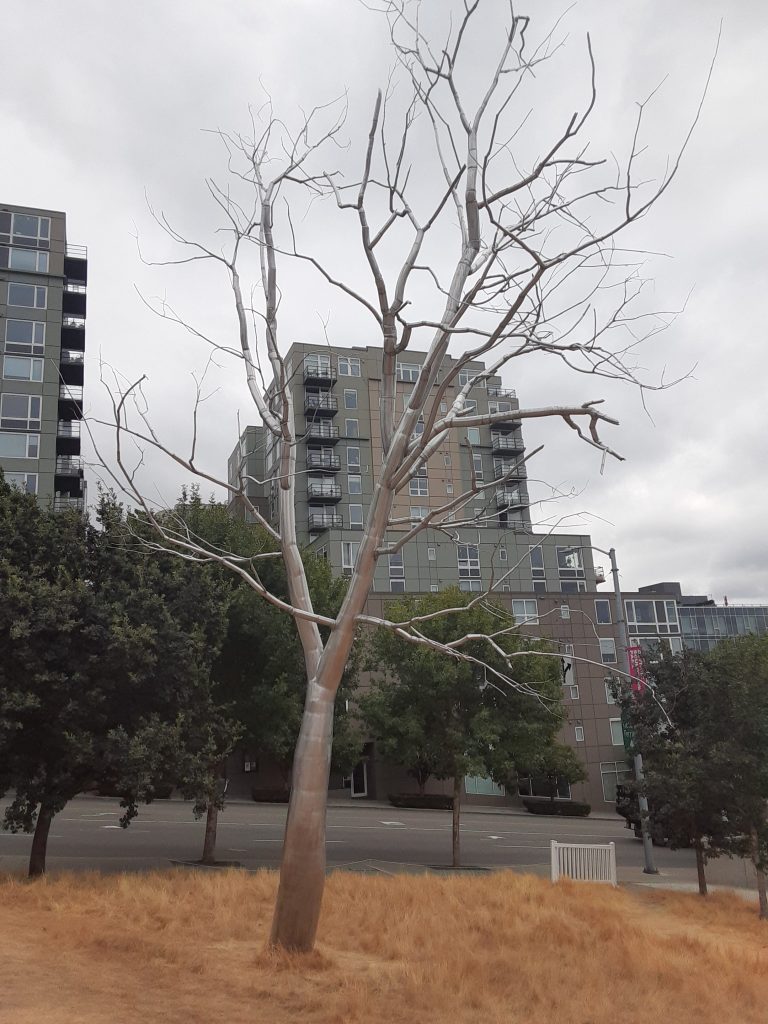 We'd promised our younger daughter ice cream, so we headed back downtown. We stopped in at the Robot vs Sloth store, which was as awesome as its name implies. We found ice cream at a gelato place and also found a Russian bakery called Piroshky Piroshky and picked up some of their offerings to take home and add to our dinner. We'd planned to clean out of our food stores for dinner since it was our last dinner in Washington and it was nice to have something a little more substantial to add to that.
On our last day, we drove out to the Ballard Locks to watch the boats traverse the locks and the salmon jump.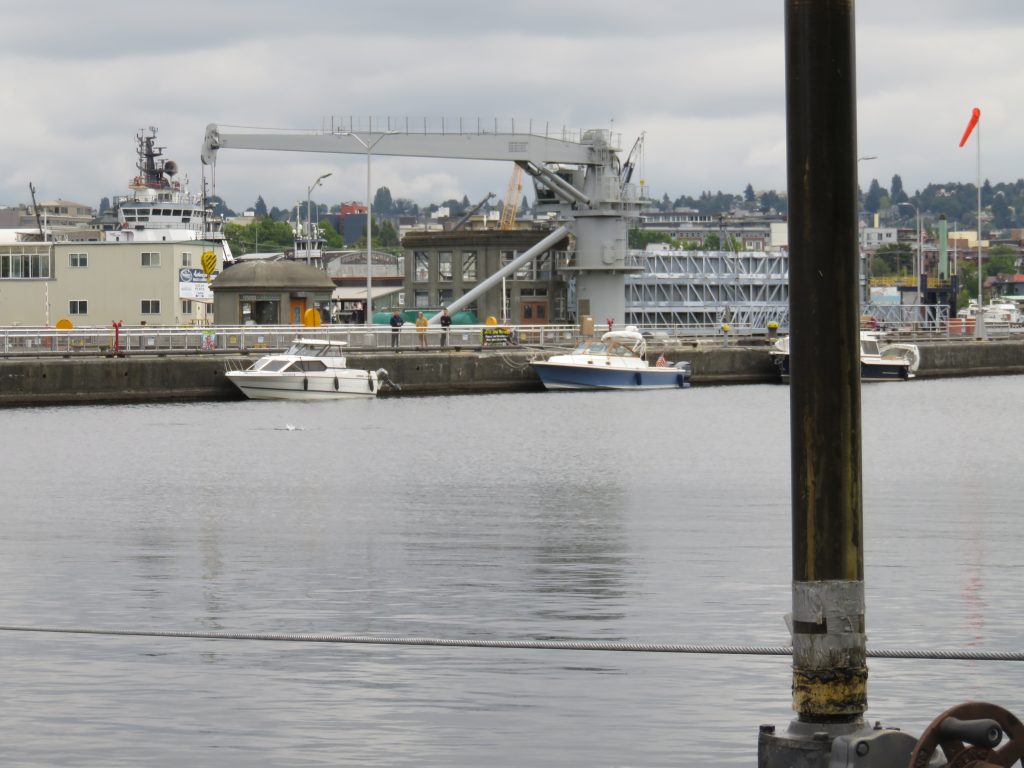 It was a nice stop. We stumbled upon the Kangaroo and Kiwi, an Australian/New Zealand pub in the nearby Greenlake neighborhood, which had a big outdoor area and made a nice last vacation meal. After lunch, we drove to the airport and flew home. It was a great vacation.