We missed out on the special fourth grade park pass last year because we decided not to take our planned trip to Yellowstone, Grand Tetons, and Glacier National Parks due to the pandemic. Lucky for us, the National Park Service decided to give last year's fourth graders a do-over and created a fifth grade park pass for use this year. We decided to take advantage of it and take a trip to Washington State. We chose this destination because (1) Washington has a high vaccination rate, and (2) North Cascades National Park came up when I searched for "least crowded national parks."
North Cascades was indeed a very not crowded National Park. Unfortunately, the other two parks in the state, Mt. Rainier and Olympic, had plenty of crowds! The crowds were manageable, though, and we had a wonderful time in all three parks we visited. We also spent some time in Olympia and Seattle, and of course saw things other than the National Parks in the areas that provided our "home bases" for exploring the parks.
As is my tradition, we ended the vacation by writing our family "Best of…" list for the trip. Here are this year's categories and the winners.
Best Place to Stay
We primarily stayed in AirBnBs on this trip, since we weren't sure if we'd always be able to find outdoor dining (our younger daughter is not yet old enough to be vaccinated and so we had a strict "no indoor dining" rule). The AirBnBs all worked out really well, but we unanimously chose the house in Clear Lake, which served as our base for exploring North Cascades National Park and some other nearby attractions, as our favorite lodging of the trip. It was a large house with a turret, so the kids called it the Castle House. They loved how big and fancy it seemed and enjoyed the chance to learn how to play pool (yes, there was a pool table!) I loved the view and the little balcony off the master bedroom with a rocking chair and a view out to Clear Lake.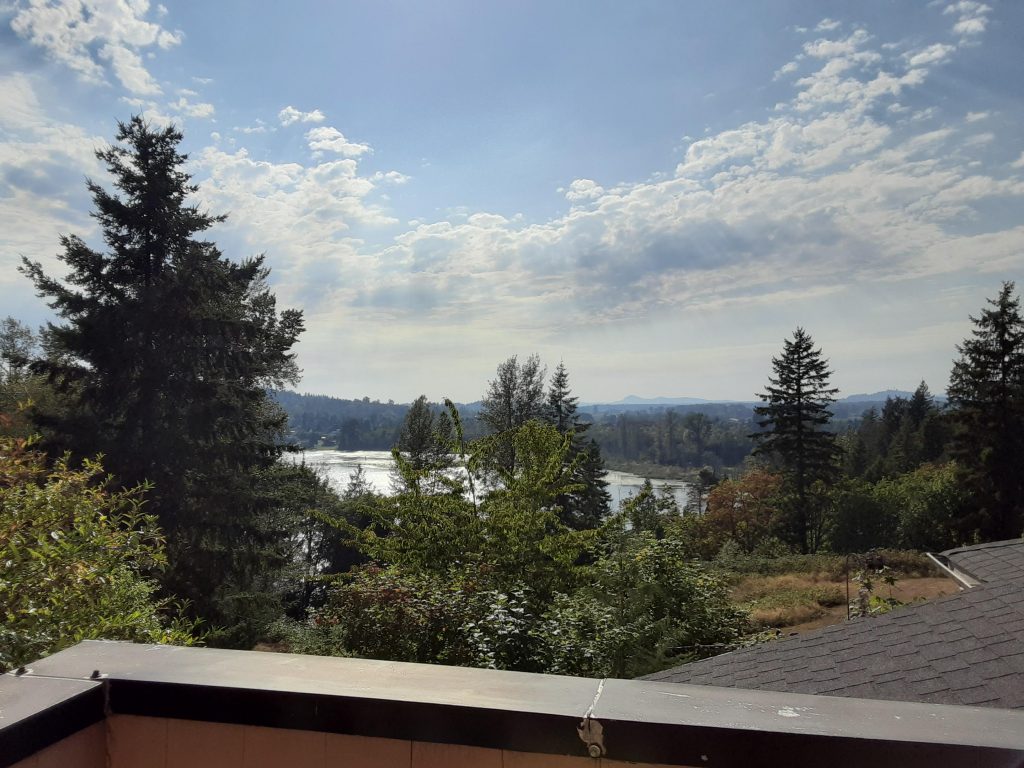 Best Hike
Since this was a National Parks vacation, we decided to all pick our favorite hike. There was no consensus here, partly because we all have very different hiking preferences. My 11 year old would prefer not to hike at all, and if forced wants to see water, preferably in the form of a waterfall. My 14 year old loves hiking and wanted trees lots of trees. I like hiking but struggle with steep climbs thanks to my asthma. My husband loves to hike and the more challenging the better.
And yet… our favorites don't necessarily reflect those general preferences! There is a lesson there.
The 11 year old's favorite hike was Narada Falls in Mt Rainier National Park. It was short (albeit steep) and the rewards was a great view of a dramatic waterfall.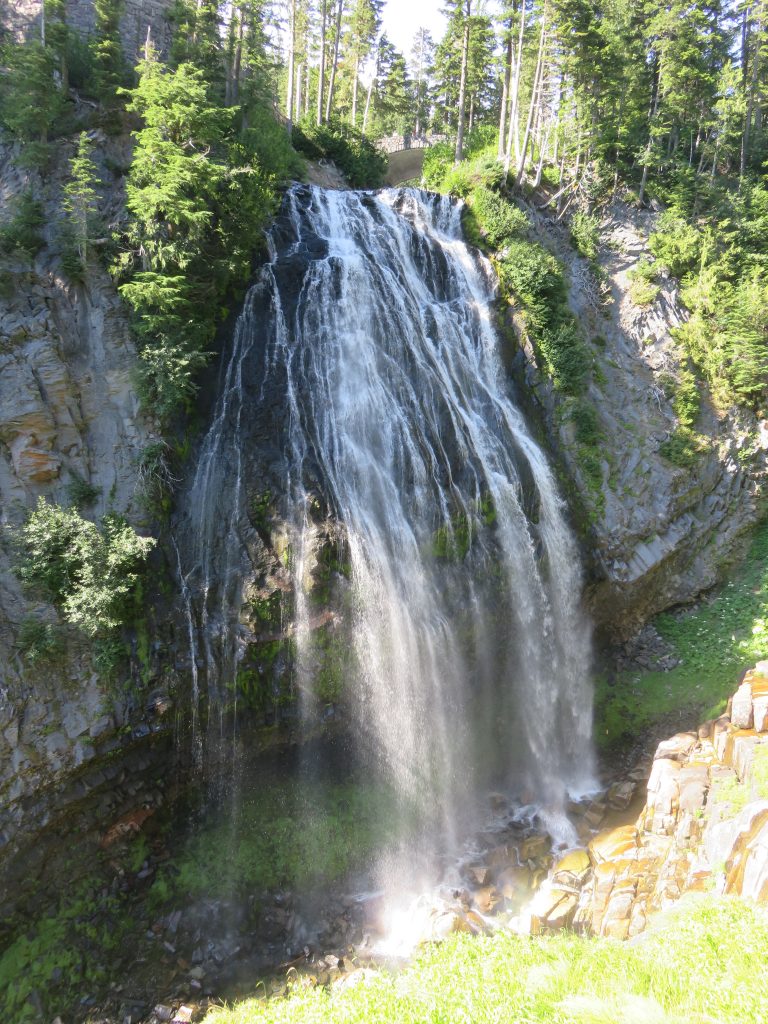 The 14 year old's favorite hike was at the Nisqually Wildlife Refuge near Olympia, which was short on trees but long on dramatic vistas. She said it reminded her of being in Anne of Green Gables.
My favorite hike was Silver Falls in Mt. Rainier, probably because it was the perfect length and difficulty for me and because it was our first hike when the big trees still felt new. Also, we did it first thing upon arriving in the park and so avoided the crowds that we ran into on the other hikes we did in that park.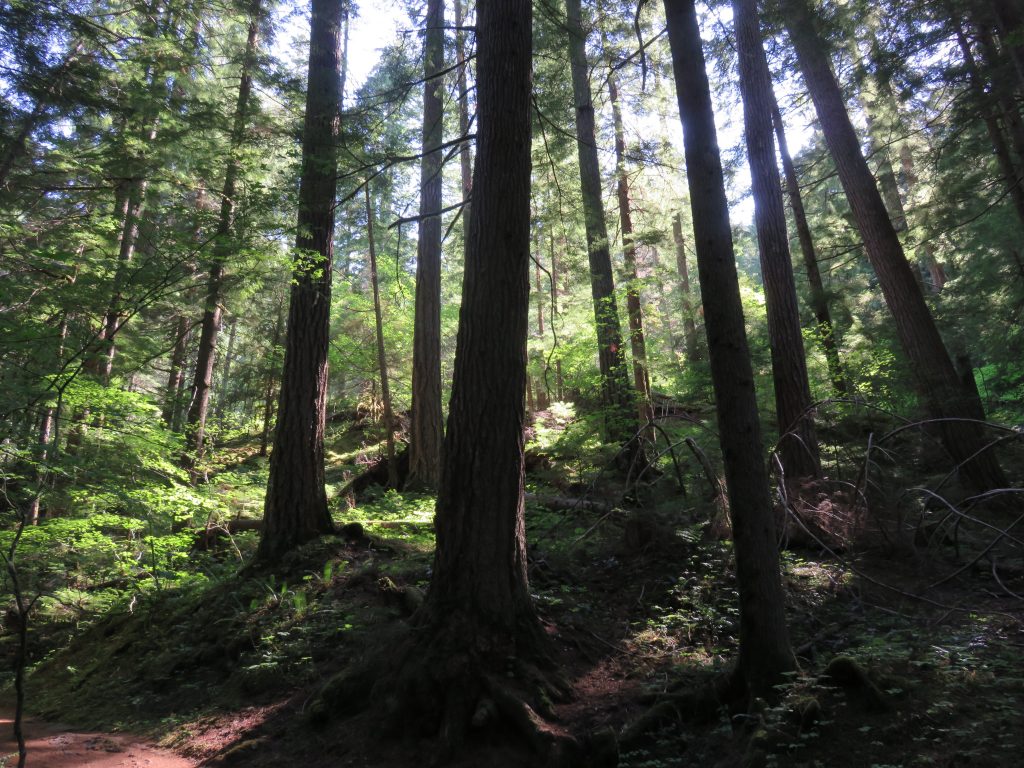 My husband chose the Trail of the Cedars near Newhalem, just outside of North Cascades National Park. This was a very easy and short hike, but he picked it because it was a little misty/rainy and that seemed like the right weather in which to experience the landscape.
Favorite Spot
We decided to also pick our favorite location on the trip. My 11 year old chose Crescent Lake, in Olympic National Park. It is indeed a beautiful lake!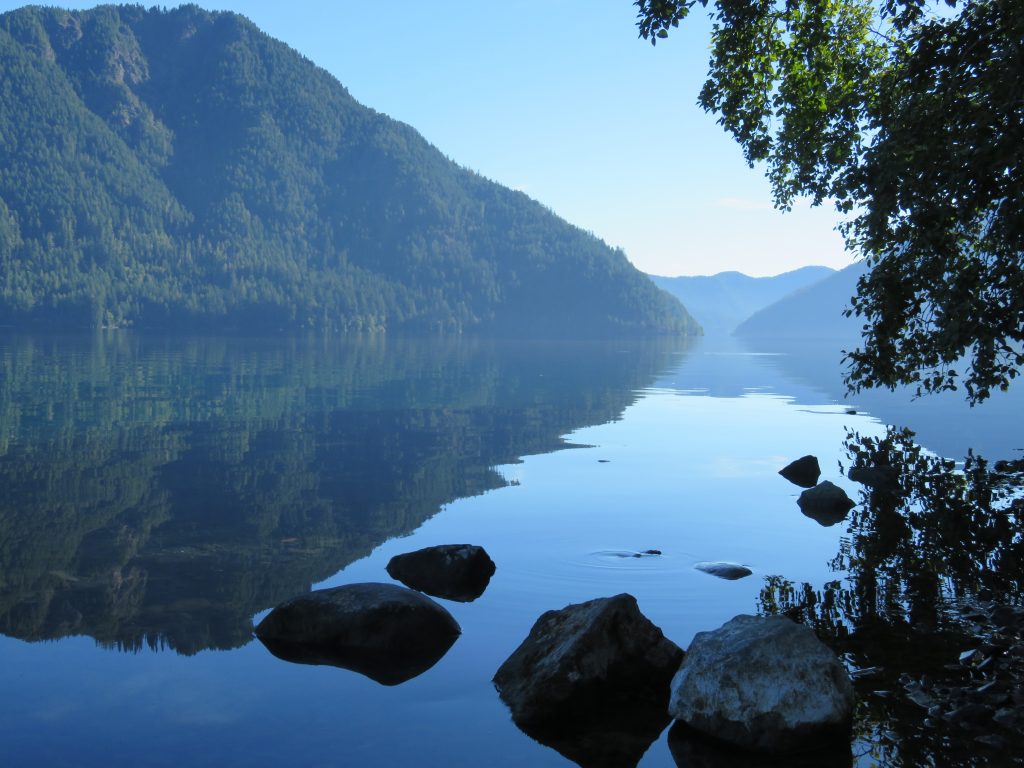 But I picked the Diablo Lake Overlook in North Cascades National Park because look at it: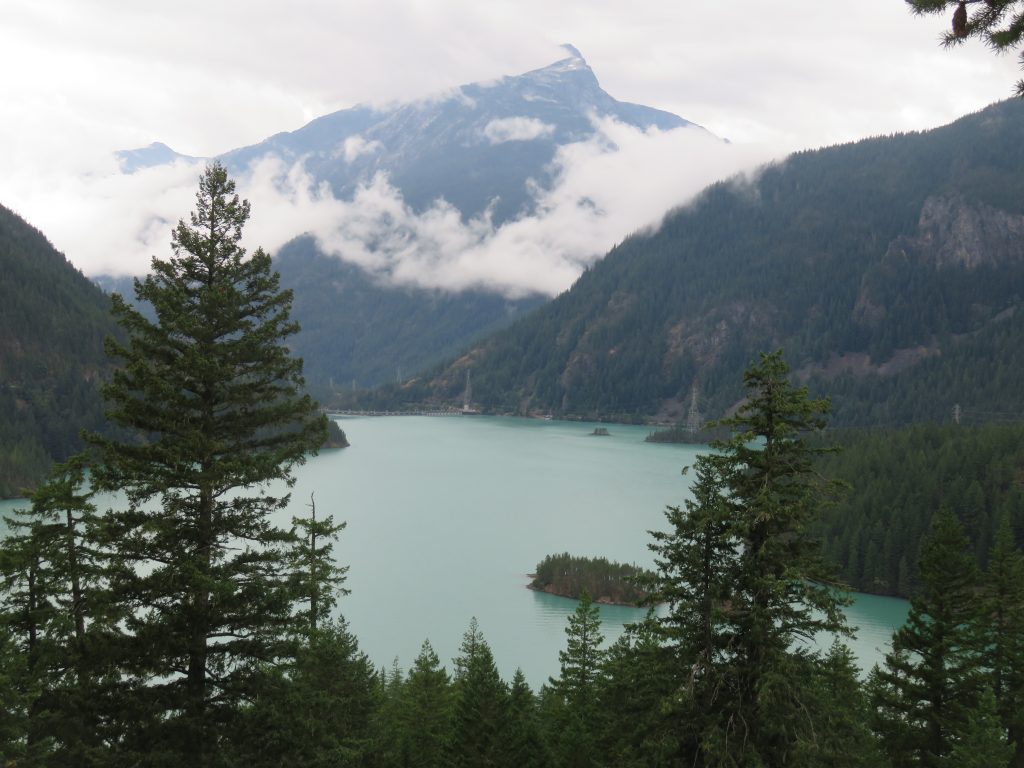 My 14 year old picked Nisqually Wildlife Refuge (she really liked that place!) and my husband chose Ruby Beach in Olympic National Park because it was foggy and had dramatic ocean stacks and tide pools and driftwood logs just like a beach in the Pacific Northwest should.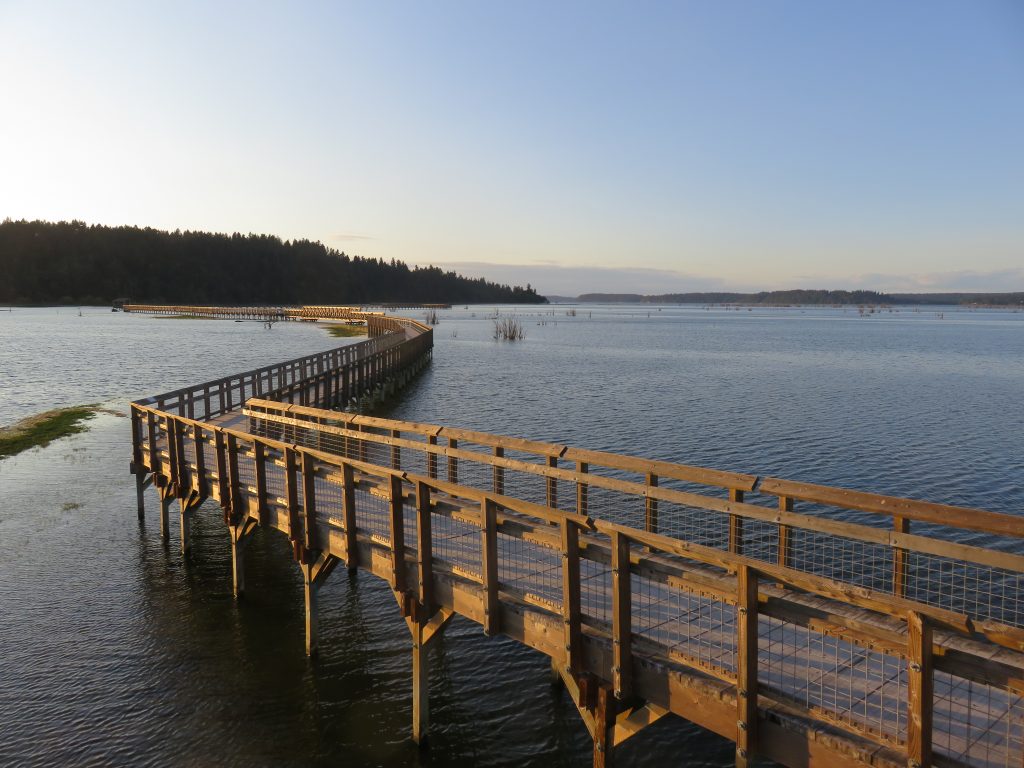 Favorite Tourist Activity
Although the majority of our trip was spent at the National Parks, we did some other touristy things, too, so I asked everyone to pick their favorite tourist activity. This time it was the 11 year old with a repeat location: She chose jumping off the pier at Crescent Lake. My 14 year old and I chose the orca watching boat trip we took from Anacortes because it was awesome. Our boat was only half full so we had plenty of room at the railings and our first sighting of the orcas was when several of them decided to breach right in front of us.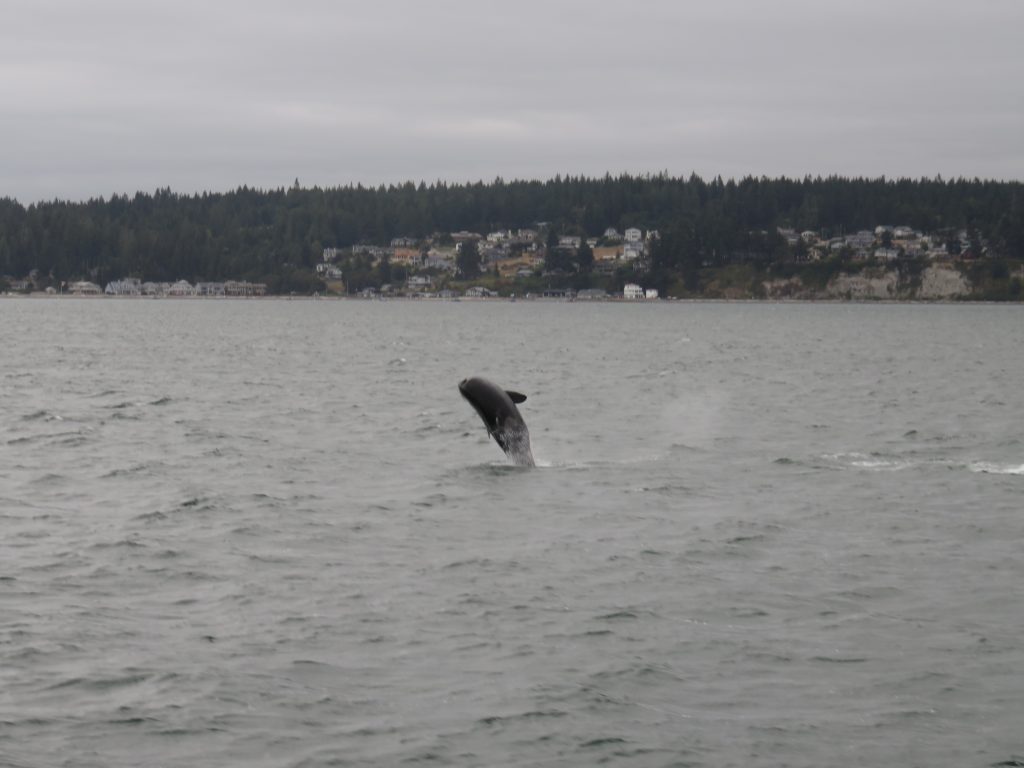 The family group we were visiting decided to check us out and so we got a lot of up close views and it was just a really special experience. Inexplicably, my husband says that having beers outside at the Old Stove Brewery in Pikes Place Market was better than the orcas. The beers were nice but they were not giant whales and so I cannot really understand his choice!
Best Meal
We didn't eat out much, but three out of four of us agreed that the best meal we ate was at Mioposto Pizza in Seattle. The pizza was delicious, my cocktail was delicious, and apparently the chocolate ice cream was also delicious. The 14 year old broke from the consensus and chose the lunch at Old Stove Brewery, also in Seattle. They had good pretzel bites.
Best Treat
My younger daughter and I both think that vacation should mean ice cream everyday. We weren't able to do that on this trip – we didn't always find an ice cream shop when we wanted one, and when we found ice cream they didn't always have chocolate, which is the only flavor my 11 year old really likes. But we did get some good ice cream, and three out of four of us picked ice cream as our favorite treat of the trip. For my 11 year old, it was the ice cream at Sophie's Scoops in Olympia, which was also the first ice cream of the trip. My husband thought the Passionfruit Sorbet he at at Gelatiamo in Seattle was the best, and I thought the ice cream at the La Conner Ice Cream Tower won. In fact, although my ice cream in La Conner (a scoop of lemon meringue pie flavored ice cream) was good, the real winner was the marionberry sorbet that my husband and older daughter got there! My 14 year old chose the cake she had at Mioposto, although she says the dinner plate-sized brownie at The Rockfish Grill and Brewery in Anacortes was a close second.
Best Playground
I thought we might have aged out of this category, but then we came across not one but TWO parks in Seattle with ziplines. My 11 year old thought the first one, Mount Baker Park, was the best. My 14 year old thought the second one, Jefferson Park won. Jefferson Park did have a really nice view, but Mount Baker Park had a nice neighborhood feel, so I can't really say which was nicer!
Best Beer/Brewery
I chose the first brewery we visited: Three Magnets Brewery in Olympia. I liked the picnic tables under the trees and the beer was nice enough… but the real star was the playlist. It was an 80s playlist composed almost entirely of the songs I liked in high school. Perfect.
My husband decided to focus on the beer and chose the Multiplayer IPA at Well 80, also in Olympia.
All in all, it was a great trip. There will be more details and the full itinerary coming soon!