I confess that we chose the Washington National Parks for our summer vacation this year for largely pragmatic reasons: Washington state had a high vaccination rate, the flight from San Diego to Seattle would be short enough to allow us to forgo eating/drinking on the plane and thereby stay masked the entire time, and I'd read that the North Cascades National Park was one of the least visited parks in the country.
Whatever the reason for our choice of destination, the choice turned out to be a good one! We had a wonderful time in Washington, starting with our first stop, Olympia.
Our flight from San Diego was delayed, so we arrived in Seattle later and hungrier than I anticipated. Instead of driving to Olympia and getting a late lunch in some nice sidewalk cafe, we stopped in a mall near the airport and had a late lunch perched on a planter outside a Five Guys. However, that stop was worth it because it made everyone decidedly less cranky for the drive to Olympia.
When we decided to go ahead and take a summer vacation this year, we decided to try to stay in AirBnBs so that we could eat in if we didn't find places that felt safe for eating out. Olympia was the only exception to this plan: We wanted to stay near downtown, and I couldn't find an AirBnB that was a good fit for us. Instead, we stayed at the TownPlace Suites near the Capitol. This worked out fine – we had a two bedroom suite with a small kitchen area. We couldn't cook in the room, but we could eat in the room! We went and got breakfast from the shared breakfast area in the morning and brought it back to our room to eat. And luckily, we found plenty of good outdoor dining options in Olympia.
After we checked into our hotel, we decided to explore a little bit. We walked over to the capitol complex, and from there, down to the water.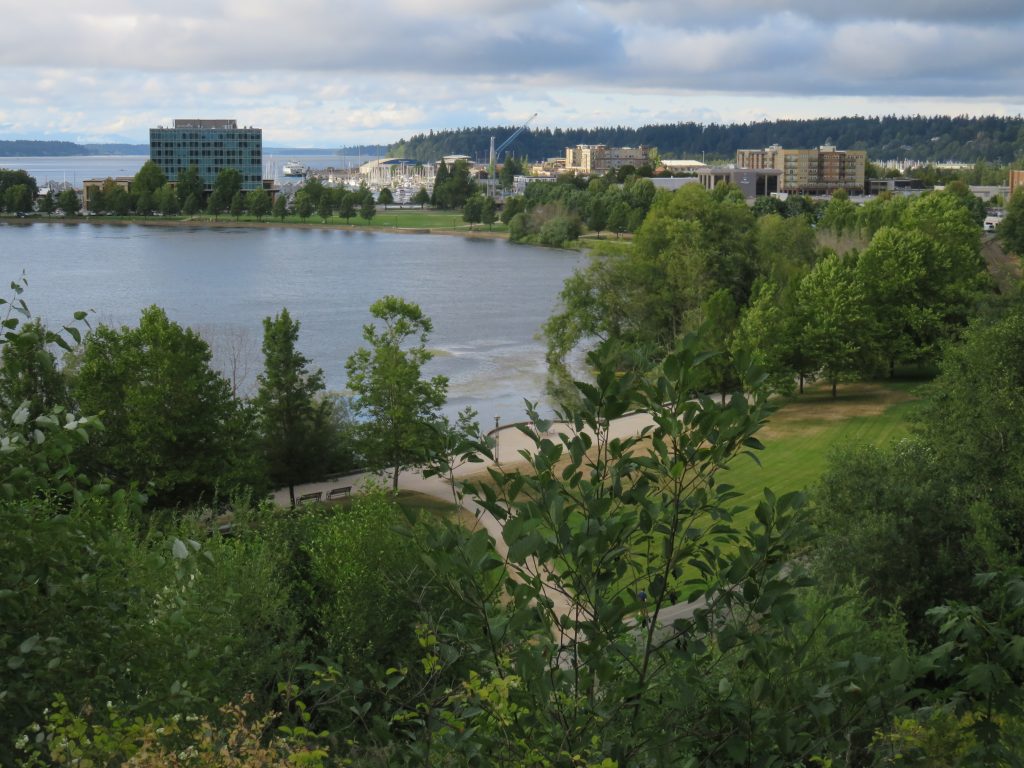 We strolled along the waterfront and back into town, finally ending up at Three Magnets Brewing for dinner. This was one of my favorite meals of the trip, not so much for the food (which was good) but for the atmosphere and the way it made me feel like vacation had started. We sat at a picnic table under a tree, enjoying our food and drinks and listening to a playlist or station that was an almost perfect match for the type of music I listened to in high school. I felt the stress of the travel day fall away and I switched into vacation mode.
The next day, we slept in and then walked to the Farmer's Market. We bought some souvenirs and enjoyed the local scene. From the market, we went to a local bookstore called Browsers, and then to lunch at Well80 brewpub. The food and beers were excellent, and we enjoyed our time on the front patio watching people and cars go by. The brewpub is on a busy street, though. It would have been nicer to be on their side patio, but that was for over 21 only. Still, we were pleased with this pick. Their Multiplayer Guild Collaboration IPA was my husband's favorite beer of the trip, and we all enjoyed their tater tots. The kids stuck to regular style, but we tried Tokyo style and were not disappointed.
After lunch, we walked back to an ice cream shop we'd seen earlier, Sofie's Scoops. It was very good ice cream! I think summer vacation means ice cream, so we expected that this would be the first of many ice creams of the trip. It turned out to be harder than anticipated to find ice cream on this vacation, but we didn't know that at the time. We enjoyed our treat, stopped in a few more shops, and then headed back to our hotel for a rest.
Once we were rejuvenated, we drove over to Brewery Park at Tumwater Falls for a nice walk. We took a scenic route to the park, driving through some of the leafy green neighborhoods we'd seen across the sound from downtown before making our way to the park. Once at the park, we took a short walk to see the falls and appreciate some trees. It is a very nice spot.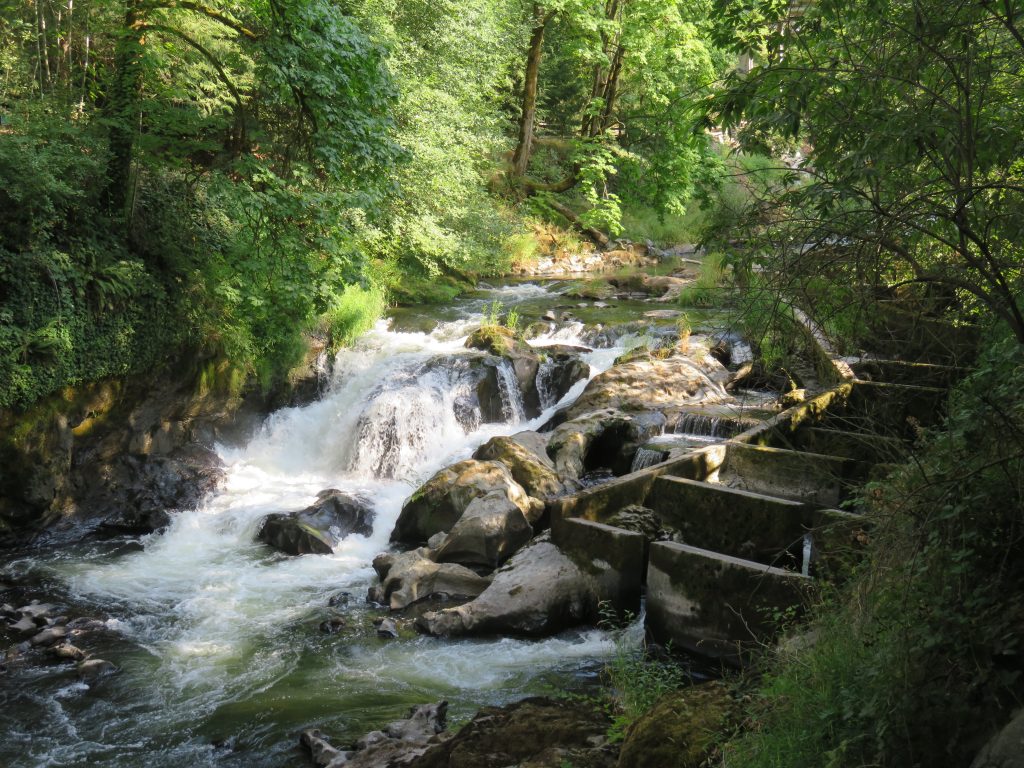 The highlight of the day may have been our next stop, though. I had highlighted the Nisqually Wildlife Refuge as a top priority for me in the Olympia area. We decided to visit near sunset, both because this fit our schedule best and because we thought it might let us see more birds. I'm not sure if the timing improved our bird-spotting, but it did make for some beautiful light. The first part of the walk was through some woods, and then we came out to a more open area with a barn that absolutely delighted my older daughter.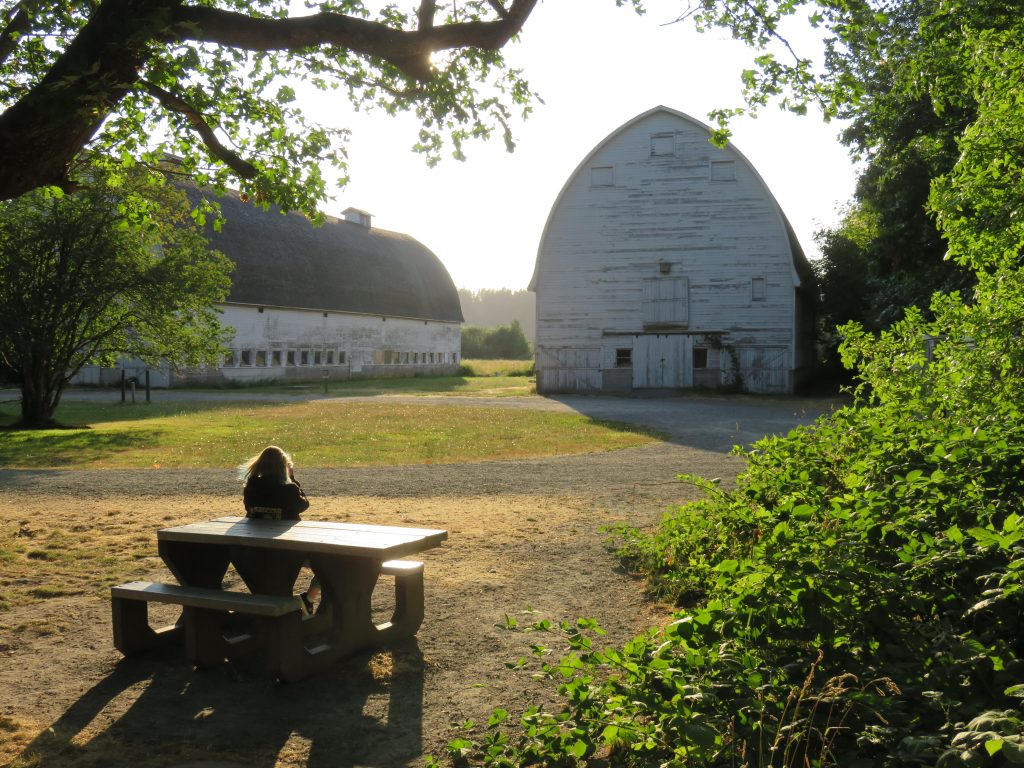 Past the barn, we walked along the water and then eventually on a boardwalk over the water, since it was near high tide. The highlight for me was seeing flocks of small, light-colored birds take off, making an effect that looked like a shimmer in the sky. We did not manage to capture this effect on camera.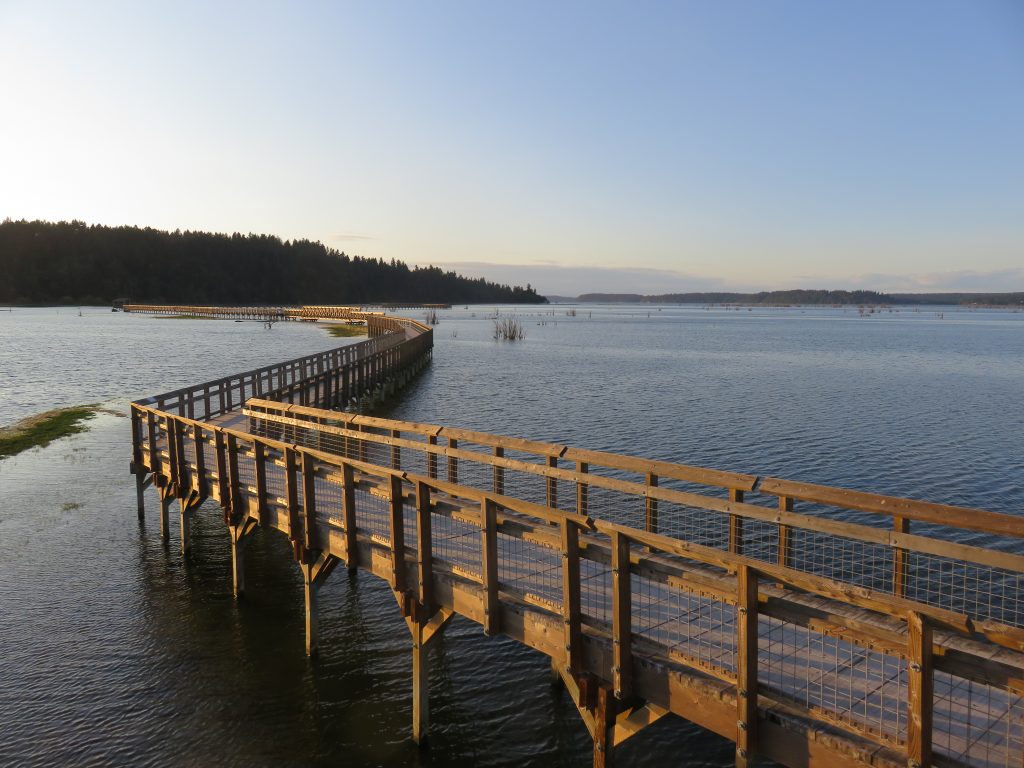 We had dinner nearby, at the Nisqually Bar and Grill. It served solid American bar food and was a nice spot, even if the patio was essentially in the parking lot. We enjoyed our dinner and my family discovered that I know a large number of the words to Mercedes Benz, by Janis Joplin, much to their chagrin.
The next day was our day to visit Mt. Rainier National Park. We visited the Paradise section of the park, but decided to do it "backwards." Instead of entering at the Nisqually Entrance, we drove around to the Ohanapecosh entrance. This made the drive in much longer: we had to drive quite a bit south on I5 before heading east on state route 12. The drive along Route 12 was really pretty, though, and it still only took us two hours to get to our first stop in the park. This was a last minute decision. If I'd thought of this option earlier, we might have stayed a night in Packwood, which had a real "National Park base camp" feel to it as we drove through.
Entering at the Ohanapecosh entrance meant that our first stop of the day was free from crowds. We had decided to do the Silver Falls hike. We got to the parking lot at about 10:15 a.m. and went straight to the trail. We only saw a few other groups on the hike and the path was not at all crowded. We could mostly pretend we were hiking alone in the woods. The hike is wonderful, with lots of big, old trees and a couple of mini-falls/rapids to admire before getting to the beautiful falls that give the trail its name.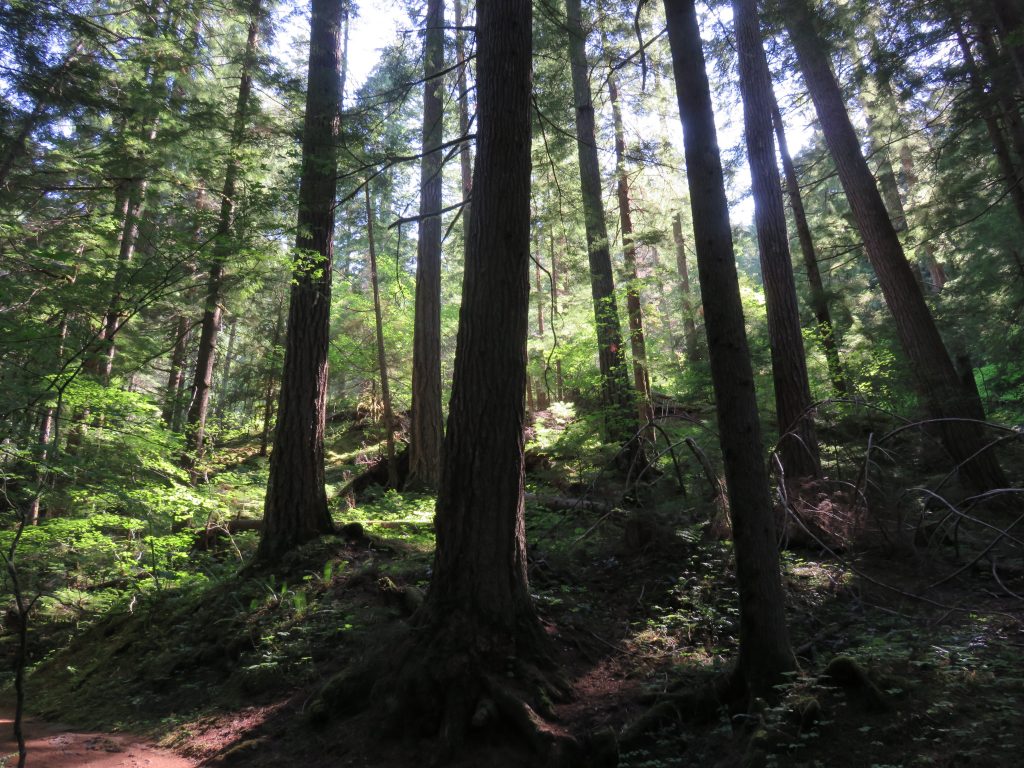 We started to run into the crowds at our next stop, which was the Grove of the Patriarchs. The parking lot was full and there were definitely more people around, but it still felt pretty peaceful. This is a nice, short, easy hike. The kids liked the suspension bridge and the chance to put their feet in cold creek water. I liked the chance to stare up towering tree trunks in awe.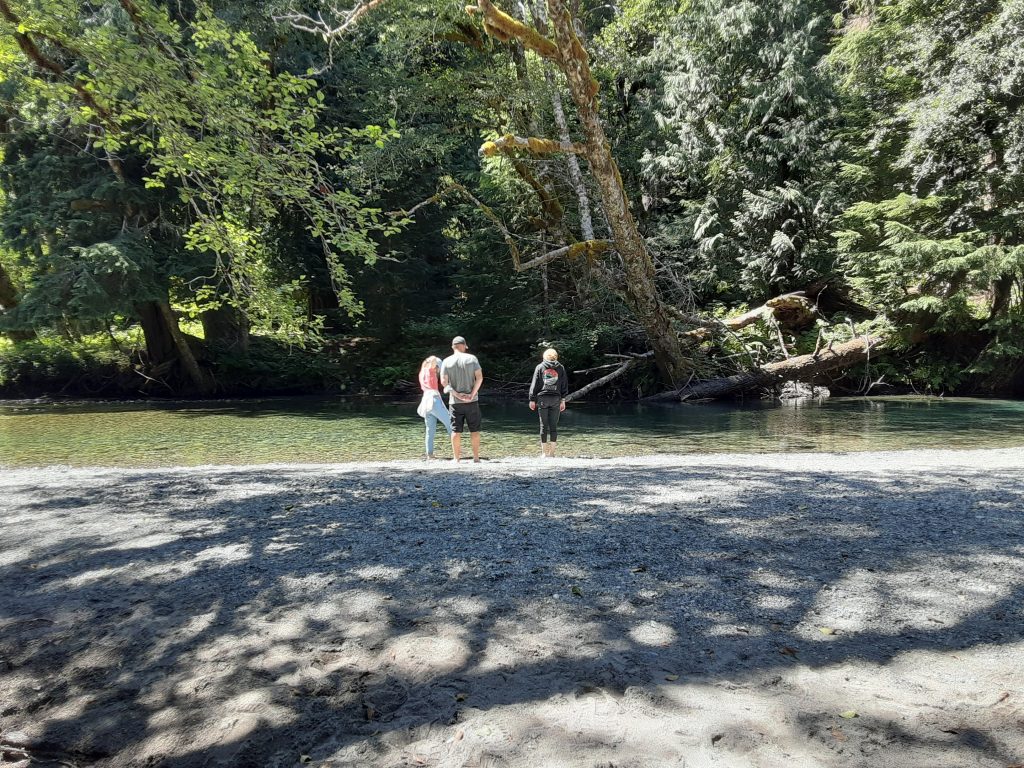 We'd brought a picnic lunch, which was a good decision because the only real option to purchase food would have been at Paradise, and that would have entailed quite a wait. Instead, we ate our packed lunch at a table by the road at a viewpoint stop just before Box Canyon. The views of Mt. Rainier were nice. We also stopped in at the viewpoint to see Reflection Lakes, which were pretty although not calm enough to reflect much of anything.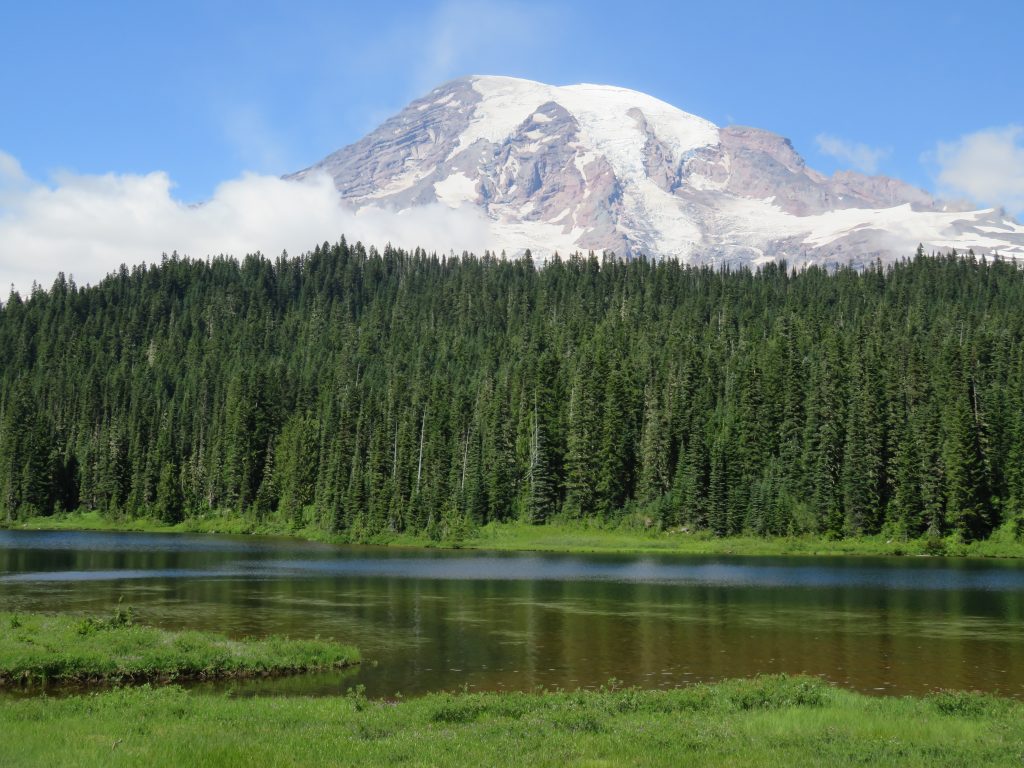 Our next stop was Paradise, which unfortunately did not live up to its name. Don't get me wrong – it is absolutely gorgeous, with wildflowers, views of Mt. Rainier, and a nice waterfall (Myrtle Falls). But it was packed with people. We walked up to Myrtle Falls in a line of people, stood in a line to see the falls, and then walked back down surrounded by people. I am glad we stopped to see this spot, but I am also glad we got to do the Silver Falls hike without the crowds.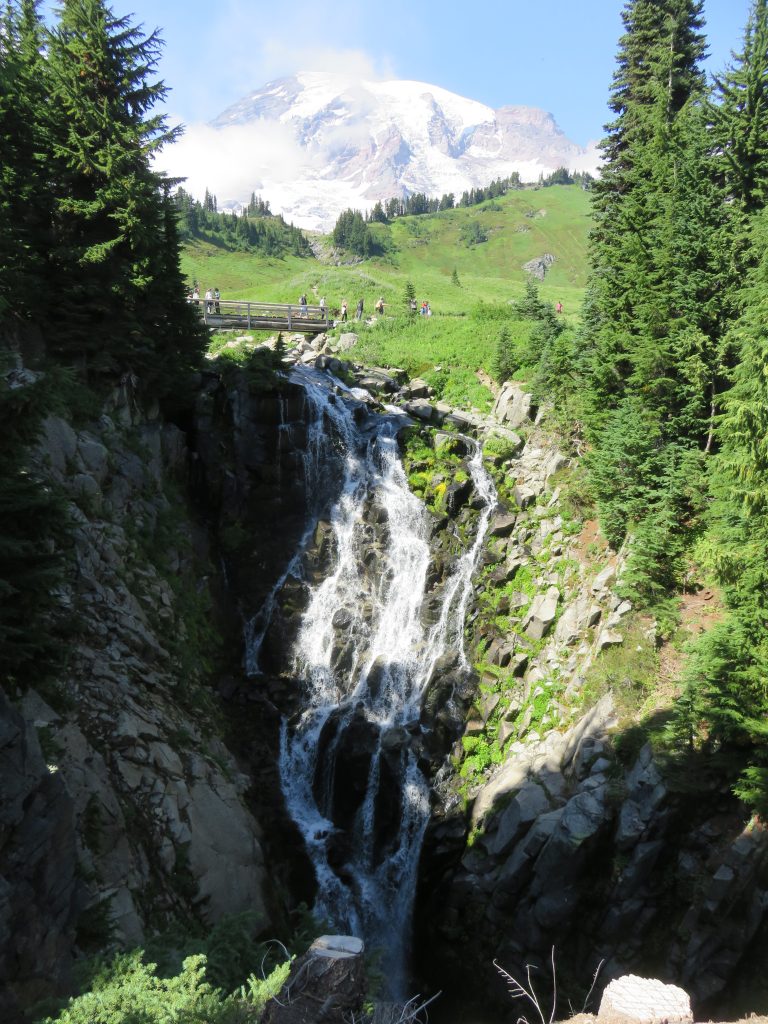 Our final stop in the park was at Narada Falls. It is a short but steep hike down to see the falls, and very much worth the small amount of effort. Unlike Paradise, this path was not crowded. We couldn't pretend we had the place to ourselves, but we also didn't have to wait in line to see the falls!
We drove back to Olympia along the route we'd originally planned to drive in. It was nowhere near as nice a drive as the drive along Route 12, and we arrived back at our hotel feeling like we'd made the right decision to drive south that morning. We were also pretty tired, so we ordered in for dinner – Subway for the kids, Uptown Grill for me and my husband (the food was really good), and then watched a movie on Netflix before packing up to leave Olympia the next day. We all really liked Olympia, and it made a great first stop on the trip.