We visited the State Capitol building on our last morning in Olympia, but I am not the State Capitols freak in the family and so I won't spend anytime telling you about that. It was a State Capitol.
We left Olympia mid-morning and headed West. We had picked up treats at Wagner's Bakery near our hotel in Olympia, and my husband thought that Summit Lake looked like a good place to stop and eat them. It is a very pretty little lake, but there is only one patch of public access, and even that theoretically required a state park pass that we did not have. Still, we enjoyed our treats by the water before getting back in the car and continuing our drive.
I'd picked Aberdeen as our lunch spot, because I'd found one restaurant with an outdoor deck. Breakwater's Seafood did indeed have a nice deck overlooking the estuary. This is very much a working waterfront and Aberdeen still has the feel of an industrial town. Lunch was good seafood counter fare, primarily appreciated by my husband, the sole fish eater in our group. The highlight of the stop, though, was definitely the mother and baby deer that strolled casually across the busy main street as we waited at the cross street to get across and park for lunch.
After lunch, we drove on to Forks, which is where we based ourselves for our stay in the Olympic Peninsula. On our way to Forks, we made two stops. We stopped in Lake Quinault to see the World's Largest Spruce Tree – and to perk me up after a long post-lunch drive (I almost always drive after lunch because my husband finds lunch sleep-inducing). The world's largest spruce tree didn't do much for us but we did think Lake Quinault looked like a pretty spot.
We also stopped at the Kalaloch Campground and walked down to the beach to see "The Tree of Life" – a tree left suspended over a cave by erosion, roots exposed. This was definitely our favorite of the two stops. No offense to the giant spruce, but a tree with its roots exposed is a just cooler. Also, it was our first stop at a beach and we enjoyed getting our feet wet, even if the water was quite cold.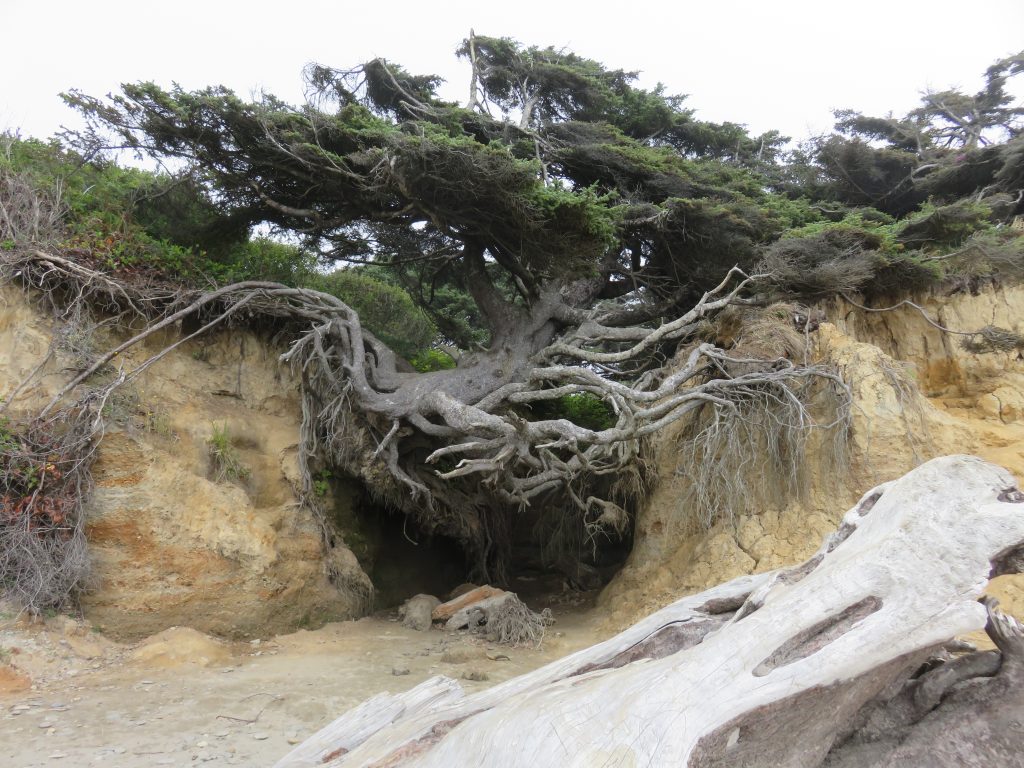 After visiting the Tree of Life, we drove on to Forks at our AirBnB. The AirBnB was a great house, with a nice outdoor seating area under a ring of trees (and around a fire pit – but it was hot and there was a burn ban in place so we didn't use the fire pit).
We decided to go check out the town of Forks, pick up some groceries, and make a dinner plan. I think the pandemic had not been kind to Forks – a lot of restaurants were out of business, and the main street felt pretty deserted. We took note of the dining options and headed to the grocery store, which was well and truly picked over. We managed to find enough things for breakfast and lunch, though, and then headed back to our AirBnB. We ordered take out pizza for dinner and plotted out the rest of our stay in the area.
When I'd asked family members about priorities for the Olympic Peninsula, the consensus was trees and beaches, so I hadn't planned a visit to Hurricane Ridge. This was actually why I based us in Forks – I didn't think we'd need to go to the more northeastern part of Olympic National Park at all. My husband decided we had to visit that part of the park, though, and so we ended up making Hurricane Ridge our first destination.
The drive to Hurricane Ridge from Forks is a little over 1.5 hours. It is mostly scenic and the views of Crescent Lake in particular proved too beautiful to ignore. We stopped at a pullout and admired the glassy lake and beautiful mountains.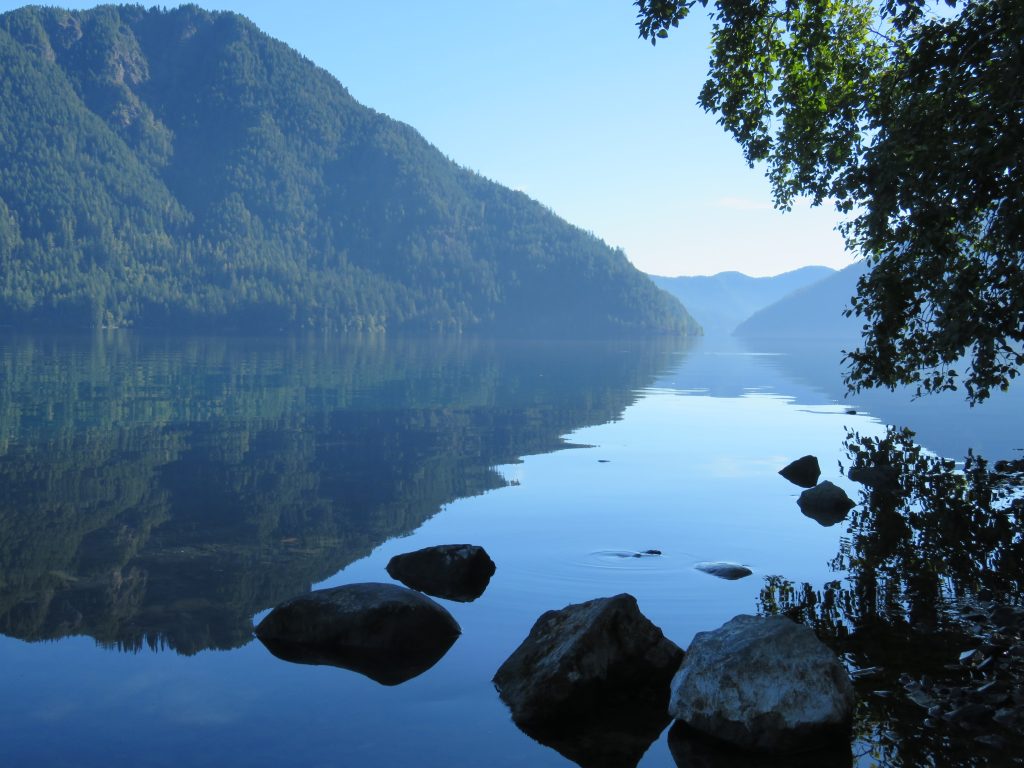 We made it to Hurricane Ridge before the crowds, and decided to hike the short but relatively steep High Ridge Trail. The steepness proved to be too much for the two asthmatics in our group (me and my younger daughter), so we stopped and admired the view of the Cascades while the other two went on to Sunrise Point and looked across the strait to Canada.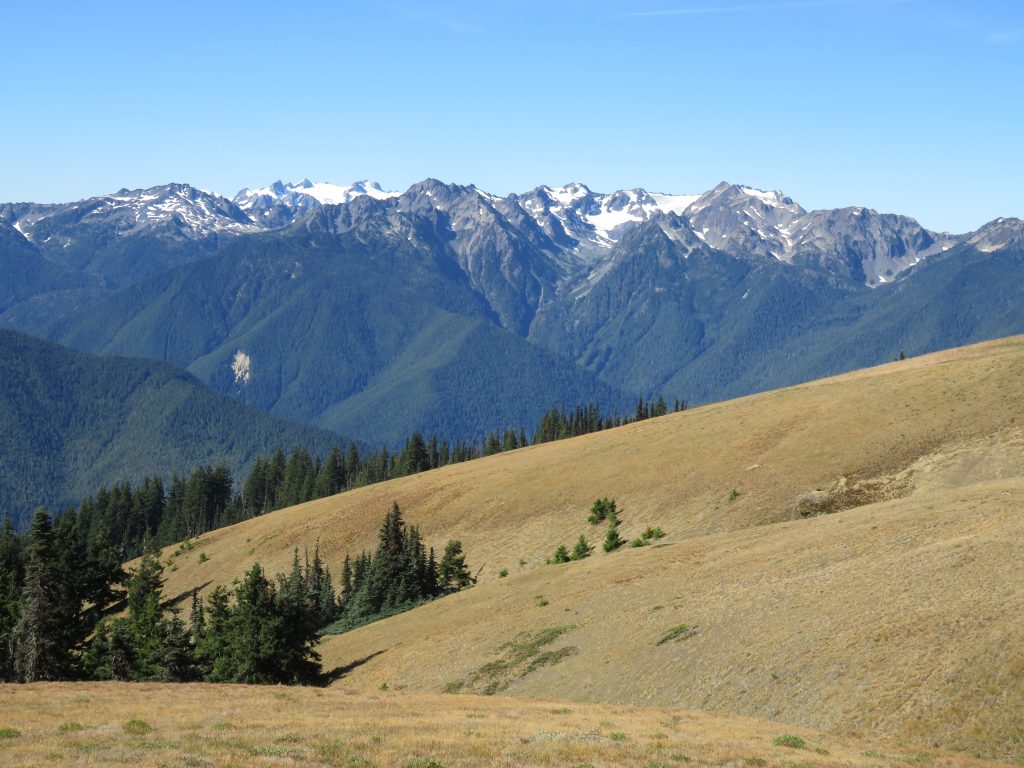 After we left Hurricane Ridge, we spent the afternoon exploring Port Angeles. We enjoyed the shops and treats, and then headed back "home." We stopped in at the Lake Crescent Lodge, though, to get the scoop on kayaking (rentals possible but limited) and dining (also possible but limited) and decided that would be our destination the next day. We ate dinner in, chilled out under the pine trees in the front yard, and called it a good day.
We got up the next day to find that a wind had blown in, bringing with it wildfire smoke from fires in Canada. The sky was hazy, and when we arrived at Crescent Lake, we discovered the water was choppy and they would not rent us kayaks. We still had a nice (if rather bracing) swim in the lake, and a couple of us (my husband and my younger daughter) even enjoyed jumping from the pier into the lake. We had a takeout lunch from the lodge and still enjoyed the stop.
In the afternoon, we drove over to the nearby Sol Duc area of the park and took a hike to Sol Duc falls. The falls were nice, but it was hot and some of us were quite tired from our morning swimming… so I don't think anyone would name this as a favorite stop.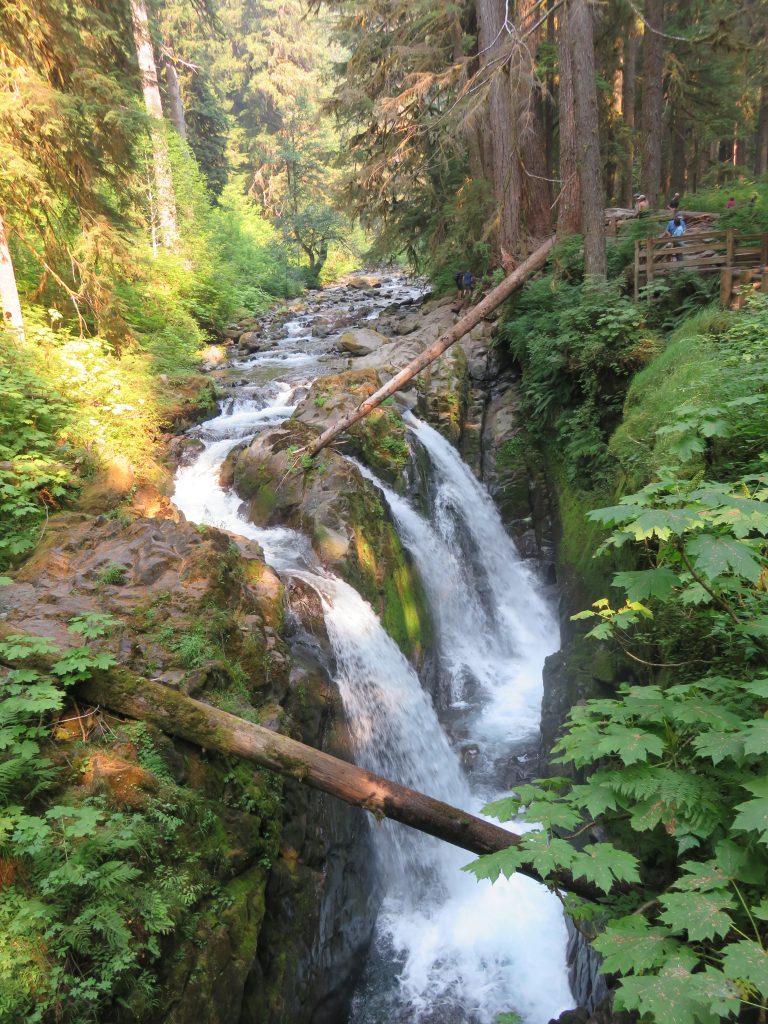 We ate dinner in again, and this time enjoyed relaxing on our upstairs balcony/landing and watching some deer in a neighbor's yard, so again we called it a good day.
We started our final day in the Olympic National Park area with a visit to Ruby Beach, which I think we all would call a highlight. We arrived at low tide to better see the tide pools, but honestly, this stop would have been a treat even without tide pools. The beach was foggy and cluttered with driftwood, creating a classic Pacific Northwest beach feel.
It was not at all crowded and we had a very nice time scrambling around looking at tide pools. I am not sure that was worth the giant scrape I got on my leg when I lost my footing, but I can't really blame the beach for my klutziness.
Our plan after we left the beach was to go to the Hoh Rainforest, park, and have our picnic lunch. However, our crowd-avoidance luck ran out at this stop and we spent over an hour in a line of cars waiting for our turn to go in and park. We made the best of the time with 80s music on the satellite radio and ate our picnic lunch in the car. In fact, the kids enjoyed the wait so much that they named it as a good thing for the day when we did our usual round of naming good things at dinner. Kids are weird.
The Hoh Rainforest hikes we did (the Spruce Nature Trail and the Hall of Moses) were very nice and the trees were very impressive. But we felt like we didn't really see the area as it should be seen, because far from being rainy, it was a warm and sunny day. Still, it was pretty neat to see a colonnade of trees that had grown out of a nurse tree. There were also nurse trees still actively supporting young trees.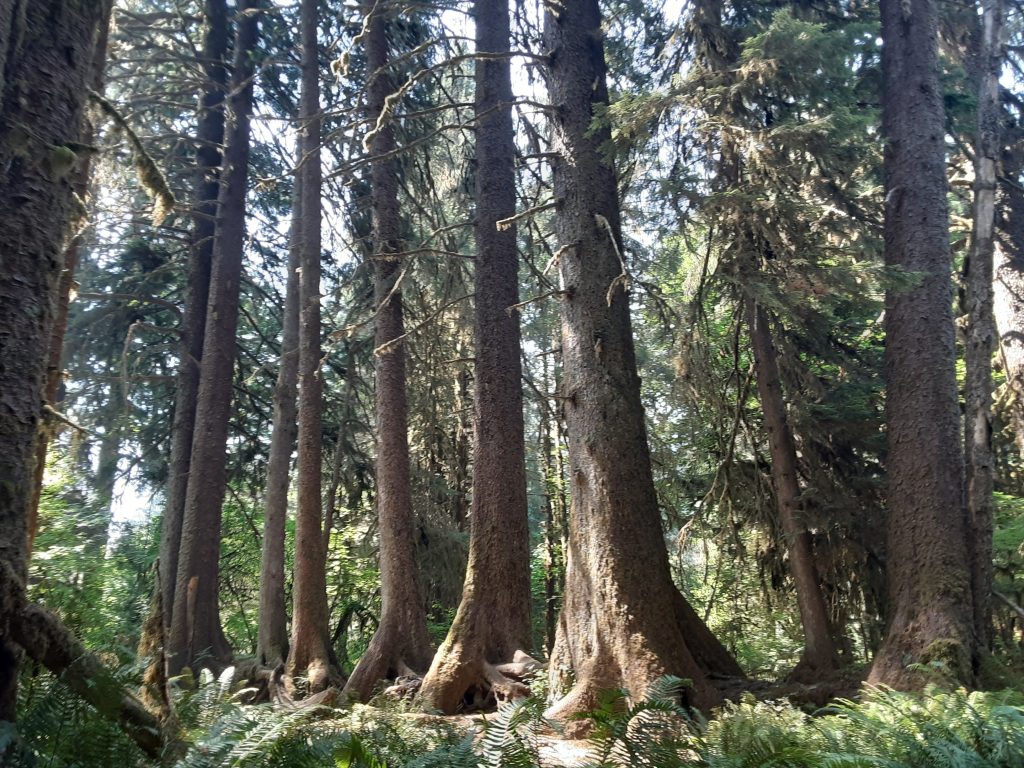 There is so much to notice in a forest and one advantage of the limited parking is that even though we knew heaps of people wanted to get in to see this area, it wasn't overly crowded.
After we left the rainforest, we stopped in Forks for a little souvenir shopping and to buy some antibiotic cream and gauze for my scraped up leg. Then I asked if there was anything anyone wished we had done in the area and was surprised to hear that my husband really wanted to visit La Push, which is a small town in the Quileute community near Forks. We still had plenty of daylight left, so we decided to go check it out. Forks is known for two things: being a good base for exploring Olympic National Park and being the setting of Twilight. None of us are Twilight fans, so we were not aware of the fact that there is apparently a treaty line between Forks and La Push.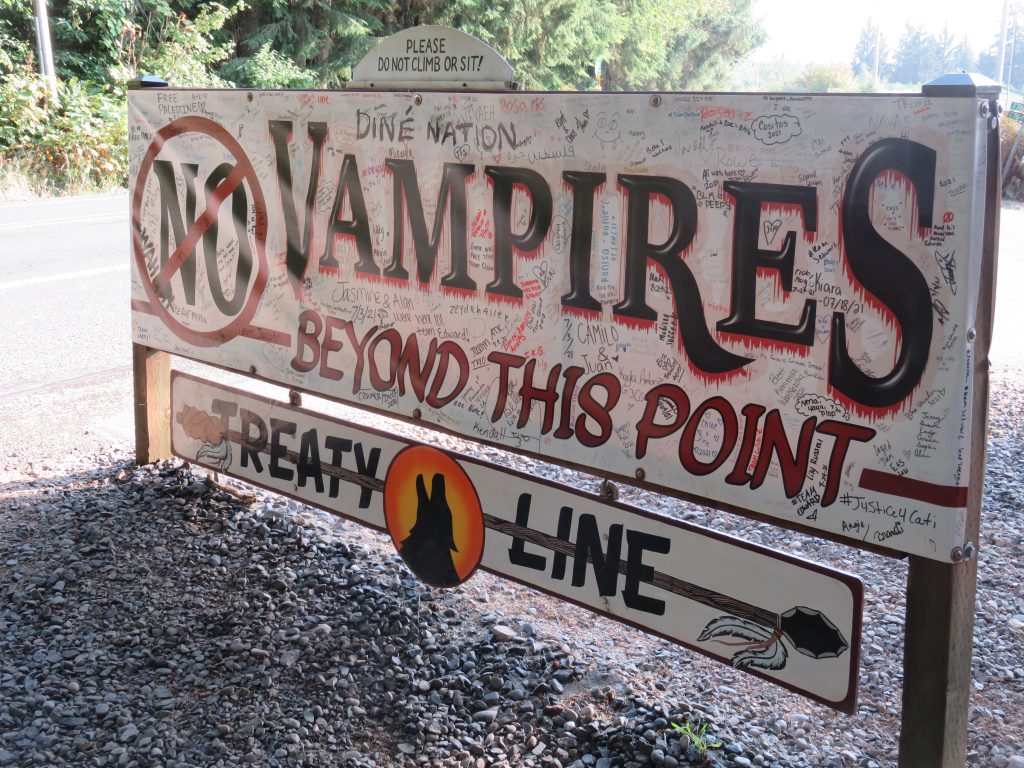 We had drinks and some fries at a place called Rivers Edge, which had an amazing view from its dining room. We weren't eating indoors due to the pandemic so we enjoyed our snack on the front patio and strolled over to the beach next door to admire the view afterwards. There were craggy islands and pelicans swooping into the water in search of a snack of their own, so another classic Pacific Northwest beach scene, really.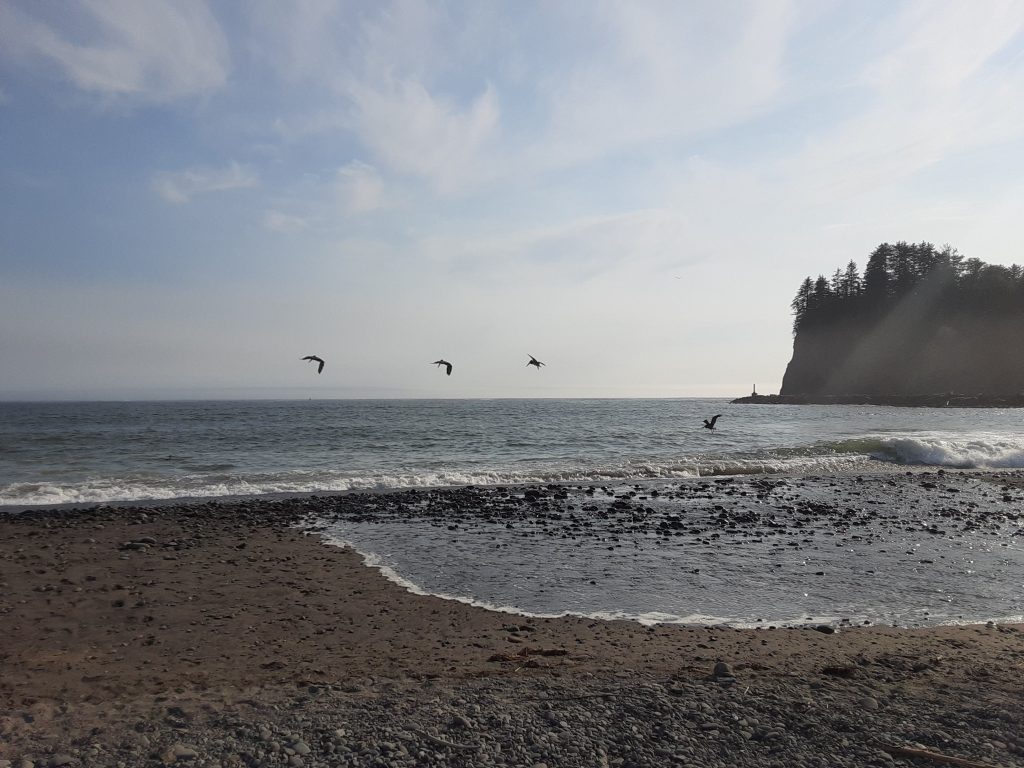 We left the beach reluctantly, but we needed to pack up so we could get an early start the next day – we had a little over four hours of driving ahead of us to get to our next stop near Sedro-Woolley, which would be our base for exploring North Cascades National Park and much more!