I'm going to take a short break from writing up our summer vacation in Washington – if I'm still writing up a summer vacation in December, then clearly there is no need to be timely! Instead, I'm going to tell you about a short getaway my husband and I had over Thanksgiving weekend. I want to write about it now so that any readers who are also in Southern California can consider a similar getaway if they are so inclined.
We love exploring Southern California, both because it means we can spend more time in our getaway seeing and doing things and less time traveling and because we have yet to be disappointed in a destination. Even the destinations that other people think are not good tourist destinations have ended up delighting us. I am sure that is not unique to Southern California, but I do think that the relatively high population in this area has some advantages. Anytime there are a lot of people living somewhere, there is bound to be something interesting to do or see, because people like to do things!
Anyway, this particular getaway was to Riverside, which is not a city most people think of when they think about tourist spots in SoCal. We had a great time.
We decided to take Monday off of work so that we could have Saturday and Sunday nights for our getaway. This turned out to be a bit of genius, because it gave us one "party" night and one quieter night in Riverside. We were there for the opening weekend of the Mission Inn's annual Festival of the Lights, and Saturday night was going off. More on that in a bit.
We left before lunch on Saturday and took the coastal route up to San Clemente. I always enjoy a short stop in San Clemente to admire the ocean view from the park near the pier.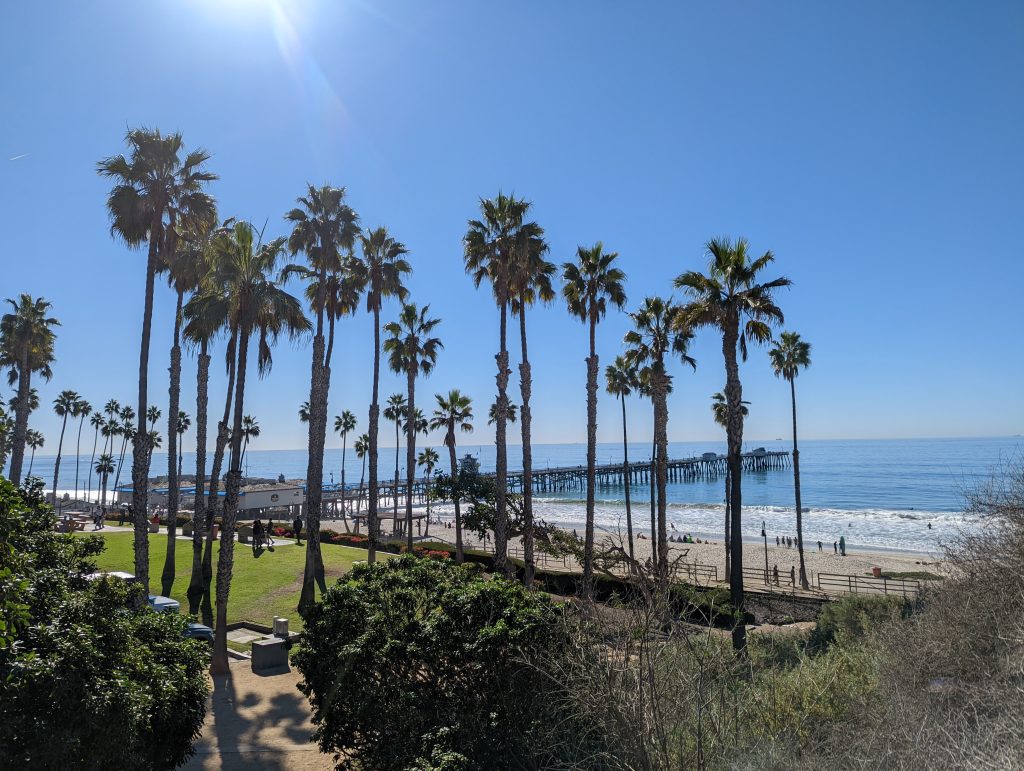 We had about 30 minutes to fill before the lunch spot we picked opened, and so we walked out on the pier and watched the waves for a bit. The waves were pretty flat, but there were still surfers out, including a father teaching his son to surf right by the pier. We didn't see the son fully catch a wave, but we saw him get enough of a ride to experience the thrill and that was kind of cool.
Lunch was at a Belgian restaurant called Brussels Bistro. I had meatballs Liege-style, which is apparently in a sweet-and-sour sauce. It was yummy, as were the potato croquettes I chose for my side. My husband had mussels and frites and was also very pleased. It was an auspicious start to the getaway!
We did a little shopping after lunch (it is Christmas gift season, after all!) and then headed on to Riverside. One of the annoying changes the pandemic has caused in me is that I struggle in traffic now. I am sure I'll get used to traffic again eventually, but right now it really stresses me out, even as a passenger. So we splurged and drove the toll roads most of the way to Riverside. There is an entire discussion to be had about the impact of Orange County's decision to put in toll roads instead of improving the free roads or better yet, improving public transportation options… but that is for another sort of post. For this post, I will just say that I was happy to pay the toll (which turned out to be $11) for the chance not to spend that time as a quivering mass of stress.
The toll certainly wasn't the only splurge of the weekend. The big splurge was our lodging. The reason we picked Riverside for this getaway was that I wanted to stay in the historic Mission Inn. It was one of the most expensive rooms I've ever stayed in, and I have to say that in this case, it was worth the money, not so much for the room itself (although it was comfortable and nice) but for the experience of staying at the Inn.
We arrived a little too early to check in to our room, though, so our first stop in Riverside was the Route 30 brewery tap room that is just a few blocks from the hotel. We sat out on their patio, had a really quite good beer, and watched the traffic go by.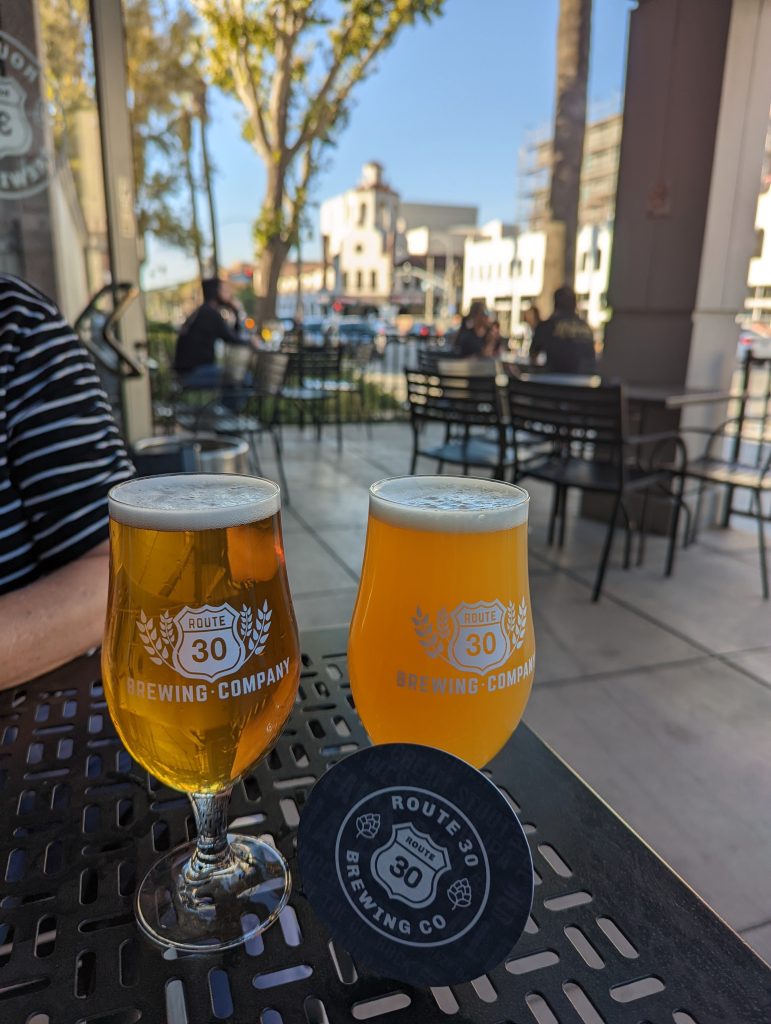 After the beer, my husband wanted a coffee. We skipped the Coffee Bean and Tea Leaf right next door to the brewery, and instead walked over to the nearby Food Lab food court and got him a coffee at Mi Cafecito. By this time, our room was ready, so we walked back to the hotel and settled in.
We liked what we saw at the Food Lab, so headed back there for dinner. We ordered dinner from the ramen stall and beers from the brewpub stall, found a table outdoor and had a wonderful evening – we even had dessert: beignets from the Cajun stall. The Food Lab reminded me of the food courts we enjoyed in Southeast Asia while on our Circle Pacific trip in 2005. It had a nice mix of food choices and a vibrant atmosphere that many US food courts lack. I am glad we checked it out!
After dinner, we strolled around downtown a bit, taking in the scene and the lights on the pedestrianized portion of Main Street, and then headed over to the Stone Church Brewery and sat on their patio and watched the crowds. And were there ever crowds! The Festival of the Lights is apparently a really big deal and there were families and couples on dates and groups of friends all out enjoying it.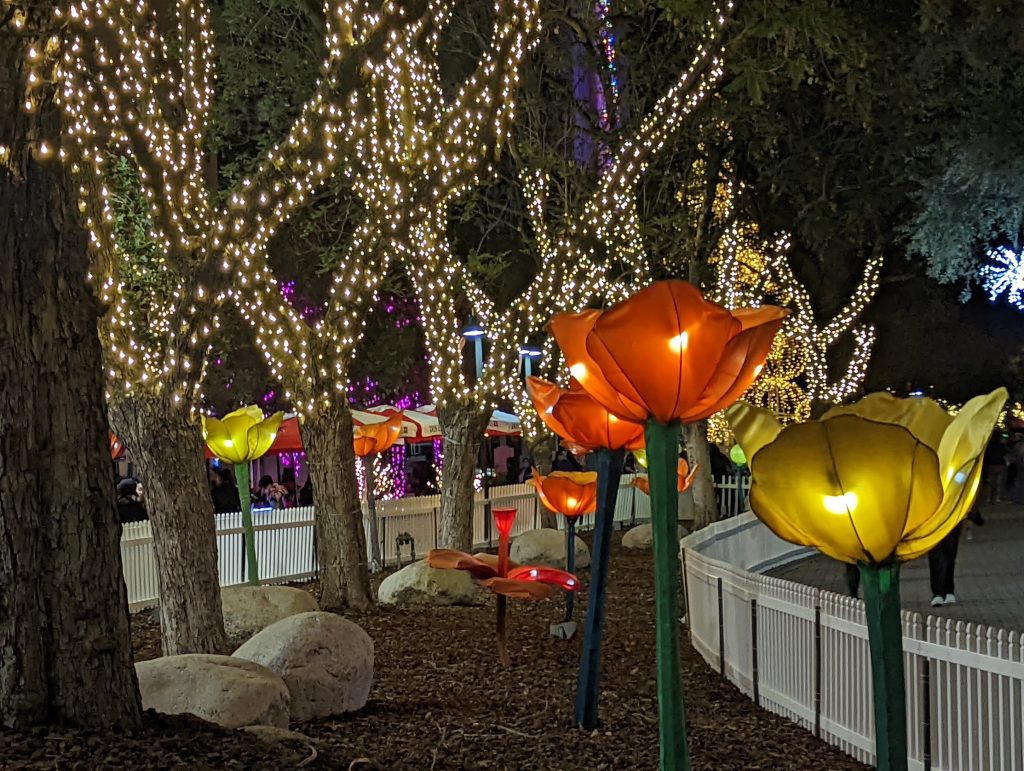 The next morning, we had brunch at a place called ProAbition, on the corner of the pedestrianized street. The food was pretty good and it was nice to sit on the patio and watch families get their holiday pictures taken at the giant Christmas tree across the street.
Our main plan for the day, though, was to walk up Mt. Rubidoux. We initially thought we'd drive to the base and then walk up, but when we checked more closely we realized it wasn't a long walk from our hotel so we walked to the park and then walked up the mountain. We chose the longer, more gentle path up, which allowed me to climb to the top without much trouble from my asthma. It also gave us the chance to admire the views from all sides of the mountain on our way up. In fact, the only part of the walk that gave me trouble were the stairs at the end, to reach the cross at the top. The stairs were quite tall and my leg muscles complained about the injustice of being asked to haul me up those stairs for a few days after.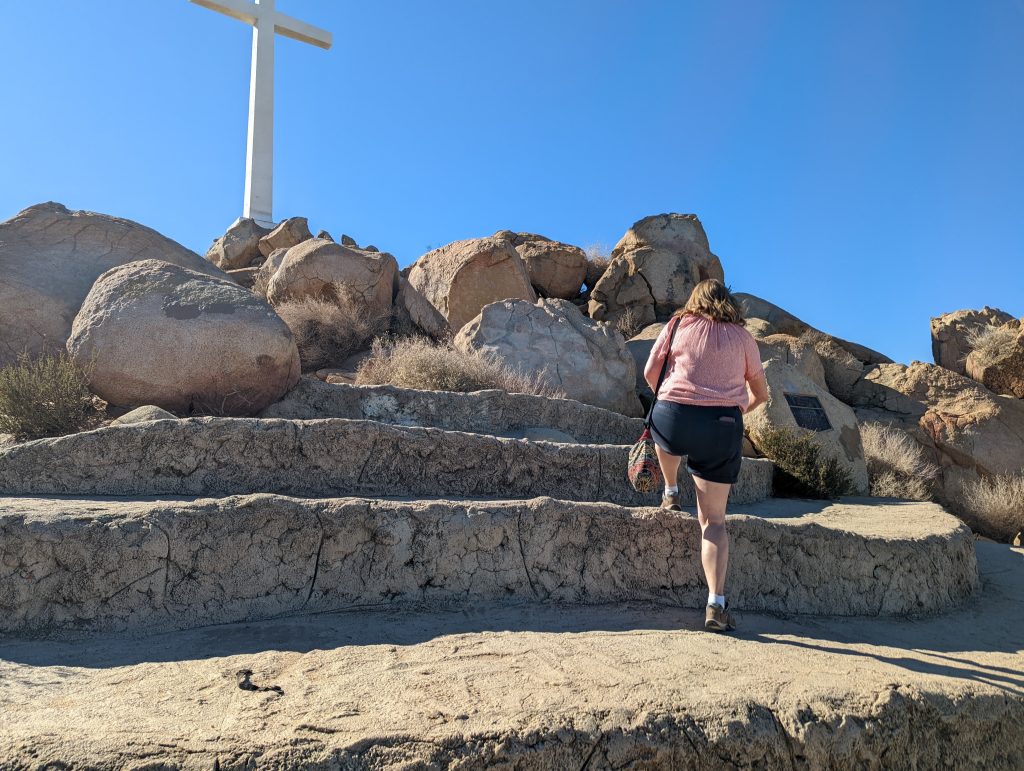 Once we had sufficiently admired the view and the odd "world peace tower" on Mt. Rubidoux, we stopped in at the Food Lab for one last time, this time to get ice cream.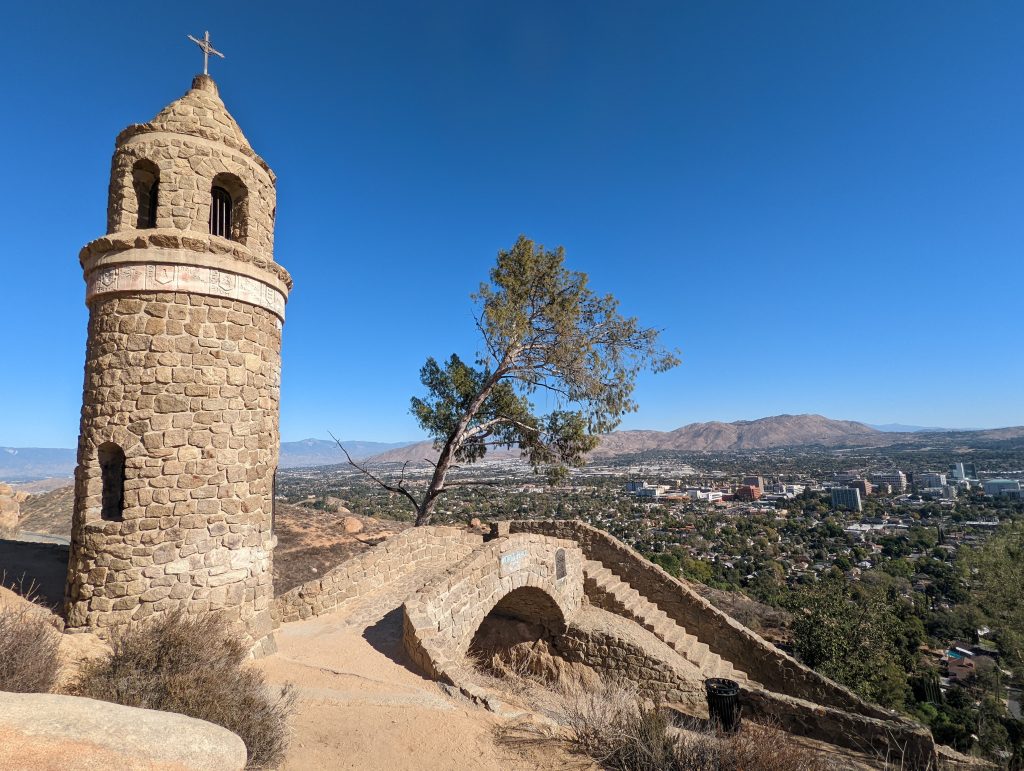 Then we went back to our hotel and enjoyed a leisurely afternoon by the pool, complete with margaritas and some chips and guacamole. It was lovely.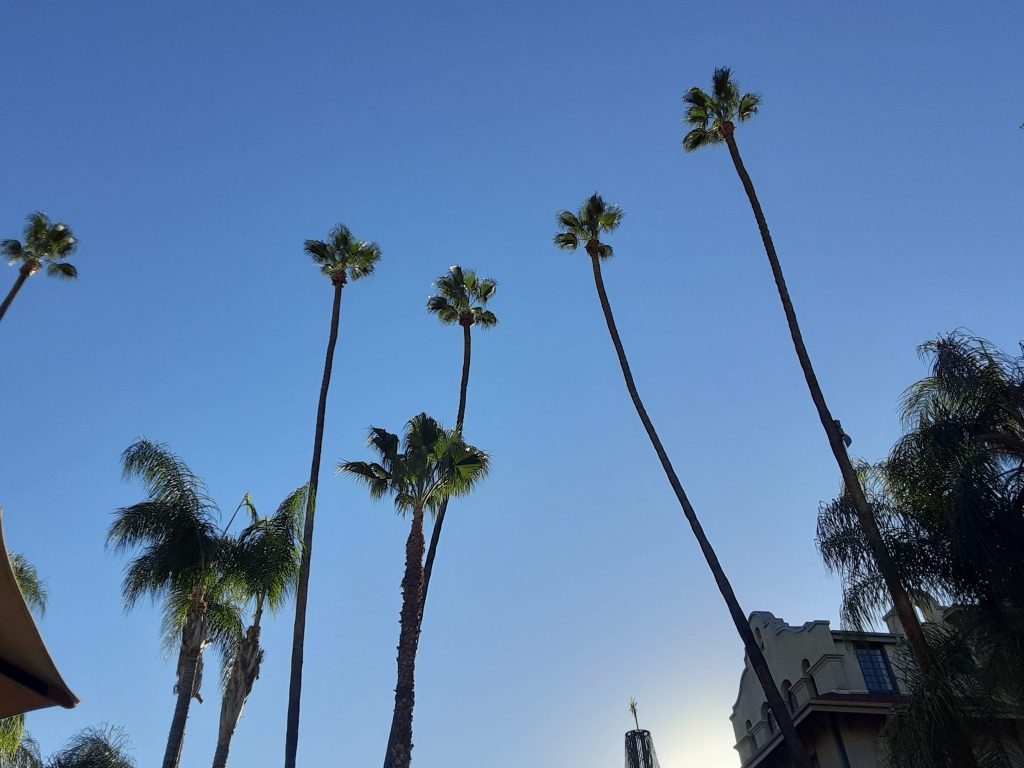 Dinner that night involved more margaritas and guacamole – we'd booked a reservation on the patio at the Mexican restaurant in the hotel. The food was good and the lights were pretty and all in all it was wonderful. There were still crowds of people queuing up to see the lights in the hotel but we didn't really notice that from the patio. After dinner, we took advantage of our status as hotel guests to see the lights we hadn't already seen. They are nice, but I am not sure I would wait in the long lines to go see them.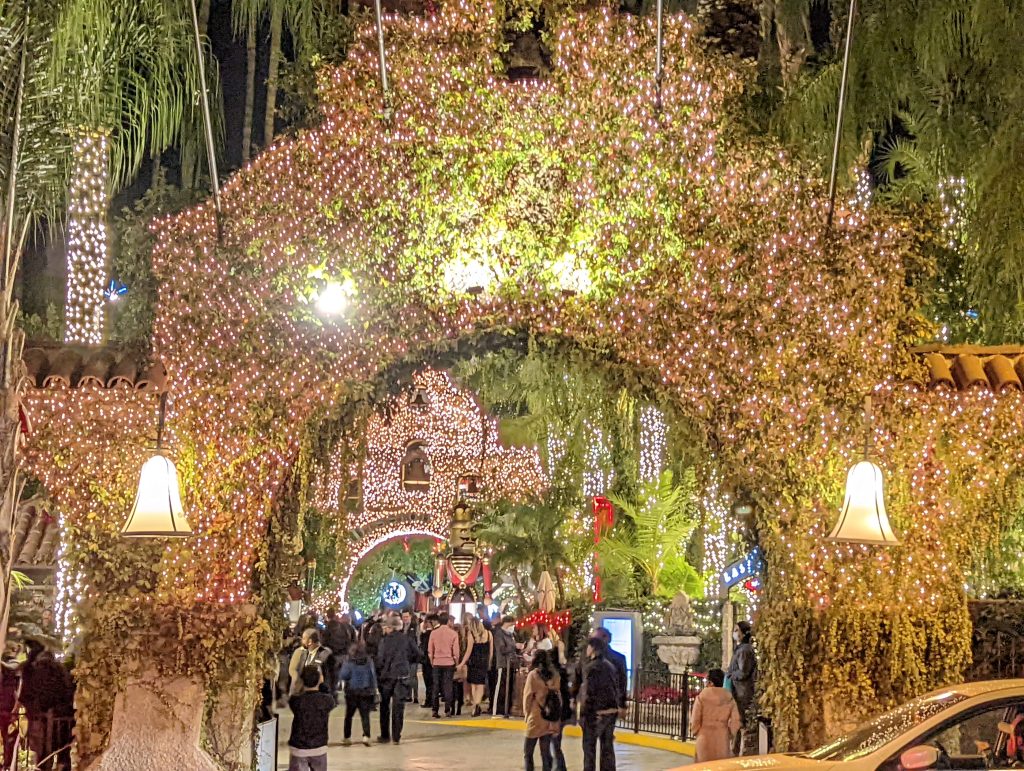 In addition to getting us in to see the lights without a huge wait, our hotel keycard also gave us the chance to explore the hotel itself and see some of the quieter parts, which were also decorated with lights even though they were not accessible to the general public.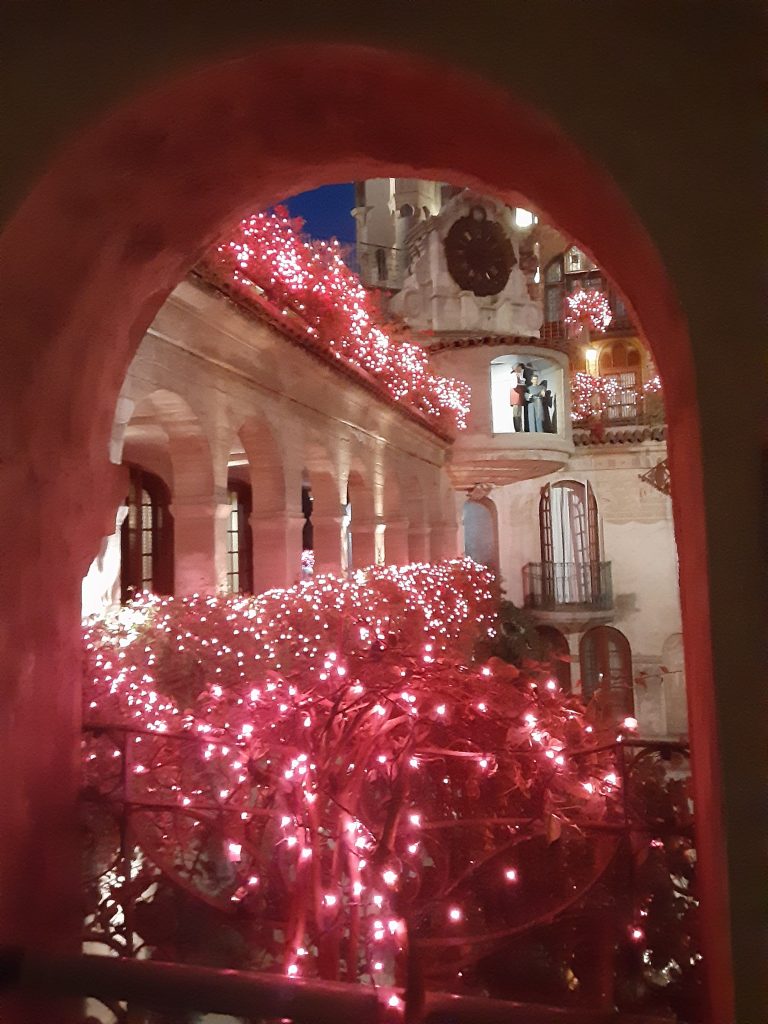 Considering the comfortable room, the chance to see the lights without the hassle, and the lovely and laid back pool area, I have to say this hotel was worth the splurge.
All good things must come to an end, though. Monday morning, we had to head home. Our last stop in Riverside was at the California Citrus Historic Park. The visitor center isn't open on Mondays, but we could still stroll around and admire the citrus trees and read some of the information on the interpretive plaques. Then we headed south on the 15, back towards San Diego.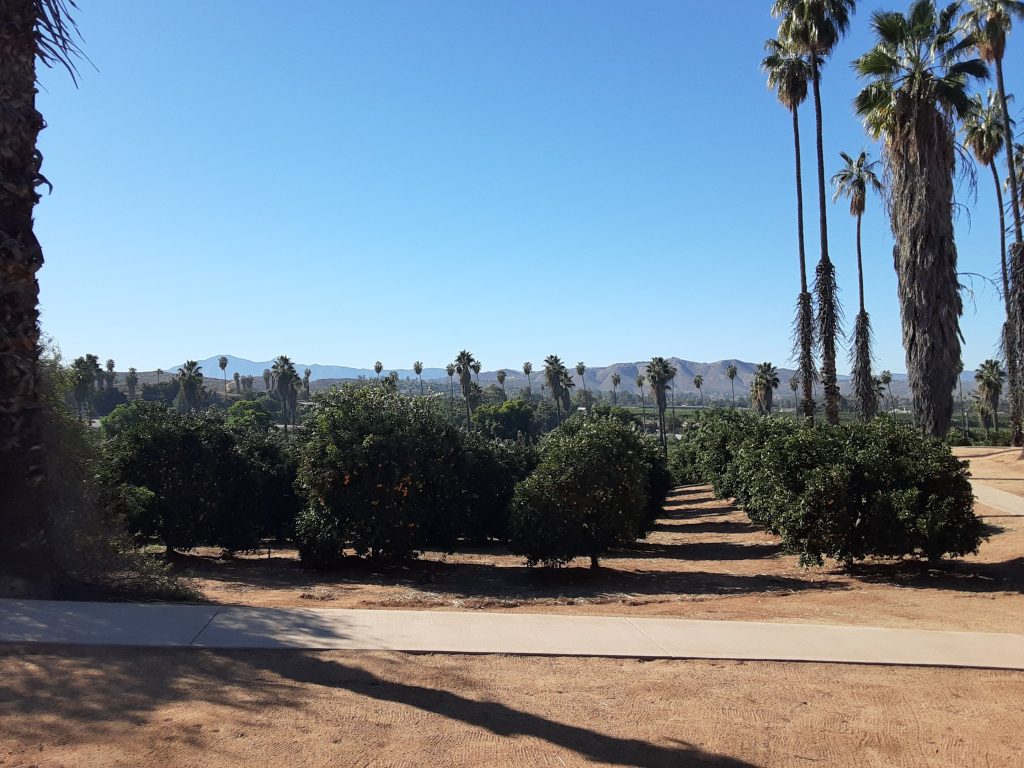 We stopped for lunch in Temecula. We parked in Old Town and strolled around until we settled on 1909, which did not disappoint. I was intrigued by the tikka masala poutine so I tried that. It was not in any way poutine – the potatoes were chunks, not fries, and the curry sauce was not at all like a gravy – but it was good. My husband had shrimp and crab empanadas and fried deviled eggs and one of those things came with a salad that had a tiny sweet pepper he is still raving about. We checked out some of the shops in Old Town and then drove home, having had a thoroughly enjoyable short getaway.
Trip details: Saturday – Monday, November 2021; Travelers: Me and my husband