We thoroughly enjoyed our time in Prince Edward Island and Cape Breton, and were a little sad at the thought of heading back to the bustle of a city. Luckily, Halifax is a really cool city, and we loved our time there, too.
We decided to maximize our time in Halifax by driving from Chéticamp to Halifax in one day. The drive would have taken a little over four hours if we'd gone the fastest route and avoided stops. But that's not what we chose to do, so we left Chéticamp in the morning and didn't make it to Halifax until evening. We had two great stops, though, so it was definitely worth the long day!
Our first stop wasn't a planned one — we got stopped for about 20 minutes by the drawbridge at the Canso Causeway. This wasn't so much fun, but it did give us a chance to try the food at Tim Horton's. I'd promised my 9 year-old that we could stop at Tim Horton's and get a lemonade slushie during our drive. The delay at the bridge was so long that we decided to stop at the same Tim Horton's we'd visited on our way to Cape Breton and have lunch. It was pretty standard fast food, but it served its purpose!
Our next stop was much more rewarding. My parents' AAA guidebook mentioned the Museum of Industry, in Stellarton. We didn't have much information about it since it wasn't in our guidebook, but it looked interesting from the website and it was at a good point in the drive for a stop, so we decided to check it out. We were very glad we did! It is a great museum.
The museum covers work in Nova Scotia from colonial times to the present. The strongest sections are the sections on the early industrial age through about 1950. There were scale replicas of multiple different types of water mills, which a volunteer explained and helped the kids demonstrate. There was a working machine shop to demonstrate what a machine shop in a mine would be like and a scale model of a lumber mill, again with volunteers to explain what we were seeing. There were old steam engines, including some of the oldest surviving steam engines in the world.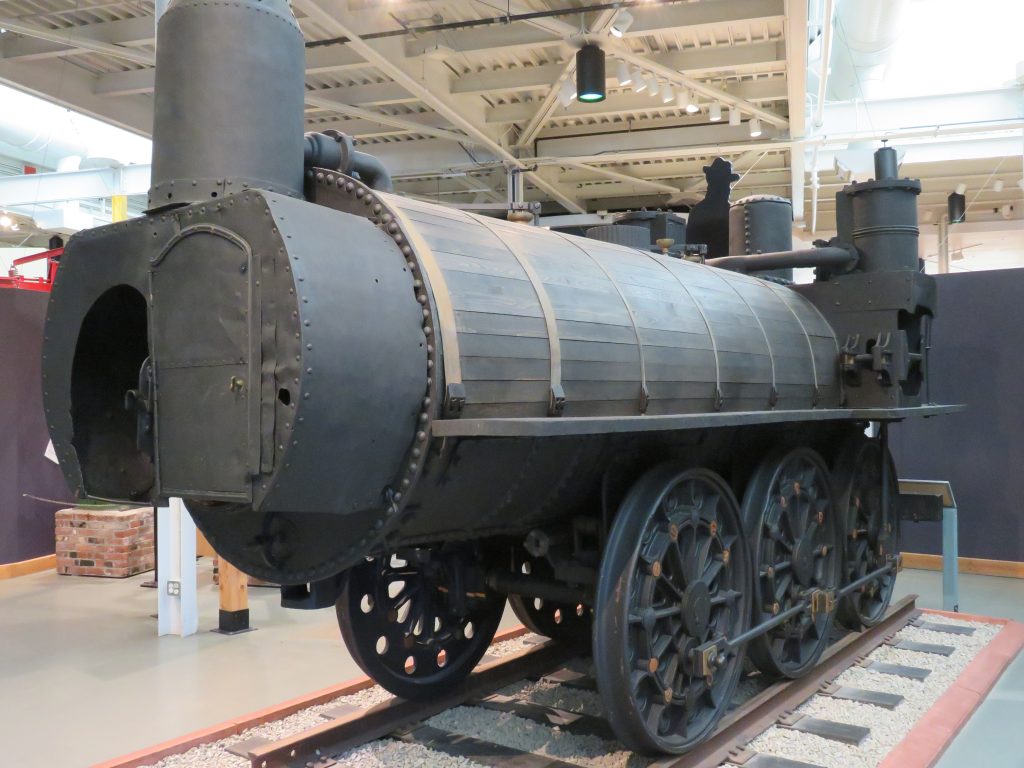 There were two highlights of the museum for me. The first was the assembly line game. I am convinced this was inspired by the classic I Love Lucy segment in which Lucy and Ethel get jobs at a chocolate factory and struggle to keep up with the assembly line. In the museum's game, the players have to put plastic chocolates of six different shapes into wooden trays, while someone else (me, in this case), turns the crank on the assembly line. The kids had a lot of fun with this, especially when I started speeding up the line!
The other highlight was the old "shopmobile." This was a bus that had been converted in to a shop classroom. From 1942 to 1964, Shopmobiles drove around a route of rural schools picking up students (at the time, only boys). The students perched on the shop benches — no seats let alone seatbelts! — and when the bus got to the final stop on the route, it plugged in to the school's electricity and the bus driver/shop teacher taught the kids their shop class. The bus even had a small coal-powered forge!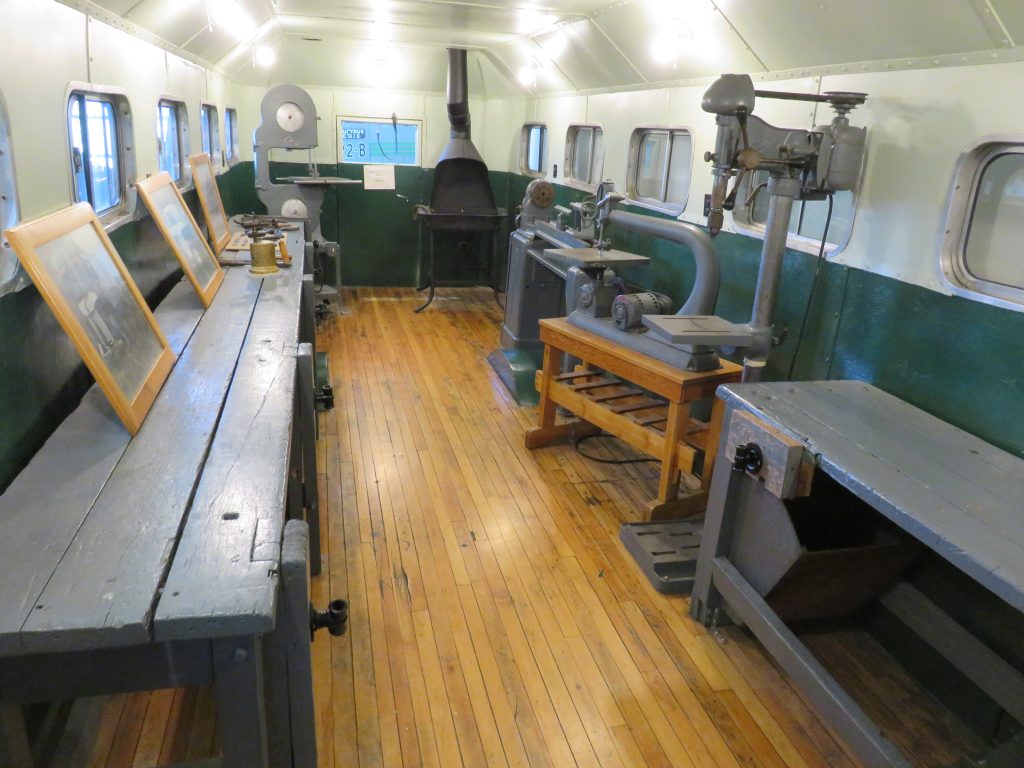 We could have easily spent another hour or so at the museum, but we wanted to make one more stop before Halifax: The Sober Island Brewing Company, in Sheet Harbour. The main attraction was a t-shirt, which my husband thought would be a cool souvenir. Luckily, we really liked the beer and enjoyed our afternoon snack of poutine on a patio looking out at Sheet Harbour.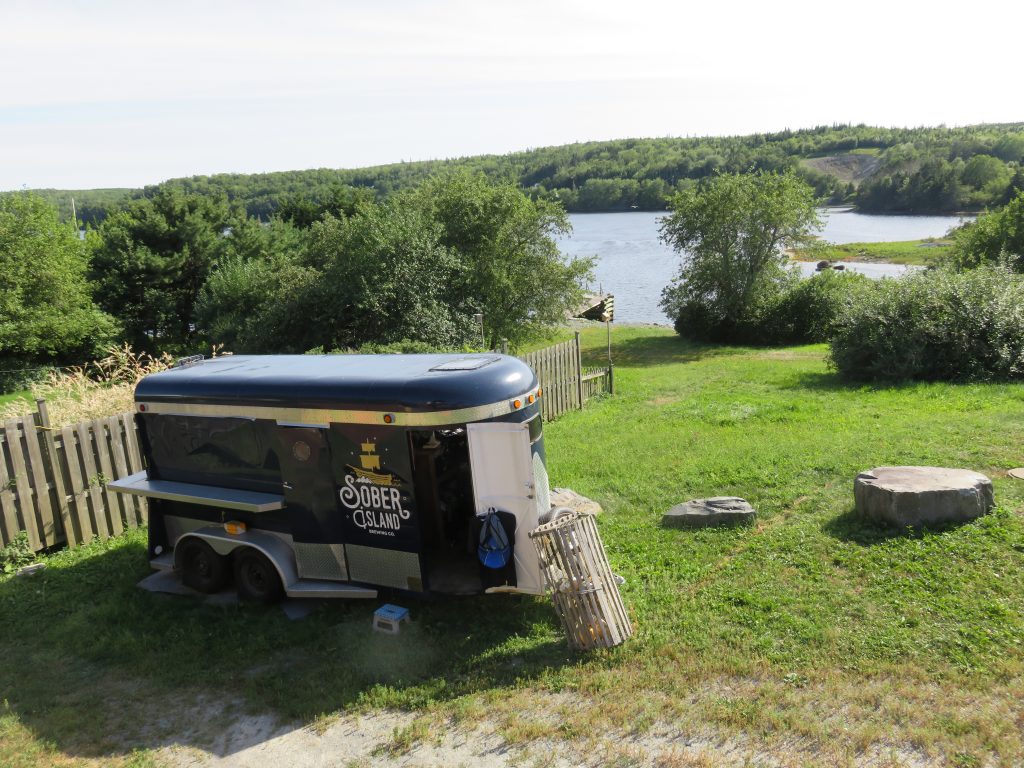 After we left the brewery, we drove directly to Halifax. Since we'd detoured down to Sheet Harbour, though, this was a coastal drive with some wonderful scenery. Again I found myself wishing for more time to explore.
It was late evening by the time we got checked in to our hotel in Halifax. We still needed dinner, though, so we walked down to the harbor. The harbor-front walk was very pleasant, with people out enjoying the late evening. There was a ballroom dance club having a dance, and there were several restaurants along the harbor. Most restaurants were full and not seating more people for the evening, though. We eventually found a seafood restaurant that had a menu with options that were at least acceptable to everyone, had some dinner, and then went back to the hotel to sleep.
The next day, we met back up with my parents and my sister, and we all walked down to the Immigration museum at Pier 21 on the harbor. We took the guided tour and got very lucky with our guide — he did an excellent job of evoking the experience of early 20th century immigrants. His description of immigrants' reaction to Wonder Bread, and to Canadian bread in general, made me laugh, because my husband had a very similar reaction when he came to America in 2001! To the rest of the world, our bread is disturbingly sweet and squishy.
The museum was really well done, and each of us had a favorite thing. Mine was the short descriptions of various immigrant communities in Canada. My husband liked the visualization of the different waves of immigrants from different places. My 12 year-old really liked a suitcase packing exercise they had, and spent ages organizing the little cushion squares they used to represent the various types of things immigrants might bring with them. My 9 year-old liked a display where you could use blocks to build a community hall.
After the museum, the kids went with my parents, while my husband, sister, and I went on a Taste of Halifax food tour. The tour was a lot of fun, and took us to different parts of town and some different places we wouldn't have found on our own. For instance, one stop was at Chainyard Cider, where we got to sample both some cider and some food from the Unchained Kitchen that shares the space. The most truly Halifax stop on the tour, though, was at Johnny K's, for donairs. The donair is what happened to doner kebab when it came to Eastern Canada. Haligonians didn't care for the yogurt-based sauce, and they preferred beef to lamb. And so, Peter and John Kamoulakos invented the donair. The meat is spiced beef, and the sauce is a combination of sweetened condensed milk, white vinegar, and garlic powder that is somehow delicious. My husband was so impressed with the donair that he's been learning how to make them at home.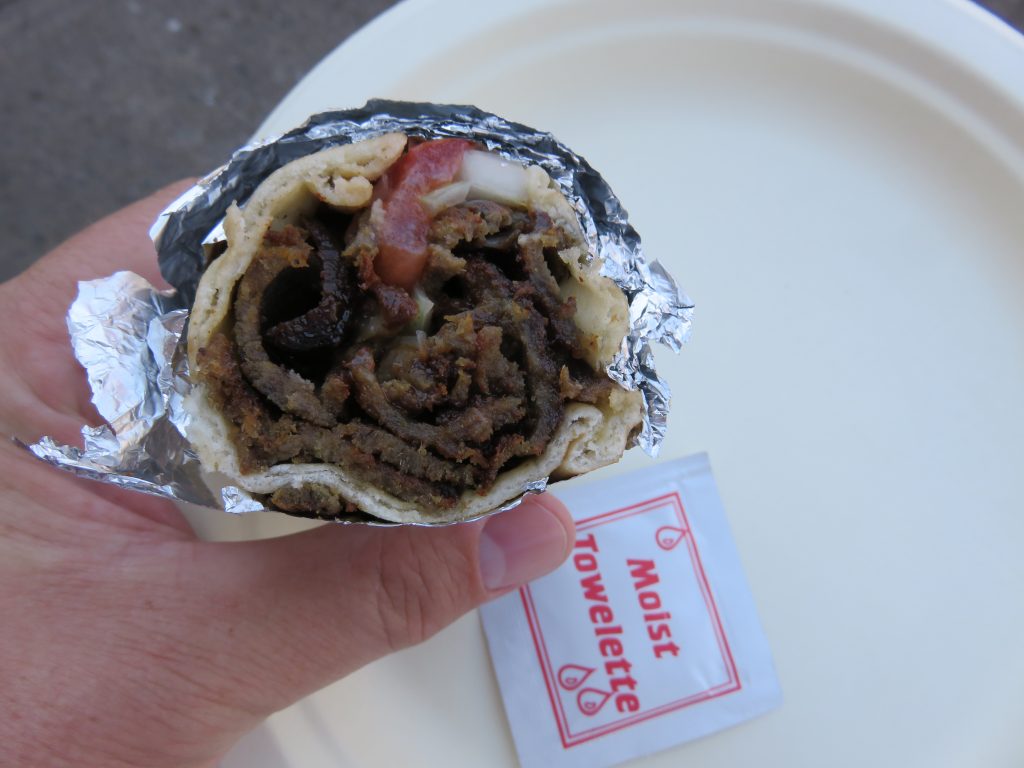 The food tour didn't leave us too stuffed, so we decided to have dinner at Chives, which is considered one of the best restaurants in Halifax. The food there was delicious — my husband says the beef carpaccio he had to start his meal was one of the best dishes he's ever had. We decided against dessert at the restaurant, opting to stroll back down to the waterfront for some ice cream. We also found a playground for the kids, complete with a large concrete wave sculpture that had a "no climbing" sign that was completely ignored by everyone. I really liked the Halifax waterfront. It has a lot of nice features, including some of the best public art I've ever seen: the drunken lamposts. It also has features like hammocks and group benches that encourage people to hang out. It was a little chilly for us, acclimated as we are to warmer climates. But I still enjoyed spending time there.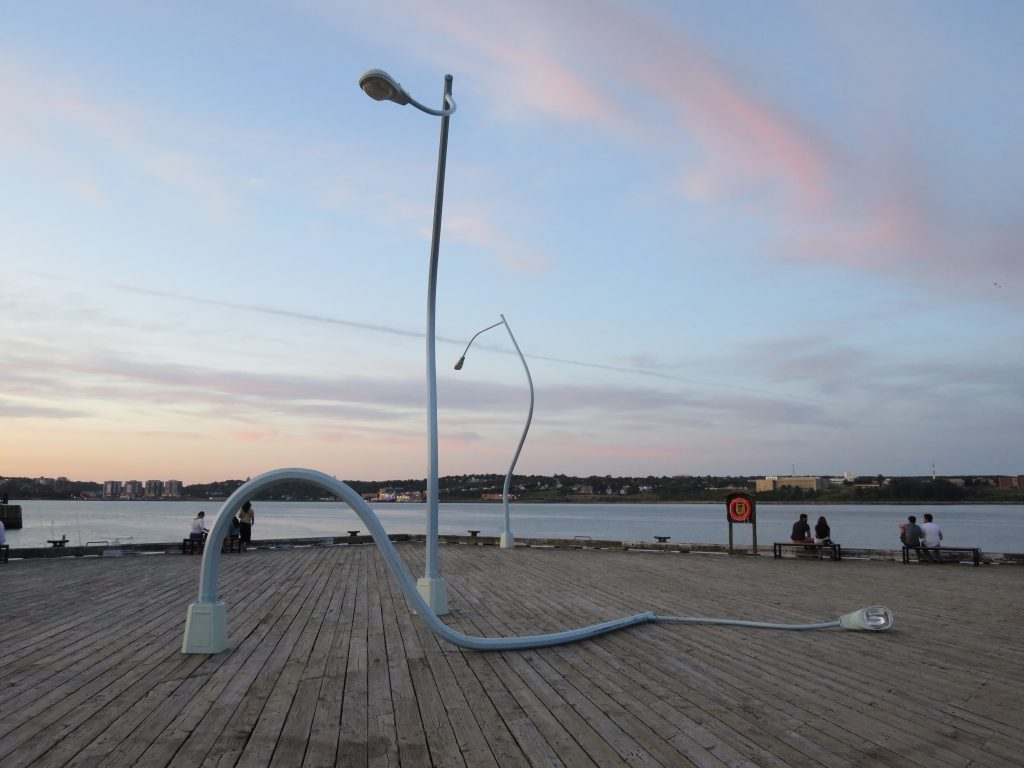 We started our last day in Halifax with some souvenir shopping in the Heritage Properties, which is a collection of shops in some historic buildings on the waterfront. Then we shopped our way down the waterfront to the Farmer's Market at the other end. The most memorable stop was a shipping container converted into a store outside the Farmer's Market. It sold slime and squishies made by a Nova Scotia company. My nine year-old loved pretty much everything in the store, but eventually settled on some fluffy slime to buy.
We met up with my family for lunch, which was at the Rock Bottom Brew Pub, which has nothing to do with the American chain of the same name. After a good lunch and some good beer, we walked over to the Public Gardens. The gardens were pleasant to stroll around, and the dahlia garden in full bloom was a particular highlight. It showcases dahlias created by Nova Scotian gardeners, and there was quite a range of different colors and sizes. After the garden, we did a little more souvenir shopping on Spring Garden Road, and then headed back to the hotel for a short rest.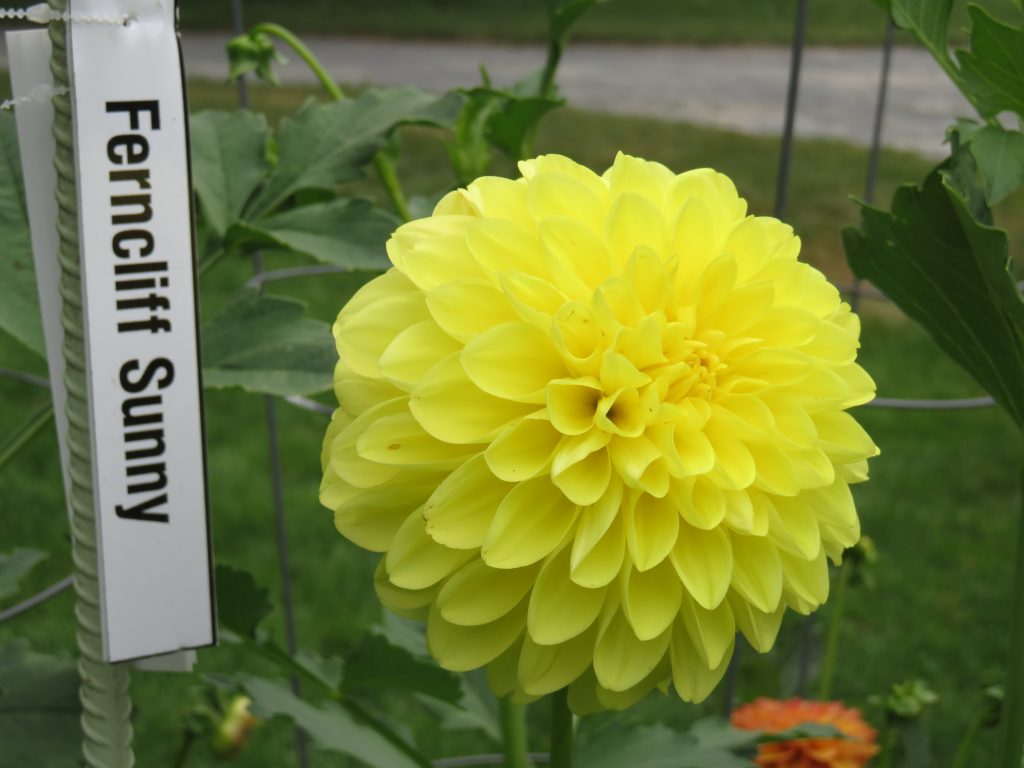 My nine year-old and I wanted one last Cows Ice Cream before we left Canada, so we walked back to the Heritage Properties to get one. Then we met the others at the Nova Scotia Art Gallery. The main reason for our visit was to see Maud Lewis' art. Lewis was a self-taught Canadian artist whose paintings delightfully capture scenes of everyday life. The gallery is also home to the small house where she and her husband lived, which she had covered with paintings. It was really cool to see both the house and her paintings. We also enjoyed looking at the other folk art in the collection and an exhibit of contemporary Black Canadian art.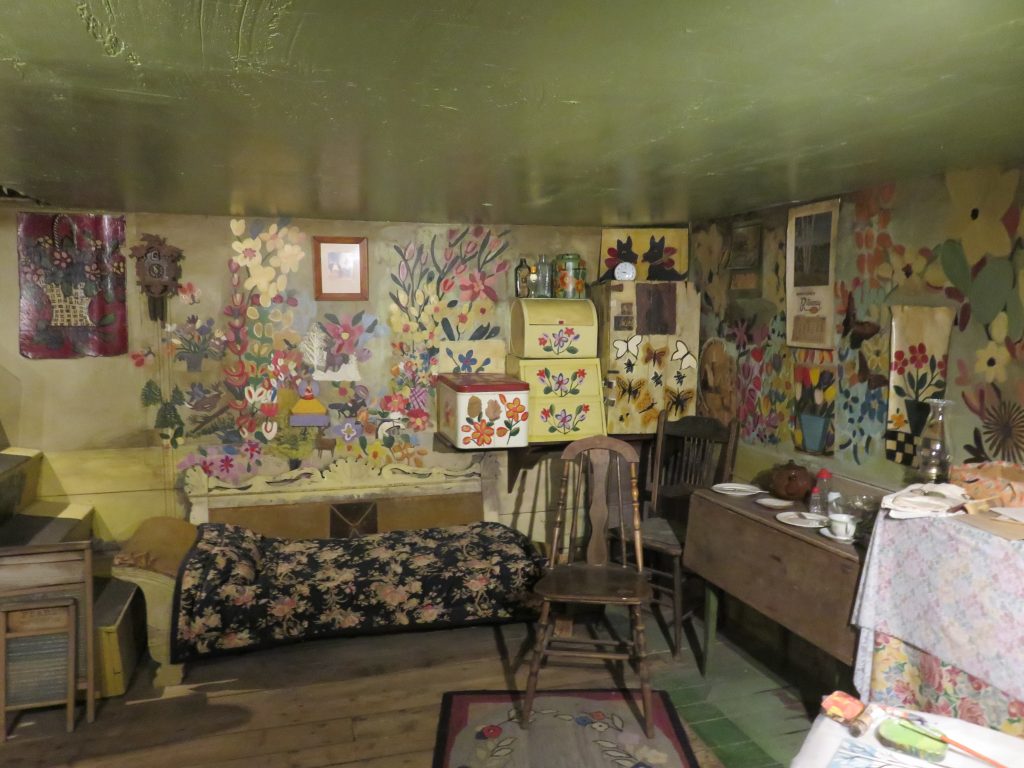 We finished the evening with dinner at another branch of Gahan's. This wasn't anything special, but it was good enough and it was starting to rain. Gahan's was close to the gallery and on the way to the hotel so worked well for our final meal in Halifax.
We had an early flight the next morning. We were sad driving to the airport, wishing we'd had more time at every stop on our trip. I thought I hadn't overpacked the itinerary, but there was so much more we could have seen. We'll have to go back some day!