I have a trip that was earlier than this one to write about – a week and a half before my husband and I spent a couple of days in LA to celebrate his birthday, we spent a day and a half in the Valle de Guadalupe to celebrate my sister's birthday. But all that has come after the trips makes it seem right that I should write about the LA trip first.
Sometime last year, my husband noticed that one of his favorite bands would be playing in LA close to his birthday. We asked my parents if they'd come watch the kids for a couple of days, scheduled some time off work and planned a little LA getaway.
The concert was March 10. Our plan was to quit work a little early on March 9 and drive up to LA, stay for two nights, then drive home on the 11th. The week before our trip, I monitored the reports of COVID-19 cases in both San Diego and LA. Awareness was starting to go up. Already, there was little toilet paper and no hand sanitizer to buy in stores. There were cases in both communities, but all of the reported cases were from travel to a known hot spot or close contact with someone who had traveled. There were no reported cases of community spread. We knew the testing regime was inadequate, but decided that without any reports of community spread, we'd go ahead with our trip.
The first report of a community spread COVID-19 case in LA came on March 10. The first report of a community spread COVID-19 case in San Diego came on March 12. In retrospect, there was clearly community spread occurring in both cities at the time of our trip.
Our trip felt like it had a shadow over it, but since we had decided to go ahead, we also decided to try to really enjoy the trip. We took precautions: I had a purse-size bottle of hand sanitizer along and we used it frequently. We tried to keep our distance from others, and we washed our hands as often as we could. We took the stairs in our hotel instead of the elevator, and made an effort to sit apart from other groups when we were out. But we had fun.
We worked until mid-afternoon on the 9th and wanted to make it to LA for dinner… so we didn't dally on our drive north. My husband had booked us into Mama Shelter in Hollywood, a hotel that is definitely cooler than we are. One of the attractions was the rooftop bar, so once we got checked in, we headed upstairs to check it out. It was pretty nice.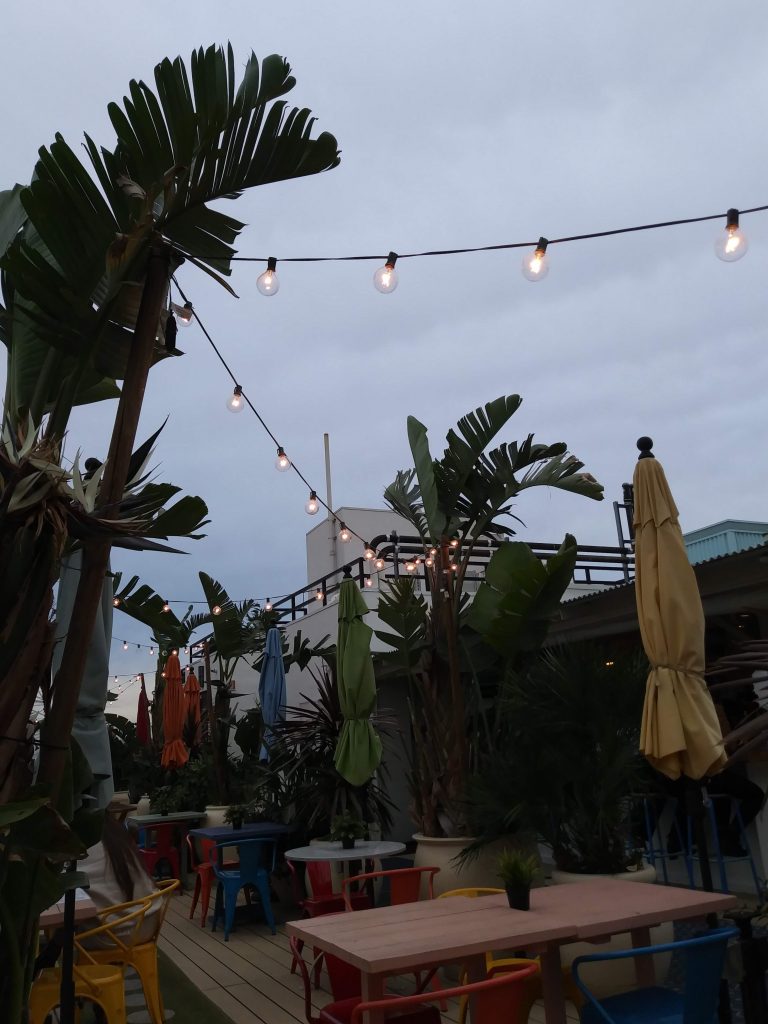 And did indeed have a view of downtown LA. I imagine this is stunning on a sunny day.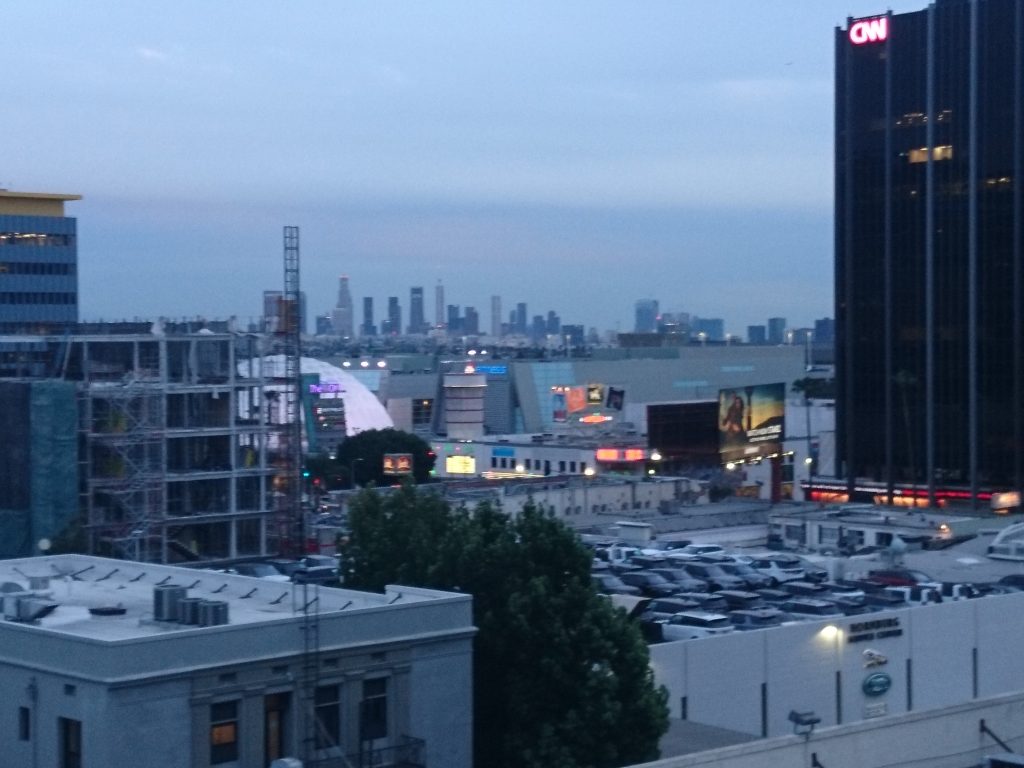 After a leisurely drink on the rooftop, we went out in search of dinner. We ended up at a Peruvian restaurant called Los Balcones where I ate the best steak I have ever had in my life. It was their Lomo Saltado and if you're ever in the neighborhood I highly recommend stopping in and ordering it. Also, their cocktails are quite good.
After dinner, we went back to our hotel's rooftop bar for another drink or two… but rain was coming, and so they closed the bar early. Luckily, I am old and was getting tired anyway.
Rain was also in the forecast for the next day so I had booked us tickets to The Broad. First, we had an absolutely delicious breakfast at our hotel. My egg was perfect and the breakfast potatoes were delightfully salty and crunchy. My husband had avocado toast with egg and also raved about it. Uncharacteristically, he did not take a picture of it so you will just have to imagine how glorious it was.
The sky was still clear after breakfast, so we decided to head downtown even though there was still quite some time before our reservation at The Broad (the museum is free, but you have to book tickets for a specific time, or wait in the stand by line). We decided to head to The Last Bookstore to see if they had a Montana guidebook for our planned summer vacation (they did not) and then over to Grand Central Market for a beer at the Golden Road Brewery. It was not crowded and the brewery is near the entrance, so we ordered our beers and grabbed seats at the bar, carefully picking seats without anyone in the neighboring chairs.
After we finished our beers, we caught the Angels Flight tram up the hill and headed over to The Broad. Even with our reserved tickets, we could not get a slot to see Yayoi Kusama's large Infinity Room, The Souls of Millions of Light Years Away. That was a little disappointing. But there were so many wonderful things to see that we quickly got over that disappointment, and just decided we'd need to come back with our kids some day.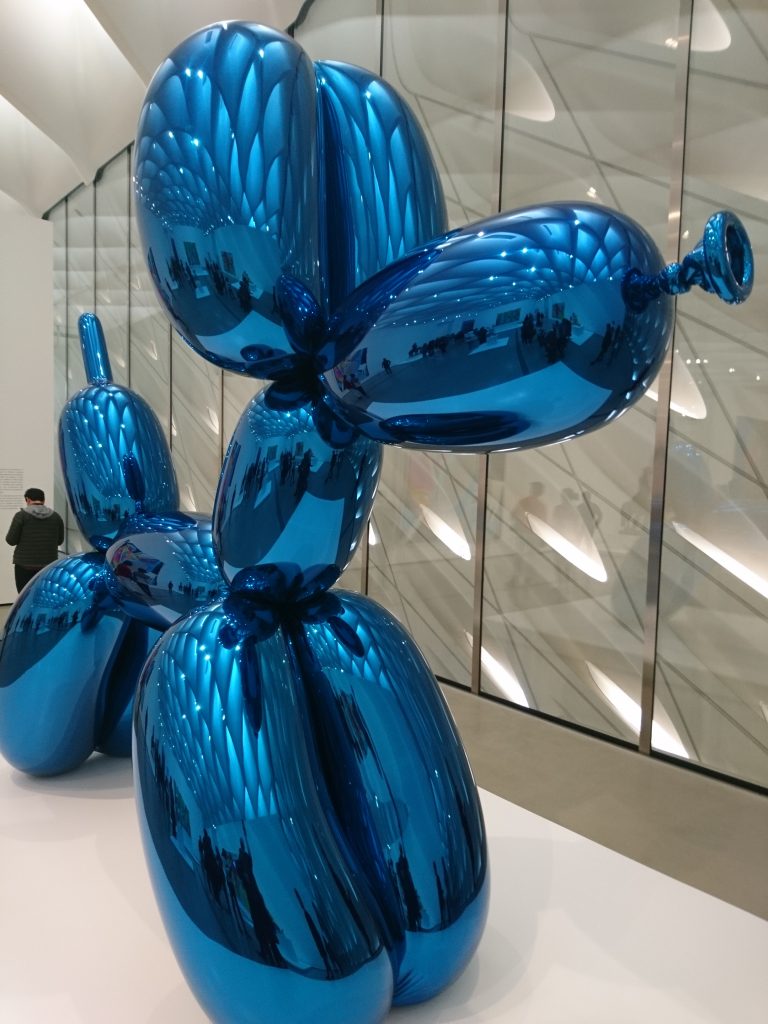 Also, there is a smaller "infinity box" you can visit without a special reservation. We waited in line for about 10 minutes to see Longing for Eternity, and it was worth the wait.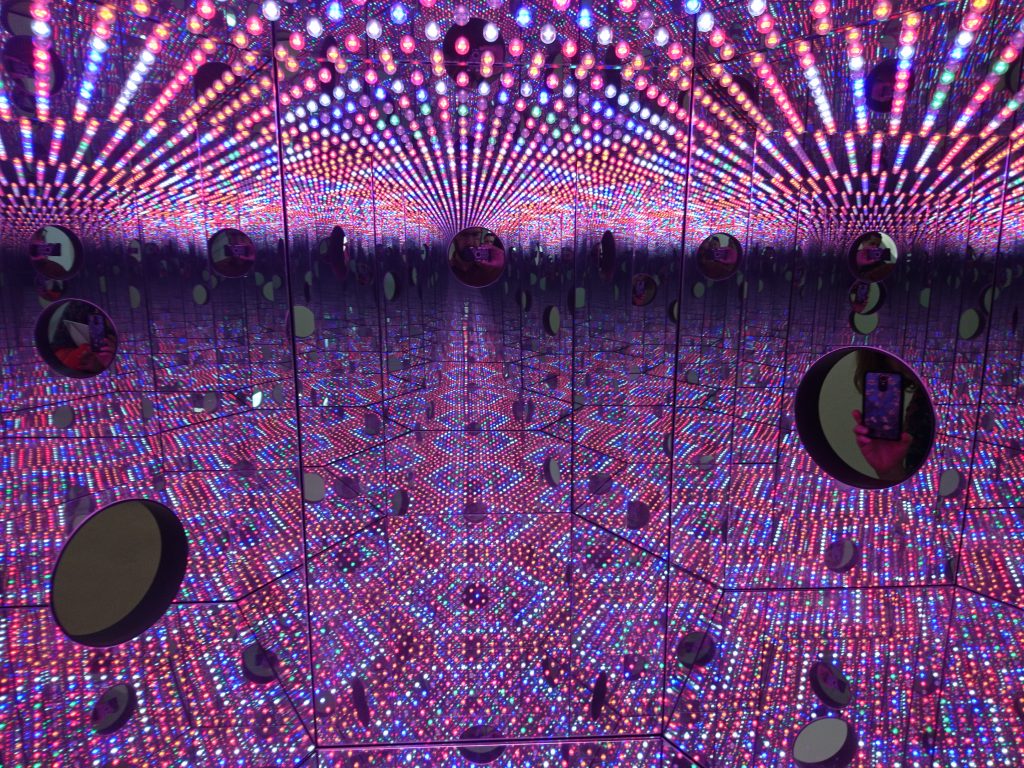 My husband had not done any research on The Broad before we went, so he was surprised and delighted to find several Roy Lichtenstein pieces on display. This was my favorite: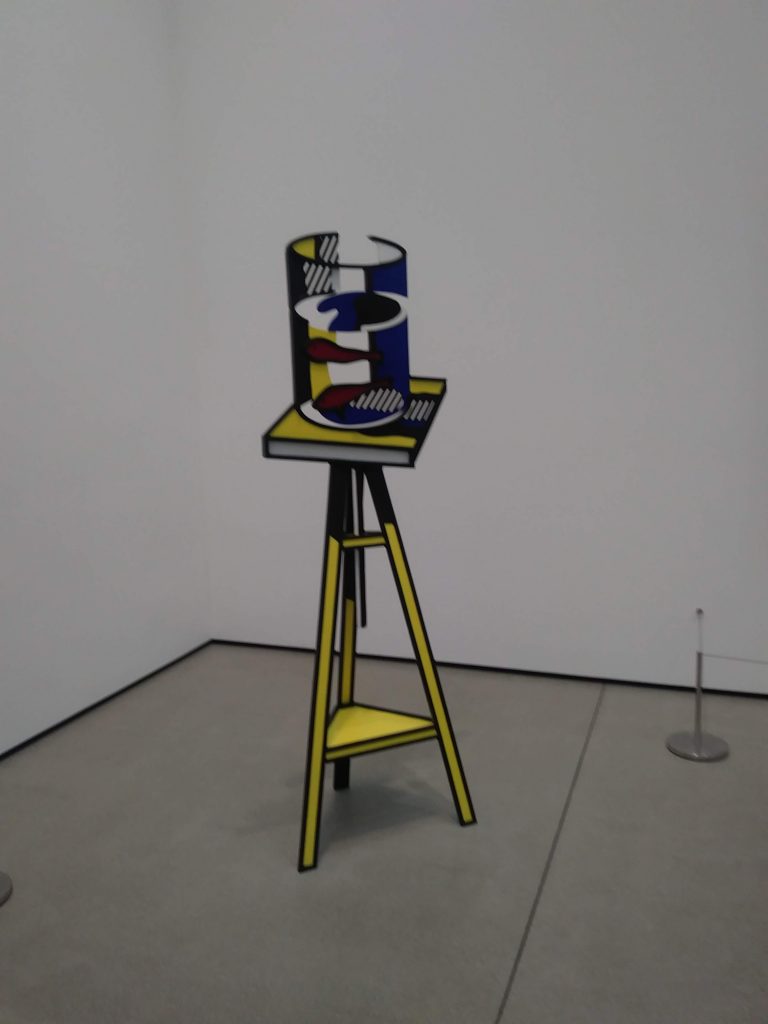 The Broad was busy, but everyone seemed more aware of their personal space than usual. Mostly, we all kept some distance between our immediate group and any others. This was before the admonition to keep 6 feet away from other people became common, and keeping 6 feet away would have been hard even if we'd known we should be trying for that. But we probably kept 3 feet away from most other people, most of the time. There were also big dispensers of hand sanitizer on the ground floor, and almost everyone took a squirt as they walked in. But mostly, we were focused on the wonderful art on display and so was everyone else.
After we finished at The Broad, we had a coffee/tea and snack at the Go Get Em Tiger branch by the Dorothy Chandler Pavilion. We found some reasonably dry seats and sat on the deserted outdoor patio, drank our drinks and watched the fountain for awhile, then walked back to collect our car.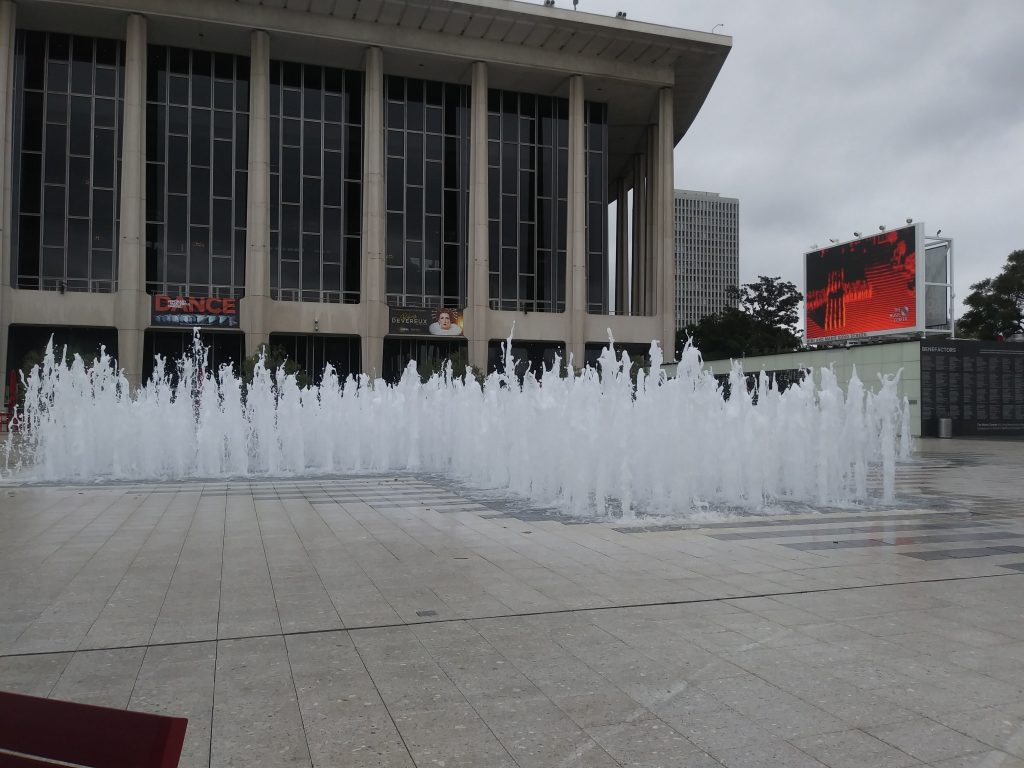 We drove surface streets back to the parking garage associated with our hotel. There was not that much traffic, which made the drive pleasant. We wished it were a nicer day, so that we could park and explore the neighborhoods we were driving through. Some other time.
We had dinner and some delicious margaritas at Trejo's Tacos. My husband picked it because it is owned by a famous character actor, Danny Trejo. I am not as much of a movie fan as he is so I didn't really know who Danny Trejo was, but the tacos were good!
Once we'd finished dinner, it was time for the concert – we walked over to The Dolby Theater for the concert. The Dolby is where the Oscars are held, and I admit it was pretty cool to see the inside of the theater. It has spacious foyers on each floor, so we actually had no trouble keeping away from other people until we took our seats. And even then, we didn't have many near neighbors. We wondered if people had not shown because of coronavirus concerns or if we just had not very good seats, so our section wasn't sold out. We do not know which it was!
The next morning, we considered picking a different restaurant for breakfast and then decided that nothing was going to be better than the breakfast at our hotel so we enjoyed a leisurely breakfast, packed up, and then said good-bye to Mama Shelter.
We had no reason to hurry back to San Diego, but we also had a growing sense that it was better not to be around a lot of other people. We decided not to linger in LA. We drove to a mall in Burbank so that we could charge our car, and then headed south.
The mall in Burbank was… weird. The Americana at Brand is laid out as a square of "streets" around a grassy area, which was beautifully manicured but roped off for maintenance when we were there. I don't know if it felt weird because I'm not usually in an upscale mall on a Wednesday morning, because of the cloud coronavirus cast over our time in LA, or just because upscale malls that are pretending to be small town main streets always strike me as weird. But it served its purpose by having a Tesla supercharger, and once our car was charged up we left.
It was a beautiful sunny day, and we made good time through downtown LA, so we decided to get off the freeway in Orange County and drive a bit of the coast road. We got a bit hungry in Newport Beach. We parked in the Corona del Mar area, which we've driven through several times but never explored at all. We didn't explore much this time, either – I wanted french fries, so we went to the Ruby's for what we later realized was our last meal in a restaurant in who knows how long. In one sense, that is a bit sad. Shouldn't our last restaurant meal have been something a bit more interesting? But in another sense, it was perfect. The fries were delicious and just what I wanted.
After leaving Corona del Mar, we drove straight home. Two days later, our school district announced that schools would be closed. Two weeks later, we breathed a sigh of relief when it became clear that our LA getaway hadn't resulted in a coronavirus infection for us or for my parents. I held onto the idea that maybe we'd get our summer vacation to Yosemite, Grand Teton, and Glacier National Parks for a bit longer, but have now acknowledged that won't be happening. This would have been my younger daughter's turn to use the Fourth Grade Park Pass program to get us all in free. I am sad she won't get that chance, but we'll go see the parks some other year. We are also looking forward to going back up to LA with our kids at some point. Next time, we'll be sure to get an early reservation at The Broad so that we can see The Souls of Millions of Light Years Away. Maybe we'll stop at that Ruby's on the way home, too.