Our kids are SoCal born and bred- our 10 year old recently complained that it has been cold for so long, and wondered when it would get warm again. By "cold" she meant that the highs had been in the low 60s for several weeks.
But even SoCal natives want to play in the snow. They've been agitating for a trip to the snow for awhile. The problem is, my husband and I are also southern Californians, although not native here, and don't really relish the idea of driving in the snow.
Luckily, there is an easy solution to this dilemma! Thanks to the Palm Springs Aerial Tramway, you can visit the snow without ever driving in it. The tram whisks you 8500 feet up Mount San Jacinto. In February, there's still snow on the ground up that high. Back at the base of the mountain, the ground is clear. Perfect!
Our school district takes a four day weekend for Presidents Day. Last year, we used the time for a visit to Universal Studios and downtown LA. This year, we drove to Palm Springs.
We detoured a little out of our way on the drive up to have lunch in Riverside. I'd read about Tio's Tacos and decided we needed to visit it. From what I read, it is a solid Mexican food restaurant (and we found this to be true), but we have plenty of those in San Diego. The reason we detoured to see this particular restaurant was the unique style of decoration at the restaurant. The patios are full of art created by Martin Sanchez, one of the owners of the restaurant. It takes "trash art" to a new level, and since my 10 year old is an aficionado (and frequent creator) of trash art, we had to visit.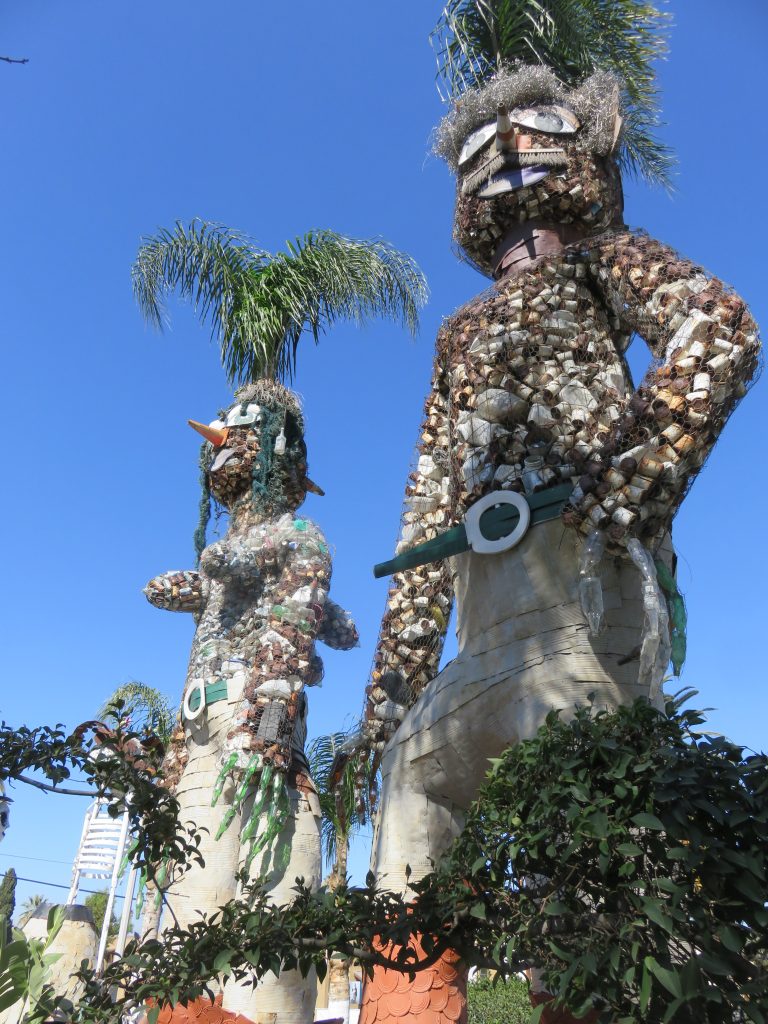 We enjoyed our food – I had enchiladas verde, my husband had a whole tilapia, one kid had chicken tenders, and the other had tortillas – and the chance to sit on the patio and admire the art. I'd definitely recommend checking the place out if you're ever in Riverside.
After lunch and a short stroll around the pleasant White Park while our car charged, we headed east along the 10. Our next stop was Cabazon, to see the dinosaurs. This collection of plaster dinosaurs is a truly kitschy roadside attraction… and a pretty entertaining stop.
The younger children visiting at the same time as we were definitely got more out of it than we did, but even our jaded 10 and 12 year old enjoyed the chance to peer out from inside a T. rex's mouth.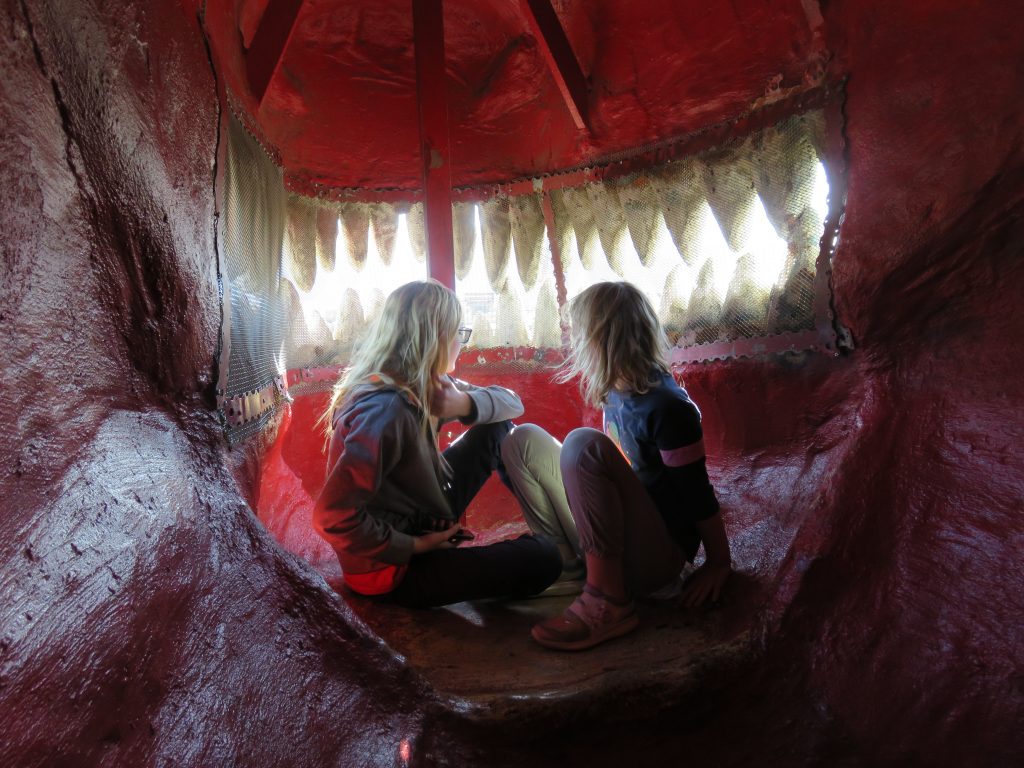 It is not far from Cabazon to Palm Springs, so our next stop was our hotel. Our visit fell during the Modernism Week festival, which made hotel space was a bit tighter and more expensive than usual. Also, given Palm Springs' role as a party destination, many hotels are specifically adult only and many others only have one bed per room and so aren't suitable for families with young children. All of which means we ended up at the Vagabond Inn, about 1.5 miles south of the "main" part of town. It was a perfectly fine motel, but it would have been nicer to be a little closer to the restaurants and shops.
I wouldn't have minded the distance to the main shopping area if it had been more pleasant to walk from the hotel to the shops, but the first half of the walk was along a busy road with nothing much to recommend it. We would have been better off catching the Buzz, a free bus that runs a loop from down where our hotel was up to the shops. We took the bus back to the hotel after our evening out, and it was very convenient.
Our 10 year old was not impressed with the walk into town so we didn't look around much before settling on a restaurant. Also, it was Valentine's Day and many restaurants were packed with couples observing the holiday. We spotted The Village Pub and figured that wouldn't be a popular Valentine's destination so we walked over and checked the menu. There were options for the kids, so we went in and had a very chilled out dinner on the patio. My husband and I both had a couple of beers, and we all enjoyed our food.
We were refreshed after dinner and decided to stroll around the shops a bit. We ended up spending quite a bit of money in a shop with Turkish imports. The kids each got a leather bound blank book, my husband bought a Turkish coffee set, and I got a beautiful lamp.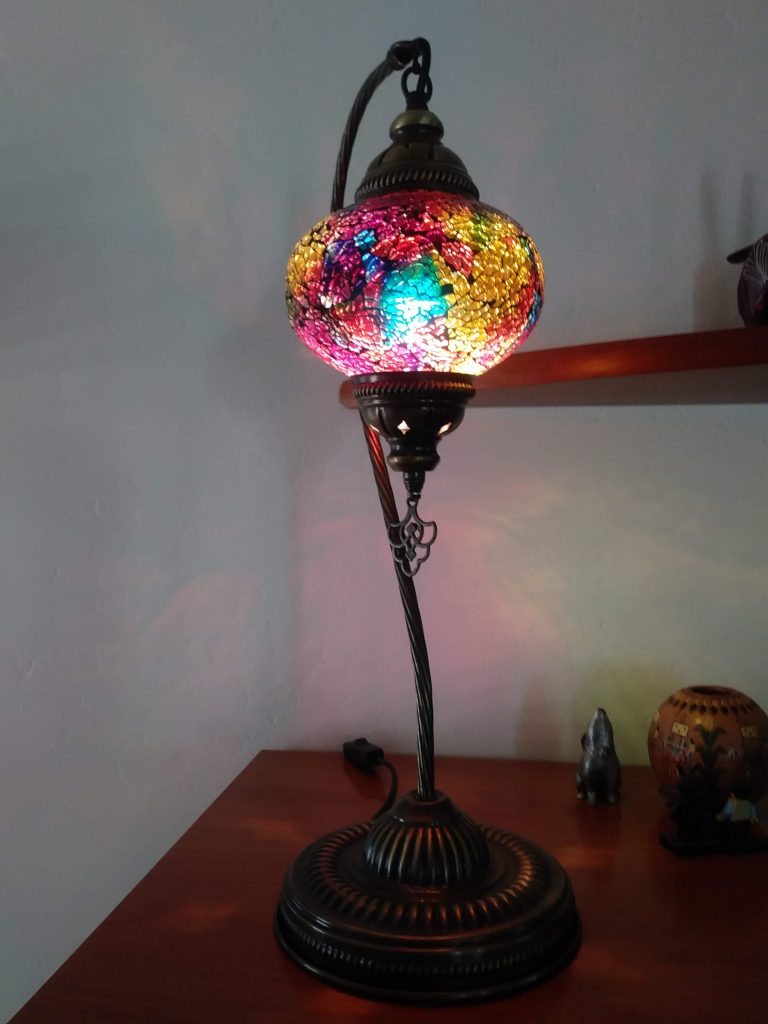 My kids are early risers, so we made it up the mountain the next morning well before the crowds and got some quality snow time. We got a nice surprise when we were paying for parking – the attendant told us there was free electric car charging. Those spots turned out to be right by the entrance to the tramway, so we got to charge our car for free AND we got a prime parking spot.
The ride up the tram is nice. The tram car rotates, so you get to see both the mountain and the view on the way up. Once at the top, we headed straight for the snow. We walked around and enjoyed the scenery and played in the snow for a couple of hours. We stopped for lunch a little before noon and had a surprisingly good lunch in the Forest View Restaurant. After lunch, I bought one of the cheap plastic sleds they had for sale in the gift shop and we headed back to the snow for another couple of hours of play time.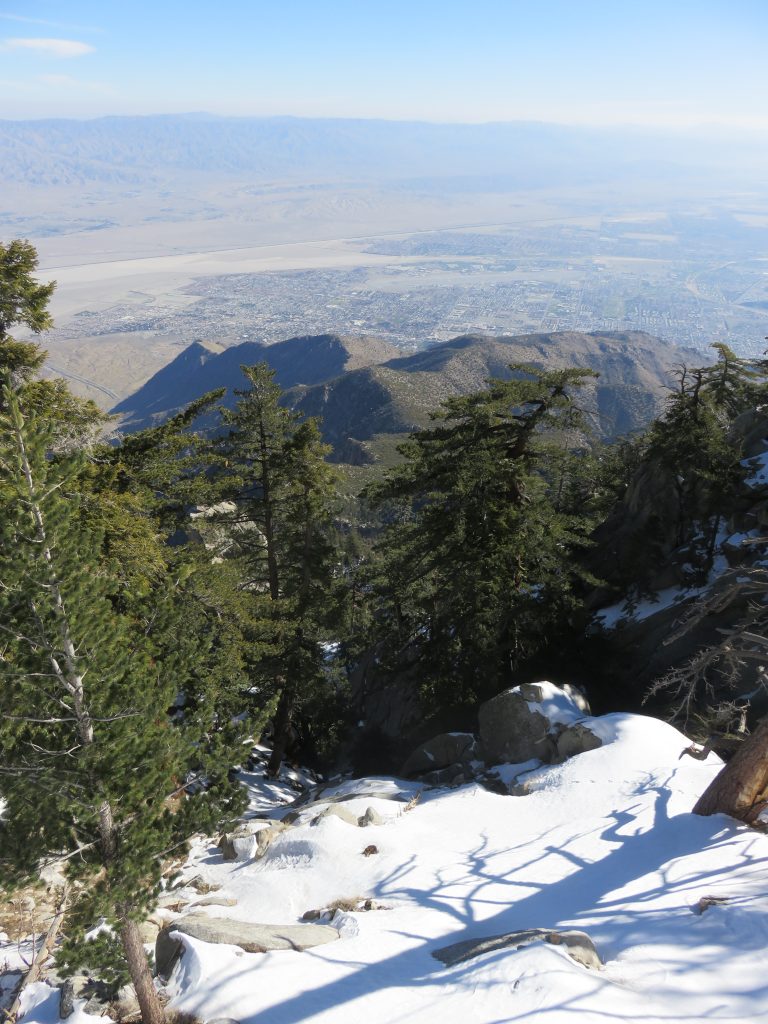 The kids deemed the visit a success: snowmen were built, snow angels were made, multiple snowball fights were held, and they got to try out sledding (albeit on a pretty tame slope). So, at about 3 p.m. we headed down the mountain. We went back to our hotel. My husband took a nap, but the kids and I changed into our swimsuits and hit the pool. The temperature in Palm Springs was near 80 degrees, the pool was heated, and there was a hot tub. It was a nice end to our snow day!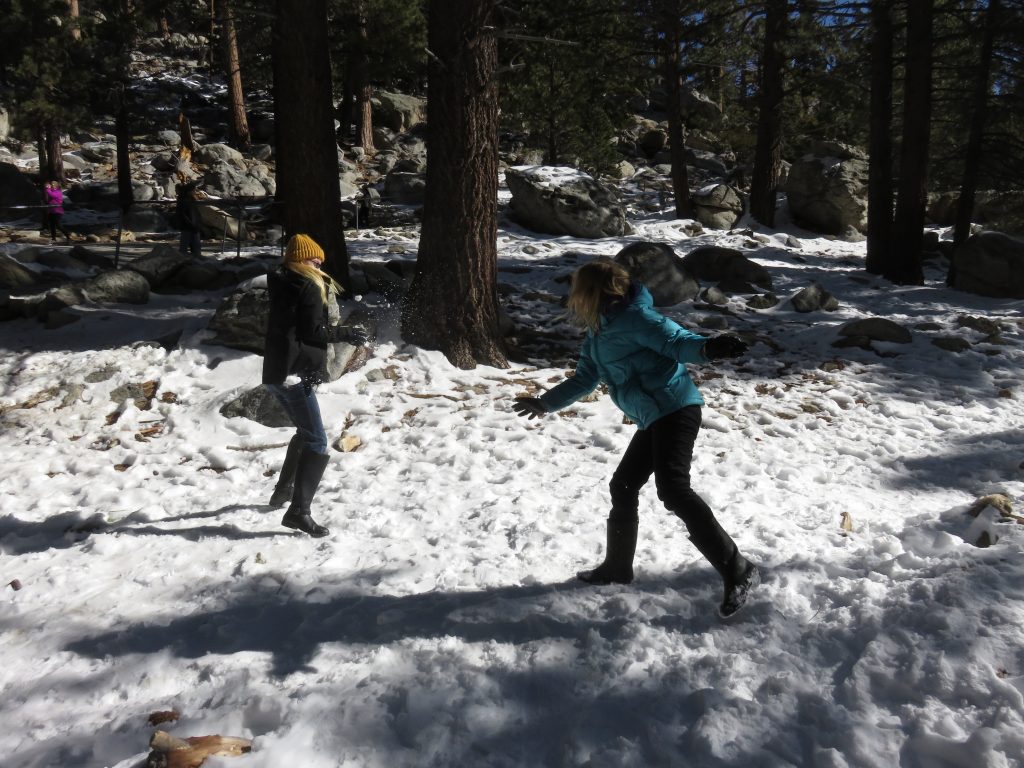 That evening, we walked back into the main part of Palm Springs for dinner. We took a backroad that had less traffic and a nicer view of the mountain… but it was still a long walk for our 10 year old. Luckily, spirits were restored when the restaurant we'd chosen (Brickworks Bistro) offered us a private balcony for our dinner. The kids got a big kick out of that. OK, so did the grown-ups.
The stand out meal of the trip, though, was probably breakfast the next morning. We decided to skip the average breakfast buffet at our motel and went to Elmer's instead. None of us tried their famous German pancake, but I had delicious potato cakes and my kids thought the waffle and the regular pancakes were top notch. It was busy, but the wait was only about 10 minutes and the crowd made for good people-watching. I don't think I succeeded in explaining to my kids why it got busier as it got later… but I'm sure they'll come to understand that on their own when they grow up!
After breakfast, we checked out of our hotel and drove into the main part of Palm Springs. We checked out an art fair in the park and peeked in at Modernism Week's Camp (Community and Meeting Place). Then we walked over to the art museum.
Outside the art museum was one of the things I most wanted to see in Palm Springs: giant babies.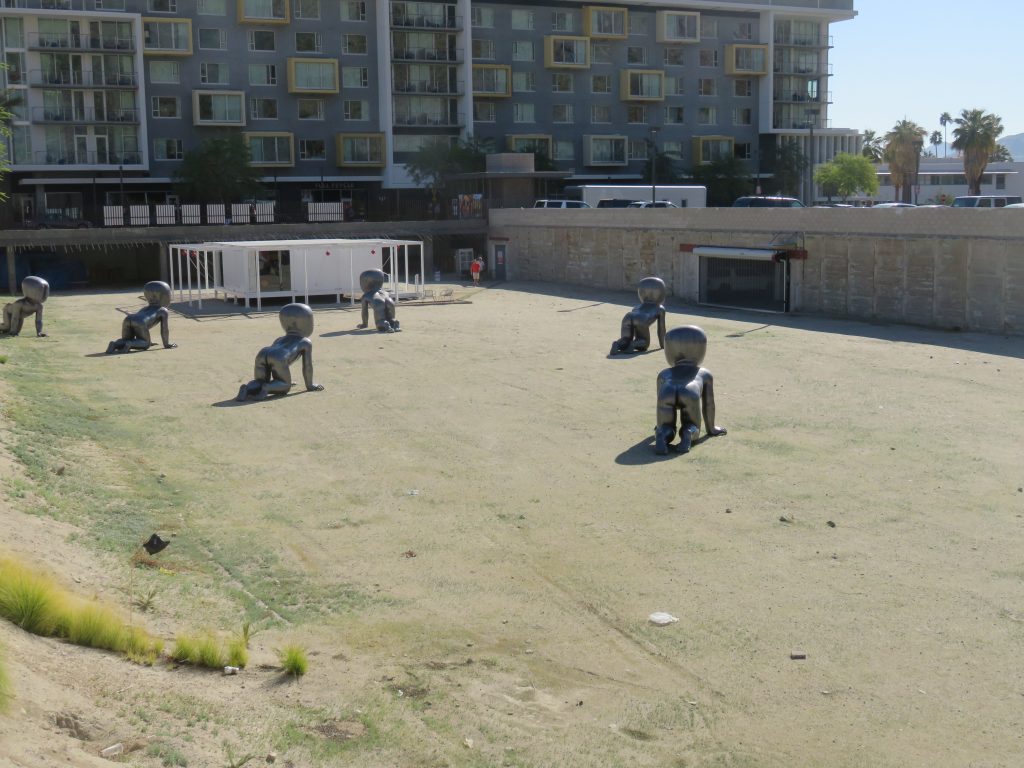 This is an art installation by David Cerný. The babies are cool and a little bit creepy. I am glad we got to see them – I don't think they are staying in Palm Springs much longer.
We also went into the art museum. There was an exhibit from Cahuilla artist Gerald Clarke that was worth the price of admission on its own. I particularly liked the piece that greets you as you enter the exhibit, Continuum Basket: Pivat (Tobacco). It looks like a traditional basket, but it is huge, and when you look closely you realize it is made of crushed aluminum cans. They are arranged on a satellite dish.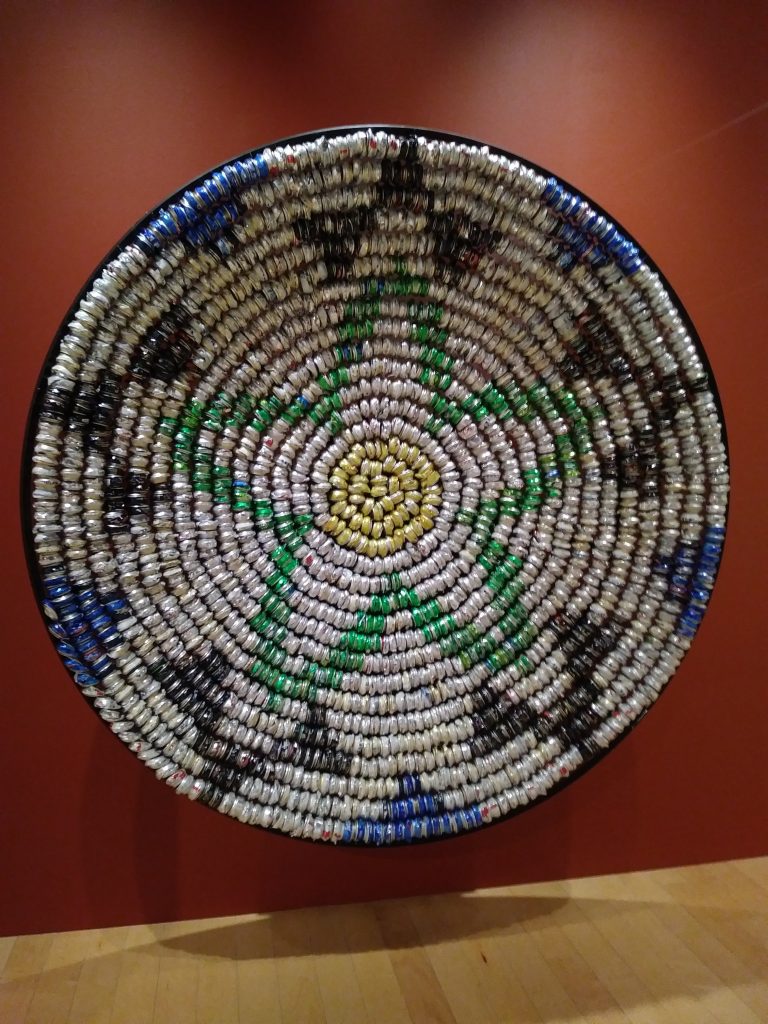 After our visit to the art museum, we got in our car and headed out of town. We were taking the "Pines to Palms" road out of town instead of getting back on the 10, so our route out took us through Palm Desert, where we stopped for lunch. Then we drove on home, stopping briefly in Temecula to stretch our legs at a playground. It was a fun weekend!
Trip details: mid-February 2020; Travellers: Me, my husband, our two kids (ages 10 and 12).