I decided to plan a summer vacation to the East Coast of Canada for two main reasons: Anne of Green Gables (which put Prince Edward Island on the itinerary) and fiddle music (which added Cape Breton). Once I started researching the area, though, I quickly realized that we could only scratch the surface with a two week visit. I would love to go back sometime and explore the parts we couldn't fit into this trip.
I remember liking Anne of Green Gables as a kid, but my older daughter really loves her — she and I read all of the books together, and have read some of them more than once. She has also read many of the books on her own, and she even dressed as Anne for Halloween a couple of years ago, wearing a dress and pinafore my mom made for her. Since the Anne sites on Prince Edward Island were the original impetus for the trip, I made PEI our first big destination. But we decided to fly in and out of Halifax, so our trip started there.
We flew from San Diego to Boston and spent a night at an airport hotel so that we could catch our morning flight to Halifax. Sadly, our morning flight to Halifax was delayed a couple of hours, so we didn't arrive in Halifax until early afternoon. We picked up our car (which we were delighted to discover was a hybrid!) and then drove to a grocery store to buy some basic supplies. I prefer tea to coffee, and have given up on expecting North American hotels to provide decent tea. Also, my children are rather picky eaters, so vacations are more fun when we have a stock of cereal they'll eat and some reasonably healthy snacks I can give them. It makes me worry less when they eat nothing but french fries for lunch or dinner.
After we left the grocery store, our route quickly veered into semi-rural countryside. As we drove along, we were struck by the huge wood piles in people's yards. It was a beautiful warm, sunny day — but seeing those piles reminded us that winter in Nova Scotia would be a very different experience!
Our first stop on the trip was Tatamagouche, a pleasant little town that is situated at the spot where the the Waugh River branches off from the Northumberland Strait. There is a really nice path along the river and although our flight delay meant that we arrived too late to visit it, there is a craft brewery in town. These are not the reasons I picked Tatamagouche for our first stop, though. I picked it entirely based on the hotel. My younger daughter has always loved trains, so the minute I read about The Tatamagouche Train Station Inn, I knew we had to work a visit into our itinerary. As it happens, it was perfectly located for our first night in Canada.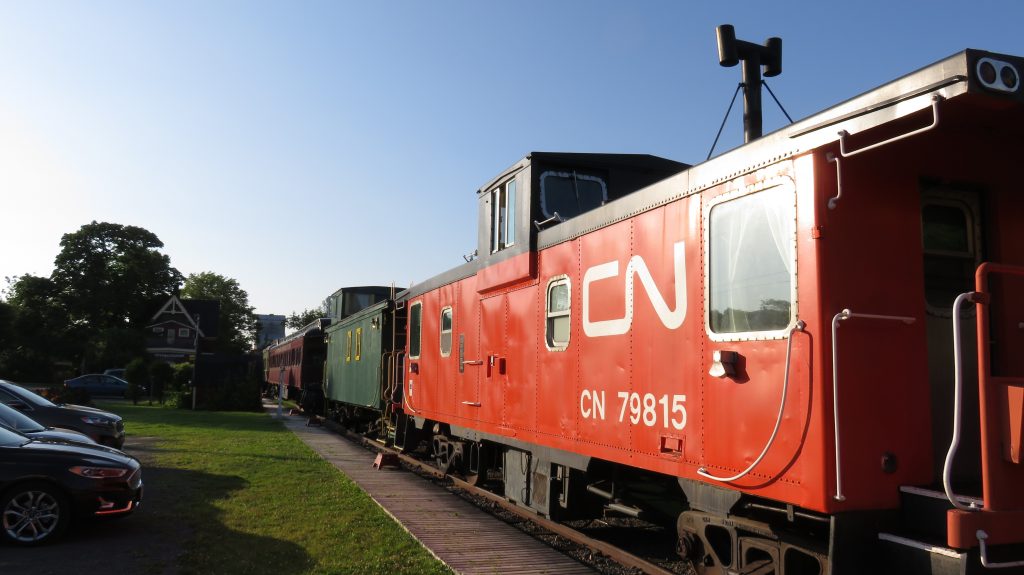 The Train Station Inn was a wonderful place to spend the night. Since we arrived too late to visit the brewery tasting room, we instead had a drink in the lounge car at the inn. Something about sitting in an old lounge car made that drink particularly relaxing. Once we realized that most of the other restaurants in town were closing early (it was a Sunday evening), we decided to stay at the hotel for dinner and eat in the dining car. They were apologetic that they had to sit our group of seven at two tables, and that the only tables they had left were original dining car booths that didn't get great air flow from their air conditioning… but I wouldn't have had it any other way. It wasn't that hot, and sitting in the dining car booths was fun. Also, we put our kids in the booth with my parents and so I got to enjoy my dinner without as many interruptions as usual!
Breakfast in the morning was served in the old train station, and was delicious. I had the Acadian French Toast, which had a hint of orange in it. My only complaint was that the tea was disappointing.
After we checked out, we decided to go down to the Joggins Fossil site rather than drive straight to Prince Edward Island. This was a very good decision, even if it meant another long and not very interesting drive through semi-rural Nova Scotia. Joggins is a UNESCO Heritage Site, located toward the tip of one branch of the Bay of Fundy. It has the world's most complete fossil record of "the coal age" – the plant heavy time period 100 million years before the rise of dinosaurs. There is a small but good interpretive center in the main building, but the real draw is a tour down to the beach. There are literally fossils all around you. We easily found several just by walking around the beach for 15-20 minutes after our tour ended. The tour guide did a wonderful job of explaining the science of the site, and although it is not a landscape that you're likely to call "beautiful" it is very moving in a different way. If you ever get the chance to visit, do so!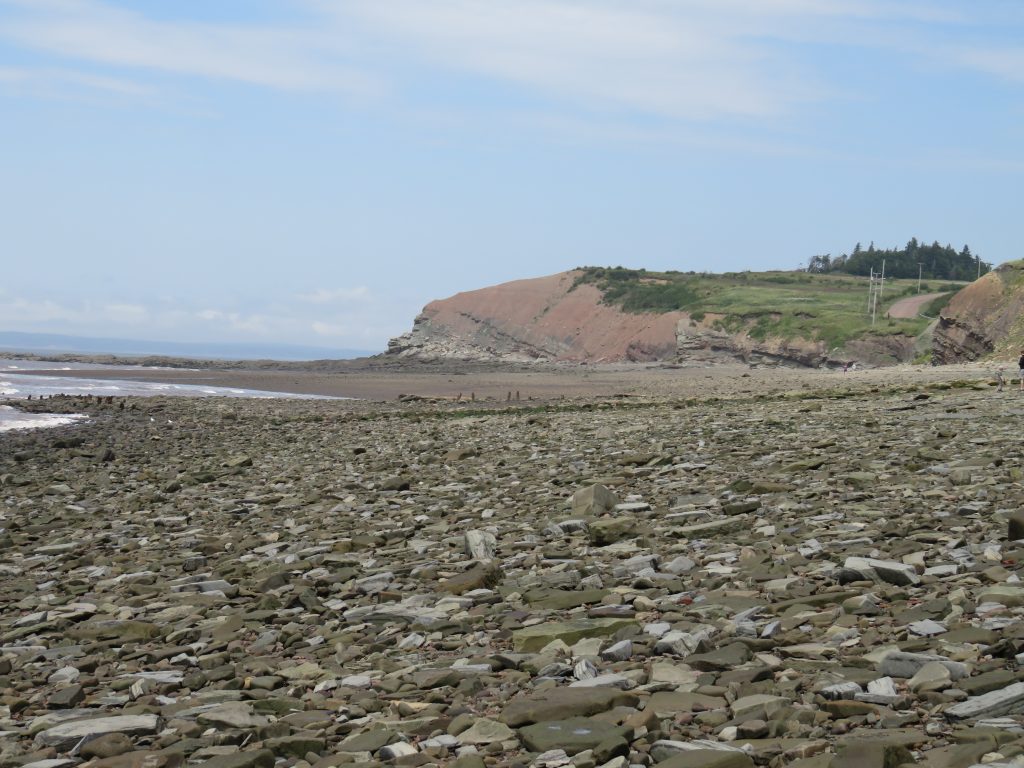 We had lunch at the little cafe on site and then drove to Prince Edward Island. Since I wanted to spend a night in Tatamagouche, I planned the trip such that we'd drive across the Confederation Bridge into Prince Edward Island and take the ferry off the island several days later. This is the more expensive way to do it, but it worked well for us. We made the touristy Gateway Village in Borden-Carlton, which is right at the end of the bridge, our first stop in PEI. I'd promised my 9 year old ice cream, and there is a branch of Cow's, a Canadian ice cream chain, in the Gateway Village. It was our first ice cream of the vacation, and it did not disappoint.
The rest of Gateway Village didn't hold much for us, although there was a liquor store so we stocked up on some local beer and wine for our stay in PEI. Then we drove on to our lodgings, which was a big house at Dreamweaver's Cottages in Rusticoville. The house had a back deck with a nice view out to the water, so we decided to self-cater our first dinner on PEI. After dinner, several of us took a walk on dirt roads down to the water. My 12 year old told us she saw a fox, and we didn't believe her… until we saw two more later on the walk!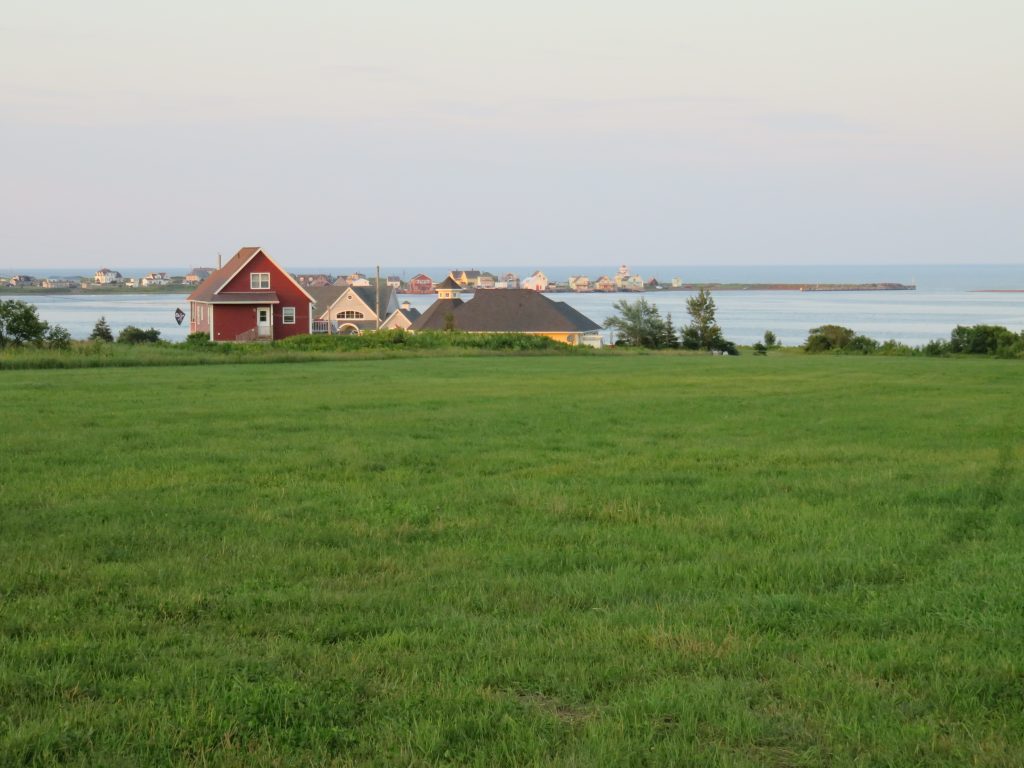 The following day was devoted to all things Anne. Based on the advice in our guidebook, we went to the Anne of Green Gables Heritage site first, and we were glad we did. The site was not at all crowded when we arrived, making it easy to check out the house and have peaceful, evocative walks along some of the adjoining paths. By the time we left, the place was packed with people — the tour buses had rolled up. The house on this site is considered the main inspiration for the fictional Green Gables, and the paths have been given names from the book, like Haunted Wood and Lover's Lane. There is definitely "scope for imagination" here, and my 12-year-old Anne fan (dressed in her Anne outfit) really loved it. The rest of us enjoyed it too, including the older Anne fans among us.
After a surprisingly good pizza lunch at the touristy Avonlea Village, we drove out the the Anne of Green Gables Museum at Silver Bush. The museum is located in a house that belonged to L.M. Montgomery's aunt and uncle, which she loved so much that she got married there. There was also "the Lake of Shining Waters" on the site, and we were hoping to take a carriage ride, but it was a hot day and the horses were too tired by the time we got there.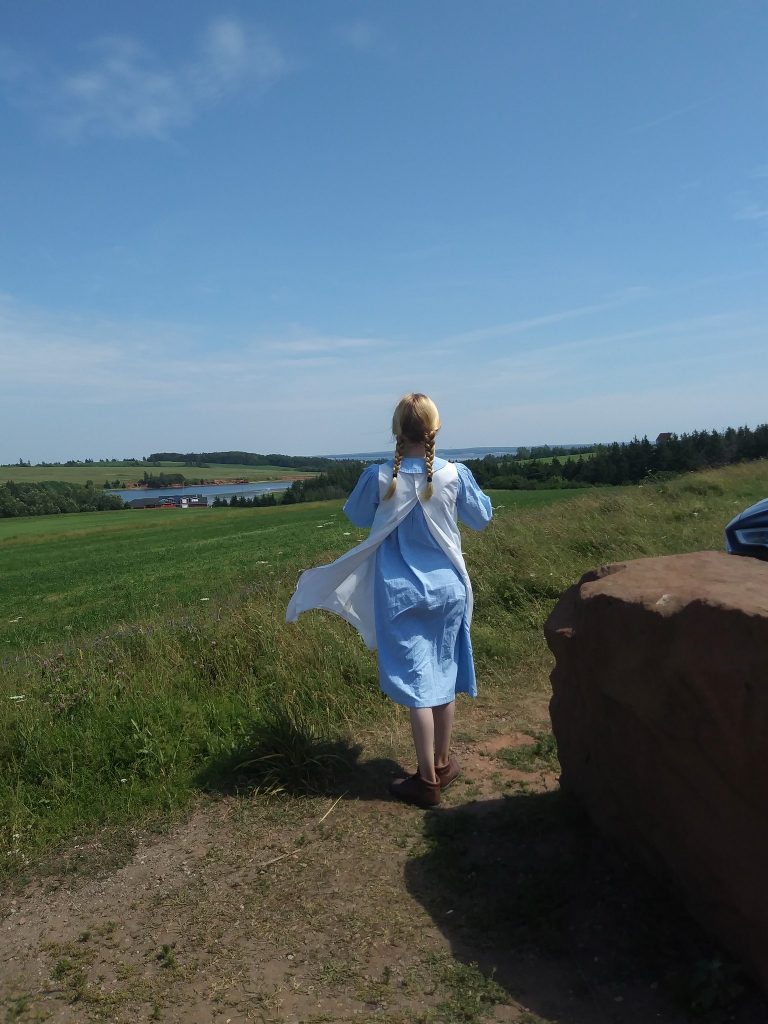 My favorite Anne site was probably L.M. Montgomery's birthplace, not because there was anything great to look at there, but because it was interesting to see the small house and think about what Montgomery's life was like.
We ended our day devoted to Anne with a trip to Charlottetown to see Anne of Green Gables – The Musical. This was a fun musical that mostly adheres to the story in the book, and definitely captures the spirit. We had dinner before the play at the Gahan House, a brewpub. The beers were nice and the food was good, but the most memorable part of dinner was the discovery of little rolls of paper in the wall behind our booth. People write messages on the paper wrapped around their silverware and stuff them into the cracks between the bricks. The kids were delighted with this.
The other nice discovery in Charlottetown was the art gallery at the Confederation Centre of the Arts, which is where the musical was held. The gallery is free, and we wandered around it a bit before the show. There was a giant dreamcatcher installation that was particularly impressive.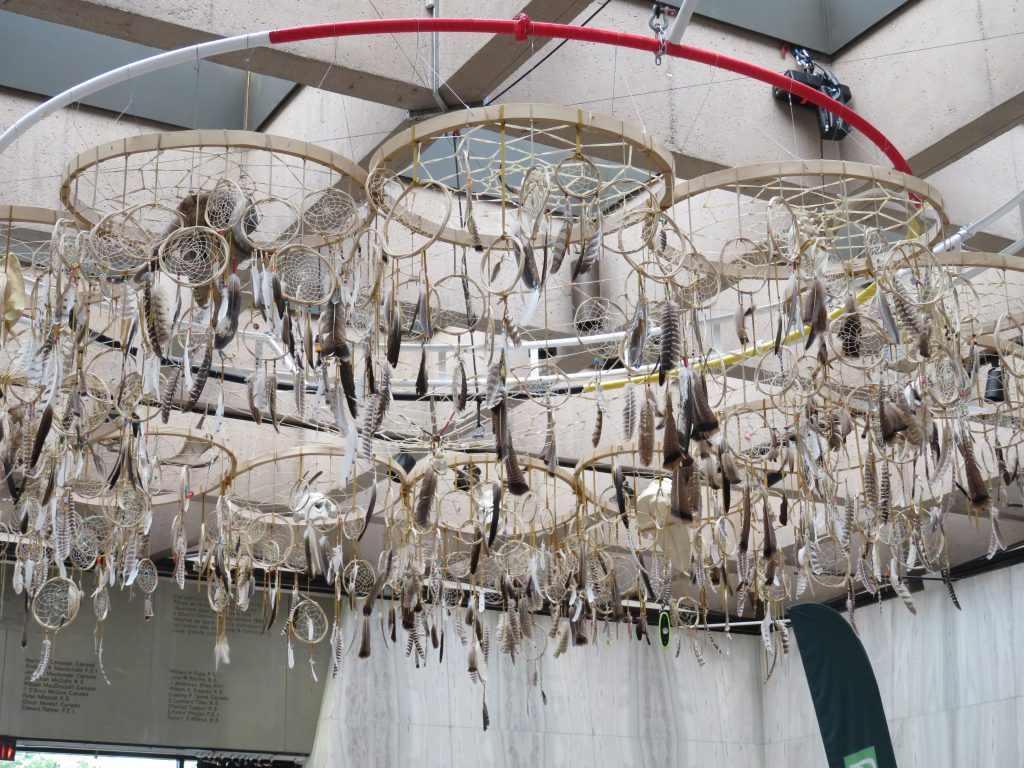 The next day was our 9 year-old's reward for putting up with all of the Anne of Green Gables stuff… a beach day. Our 9 year-old is our water lover, and so when I discovered that PEI is also known for its beaches, I decided we'd plan a beach day into the trip. To be honest, I was a bit skeptical. We live in San Diego. We have great beaches at home. Could the beaches this far north really compete? Well, yes, they could. We spent the day at Dalvay Beach and it was wonderful. The water was warm, calm, and crystal clear, and the beach had a long shallow shelf. The only complaints we heard were that there weren't more waves – but that made for some nice, peaceful swimming. We also happened to pick a beach without any services, which was a little inconvenient for anyone who needed a bathroom, but made for a sparsely populated beach.
Our plan had been to pick up lunch at a snack bar at the beach, but there was no snack bar at our beach. Our closest lunch was at the beautiful, historic Dalvay-by-the-Sea hotel. They welcomed us warmly despite our beach attire, and we had a very nice lunch in the dining room. The waitress recommended we try the cocktails, and so I did. I had a cocktail with something called haskap liqueur. That turns out to be a Swedish berry liqueur, which was tasty but not at all sweet. The food was good, too. I think the best food was the ice cream sundaes the kids got with their kids meals. The vanilla ice cream was delicious, like a really good homemade ice cream. I wished I'd ordered my own bowl!
We spent our final day in PEI exploring some other parts of the island. We drove over to Montague, in the Eastern part of the island. I picked it because the guidebook mentioned outdoor sculptures, and those were cool. But the highlight was probably the craft brewery we visited, Copper Bottom Brewing. Their beers were good and their outdoor deck was delightful. They didn't serve food, though, so we walked over to the Station Cafe for lunch along the river.
We drove from Montague to Charlottetown. Once there, we spent a little bit of time reading the historical plaques and displays by the harbor. Then we strolled up Great George Street, which my guidebook calls "one of the best-looking streets in Eastern Canada." It is an attractive street, but I liked Victoria Row on Richmond Street better – it is a pedestrianized stretch of street with picnic tables to stop and rest at, and perhaps play a game of checkers.
Once we'd finished in Charlottetown, we drove back to our lodging. The plan was to go to North Rustico Harbor for dinner, but we left it too late, and by the time we got there, no tables for seven could be had. My parents offered to take the kids back to the house for dinner, allowing me, my husband, and my sister to try our chances at snagging a table for three. We got the second to last table of the night at On the Dock. This was a wonderful way to end our time in PEI – a great location, with good food.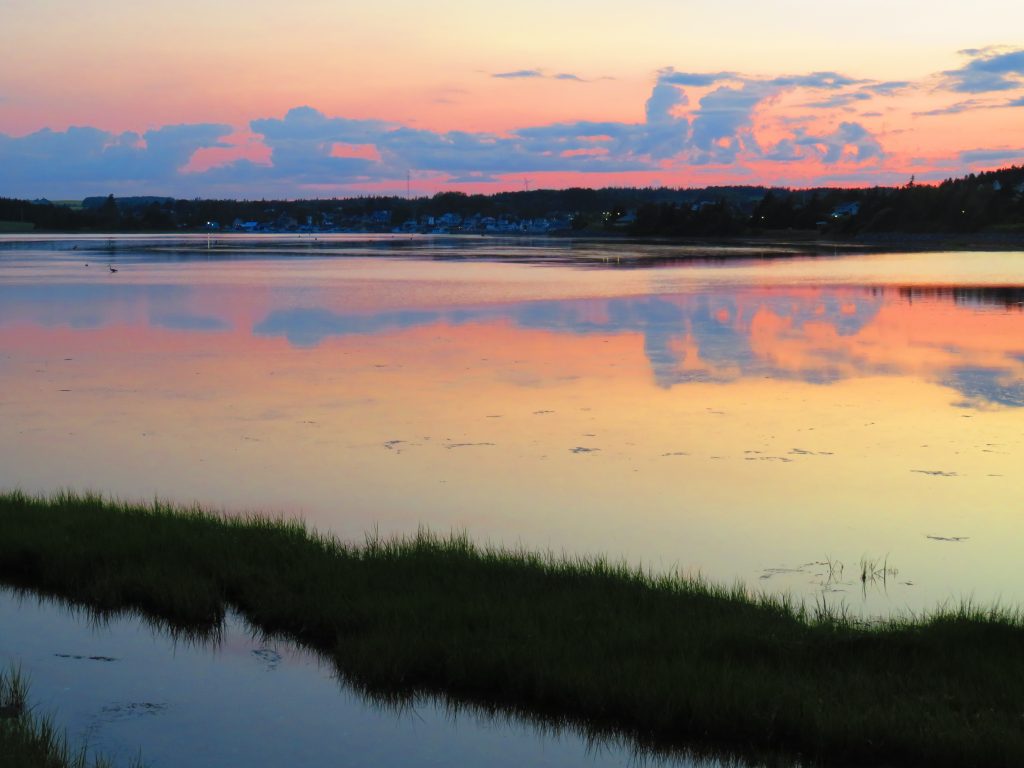 We'd left our car at the foot of the harbor – having stopped there to let our kids have some time on the playground and to listen to a bit of a free concert that was underway. So we had a pleasant stroll after dinner back along the boardwalk to our car. We noted the signs that said the boardwalk was not maintained in the winter, and forbidden the riding of "skidoos" on it. It was only later that we figured out that Ski-Doo is a brand name of snowmobile. It was another reminder that visiting this area in winter would be a very different experience!
The next morning, we packed up the car and headed to the ferry. We got there early enough to go explore the Wood Islands lighthouse near the ferry terminal, which was nice. It is a small lighthouse but the museum was well done and the location was beautiful.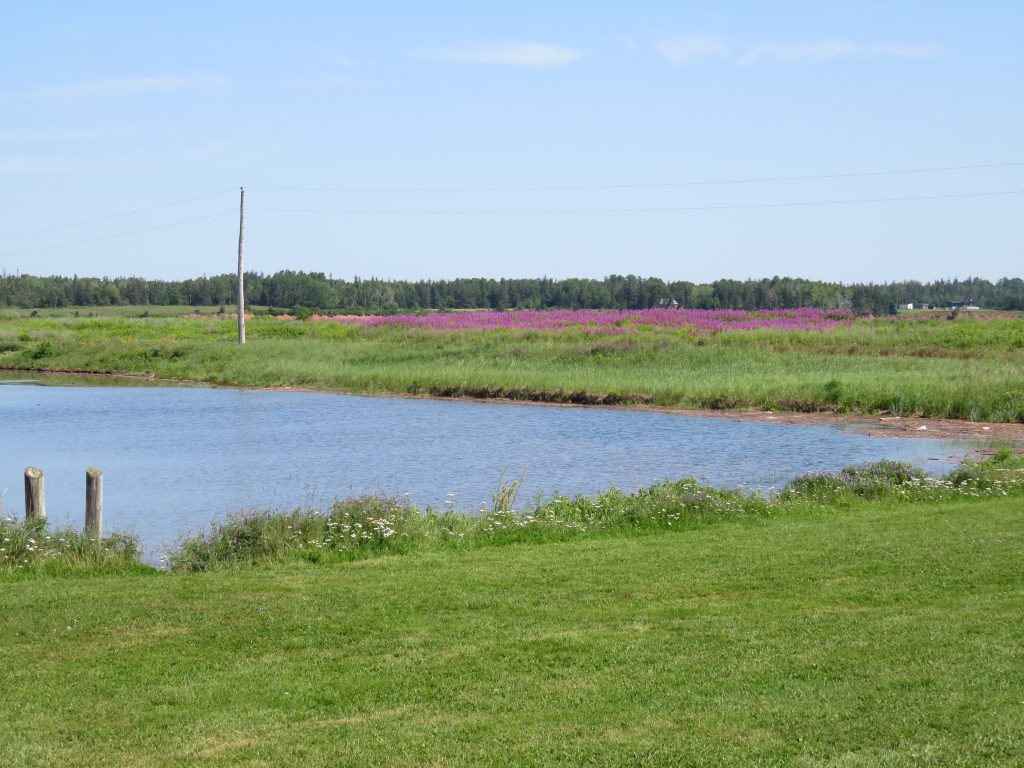 We bought lunch at the snack bar in the ferry terminal. It took ages to get our food, so the kids and I had to finish our lunch in our car as we drove onto the ferry.
I'll pick up from the ferry ride in the next installment, and close this post with our overall impressions of PEI. It is a beautiful island, with a lot more to offer than just Anne of Green Gables sites (although we enjoyed those). I wished we had another day or two on the island. We never got to take a bike ride on the Confederation Trail, and there were more little towns and scenic spots it would have been nice to visit.
The people we interacted with were all extremely friendly and helpful, and we all remarked on the warmth of the service. The most striking example was probably our final night on the island. As we finished our dinner after 9 p.m., we realized that we'd forgotten to stop in and get milk for breakfast the next day. We asked our waitress if there was a gas station or convenience store nearby that would have milk. She reckoned the nearest would be in Cavendish, which was the more touristy town, about a 10-15 minute drive up the road. My sister half-jokingly asked if the restaurant would sell us milk, but of course they didn't have it on their menu. We'd resigned ourselves to taking a drive up to Cavendish, but as we were paying our bill, our waitress came back with a mason jar of milk!