When my older daughter was in kindergarten, we decided to sidestep the question of how many of her new classmates to invite to her birthday party by announcing we'd take her to Disneyland instead of having a party for her sixth birthday. That was a huge hit, and so we did it again for my younger daughter.
My older daughter saw a pattern and extrapolated. She decided that we'd go to Disneyland on birthdays that were multiples of six. Since this was a handy way to limit trips to Disneyland, which is near enough that many of the kids' friends go every year, we decided to nod along and accept her pronouncement.
However, as her twelfth birthday drew near, she saw a problem. She didn't much care for Disneyland anymore. No problem, we said. We'd change the rule to be that the birthday kid got to pick a weekend trip of their choice (subject to parental veto). For a long time, we thought her twelfth birthday trip would be to Yosemite… but then she read the Harry Potter series and became a serious Potterhead. And so, we celebrated her twelfth birthday a little bit early at Universal Studios. We went over the long President's Day weekend. San Diego schools take the Friday before President's Day off, LA schools do not… last year, we found that made for a good Disneyland experience (an "extra" trip, at my request) and so we tried it for Universal Studios. It was not crowded, but there was also a forecast of rain – and it did rain in the afternoon.
We decided to make a weekend of it, and also visit some sights in downtown LA.
We drove up to LA after school got out on Thursday. We were worried the traffic would be terrible, because it had been raining most of the day. But in fact, the traffic was eerily light. My husband and I joked that maybe there had been a zombie apocalypse and we just hadn't heard about it.
We made it to our hotel without any zombie sightings, though. We brought a friend of my daughter's with us, so we need a room that would sleep five and give the older girls privacy, which severely limited our options. We ended up at the Burbank Residence Inn, and it was fine and comfortable.
We got up bright and early Friday morning, had breakfast at our hotel, and headed to Universal Studios. Hogsmeade did not disappoint, and the two older girls spent most of their day there.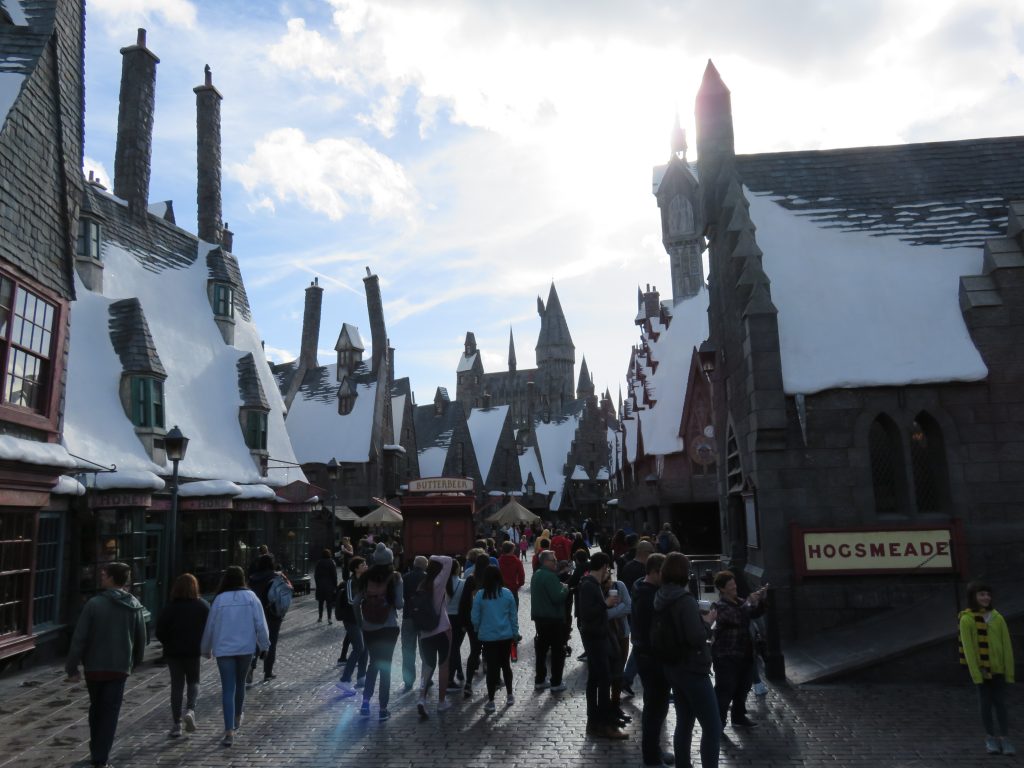 My younger daughter (who is nine) really enjoyed the Despicable Me section. We gave each kid enough money to buy one souvenir, and then let them spend their own money beyond that. My younger daughter chose a plush unicorn backpack modeled on the stuffed unicorn Gru wins for the little girl in the first Despicable Me. She loves it.
I won't try to write a guide to Universal Studios, because frankly I am probably the worst person on the planet to write such a guide. I get motion sick fairly easily, and the "4D" type rides that are the most common at Universal Studios Hollywood are a complete no-go for me. So I can only tell you that the studio tour is indeed cool and that Hogsmeade is really well done. I will say that if you go with a Potterhead, get one of the interactive wands. It is fun to wave the wand around and make fire shoot out of the top of a building and the like. Also, we saw all of the shows and they were all quite good. Yes, even – perhaps especially – the show based on Waterworld, a movie we all made fun of in the 90s.
We ended Friday with dinner at Citywalk, the Universal equivalent to Downtown Disney. Our dining options were constrained by the limited preferences of the three kids, so we ended up at Jimmy Buffet's Margaritaville. The food wasn't bad, actually, and there was live music from a really good blues guitar player/singer, so I can't complain. Our younger daughter was pretty impressed by Voodoo Doughnuts, too, even though she chose a plain chocolate glazed.
On Saturday, we got up less bright and early – partially because our first destination didn't open until 10 and partially because my younger daughter threw up in the middle of the night. We suspect it was a combination of too much junk food and too many 4D rides. She was a bit under the weather for the following morning but perked up after a bagel for mid-afternoon snack.
Anyway, our destination on Saturday was downtown LA.
Our first stop was The Last Bookstore.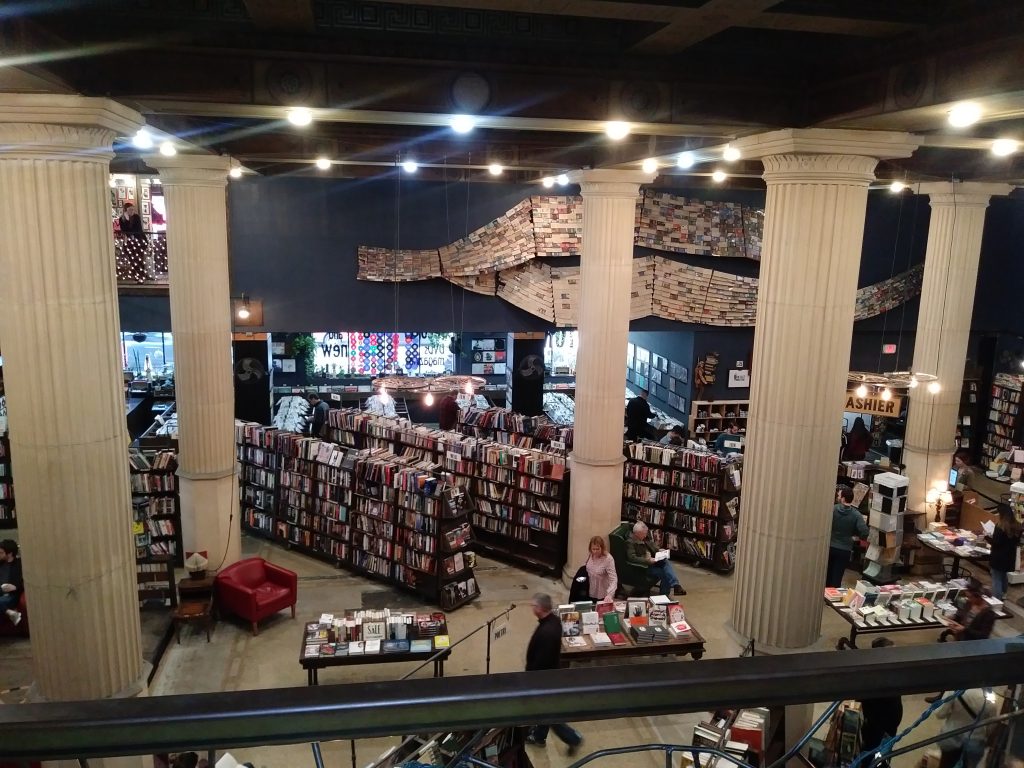 I've wanted to visit for ages, and once our older daughter heard about it, she wanted to go, too. It is really cool. If you like books and/or bookstores, definitely visit. Even if you're so-so on them, go, because there is a book tunnel and there are cool book art installations.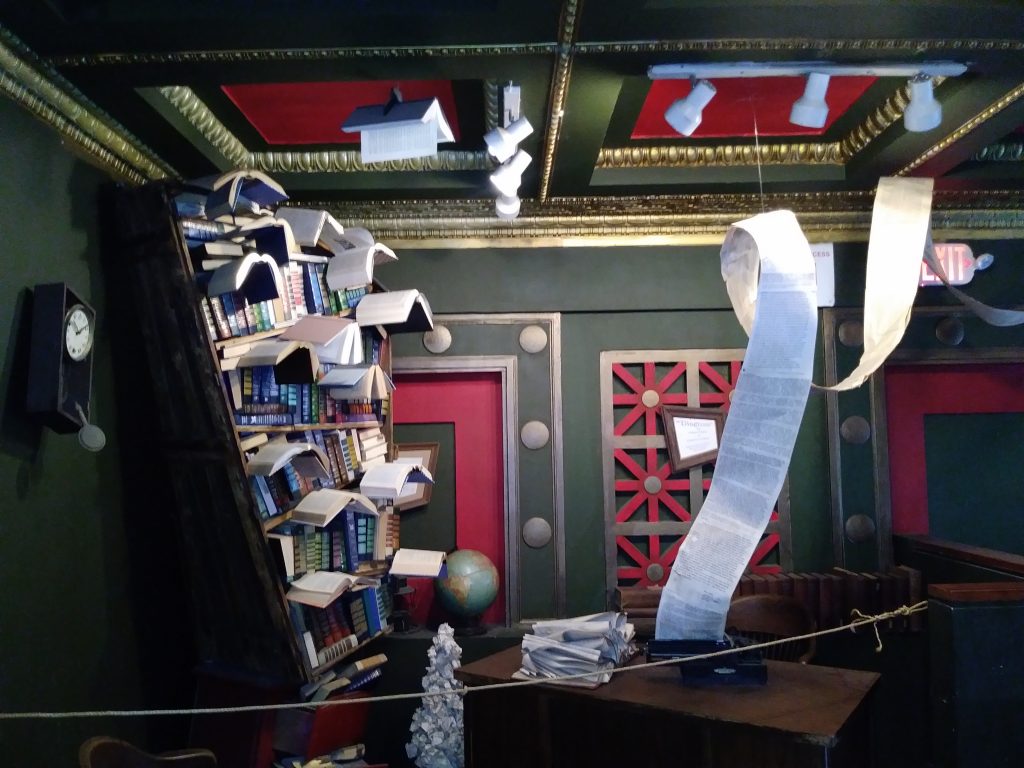 The bookstore sells a mix of new and used books, and we all found something to buy.
After we finished at the bookstore, we headed to Grand Central Market. I am a bit conflicted about places like this. I love a good food hall, but I get antsy in crowds. So it is always interesting to see if the food hall is good enough to overcome my crowd-induced antsiness. This one is. I really wanted to try Egg Slut, because it is supposed to be wonderful and I love eggs… but the line was really long and the kids were restive. So we bought plain pasta for one kid, a pretzel for one kid, and some potato chip like things for the kid who was still feeling a bit queasy (she also ate some pasta and pretzel). Meanwhile, my husband and I both had tacos from the Golden Road Brewery in the market. All of our food was good, but my husband says the plain pasta was the most impressive because it was fresh pasta and prepared with great care from a stall specializing in much more interesting pasta.
There were so many other interesting looking options. I want to go back sometime without the kids!
After lunch, we walked across the street to see the Bradbury Building. It is famous for being in Blade Runner, but even if you don't care for that movie, you should stop in and see the building, because it is beautiful.
Our next stop was Angel's Flight railway… but we decided not to ride it because we happened to arrive right after a large tour group, and there was a long line. We walked up the flight of stairs instead.
From there, we walked past the Museum of Contemporary Art, and I saw this kinetic sculpture that I absolutely loved.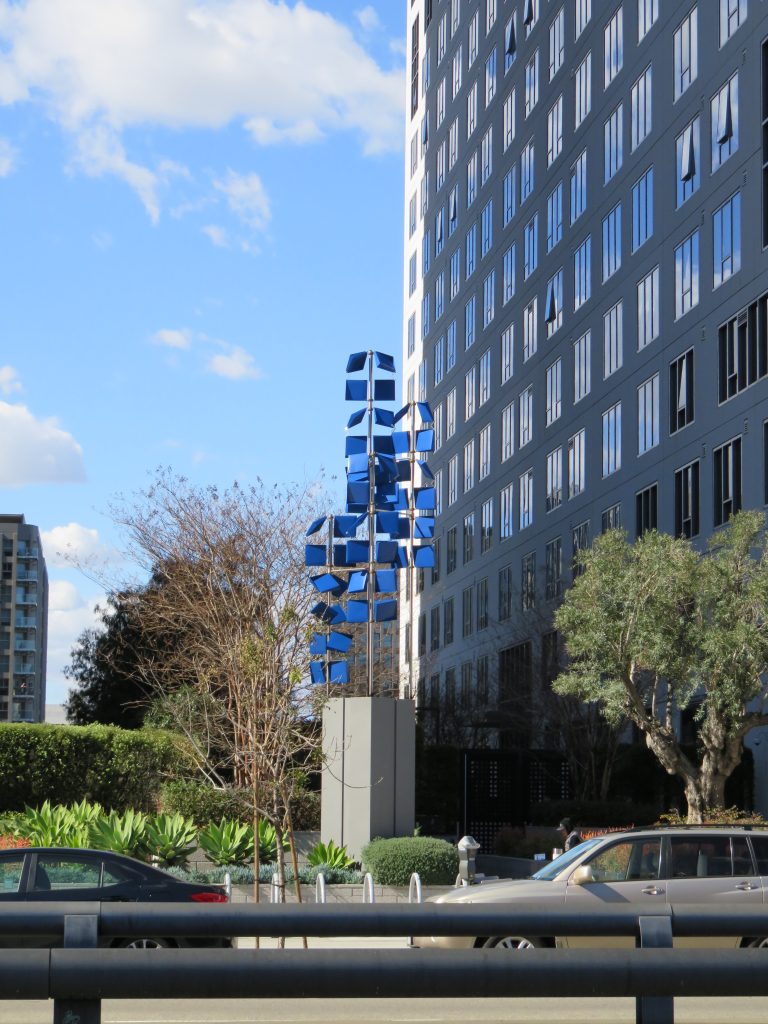 Then we went to the Disney Concert Hall. It is a spectacular building.
The book I'd bought at The Last Bookstore was called Quiet LA, and as I flipped through it at lunch I noticed an entry for a garden upstairs at the Disney Concert Hall. I don't think the garden was actually meant to be open when we were there – the stairs to it were blocked off. But the elevator to it worked, and so we went and saw it. There was a beautiful fountain made from pieces of Delft china, and it was indeed a very peaceful spot.
After the concert hall, we walked over to Grand Park, which features prominently in the video to Play That Song, by Train, which my younger daughter absolutely loved. It was a cold day, but our kids couldn't resist getting their feet wet in the fountain, and we all enjoyed a rest.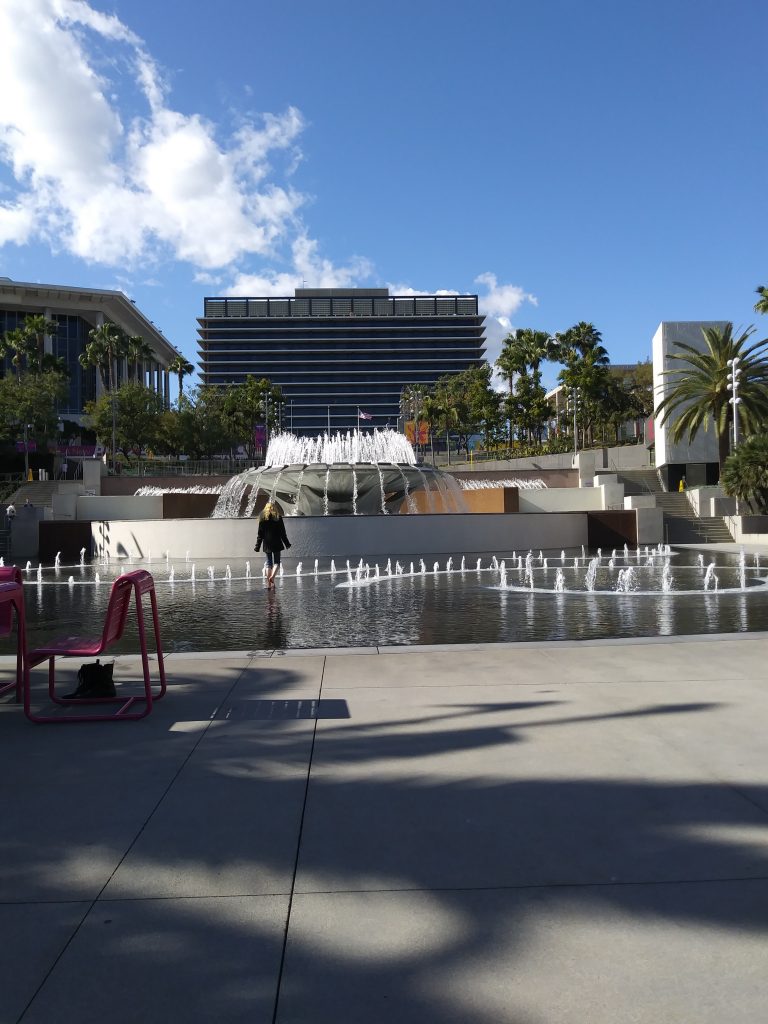 After we finished enjoying Grand Park, the kids wanted to see the Hollywood sign, so we went in search of a good viewing location. We ended up at Lake Hollywood park, along with a lot of other people. We snagged a parking spot, though, and the kids were happy to see the sign.
That was our last real stop for the day. We headed back to the hotel, and had dinner nearby.
Sunday, we checked out of our hotel but left our bags with the bellhop and headed out for some more sightseeing. We went to Travel Town, an outdoor train museum in Griffith Park. This museum would be a wonderful stop with younger kids – there are a lot of engines and a few other train cars, and a nice little train ride. Our kids enjoyed the museum, but I couldn't help but think how much more my train-loving nine-year-old would have enjoyed this place when she was four or five.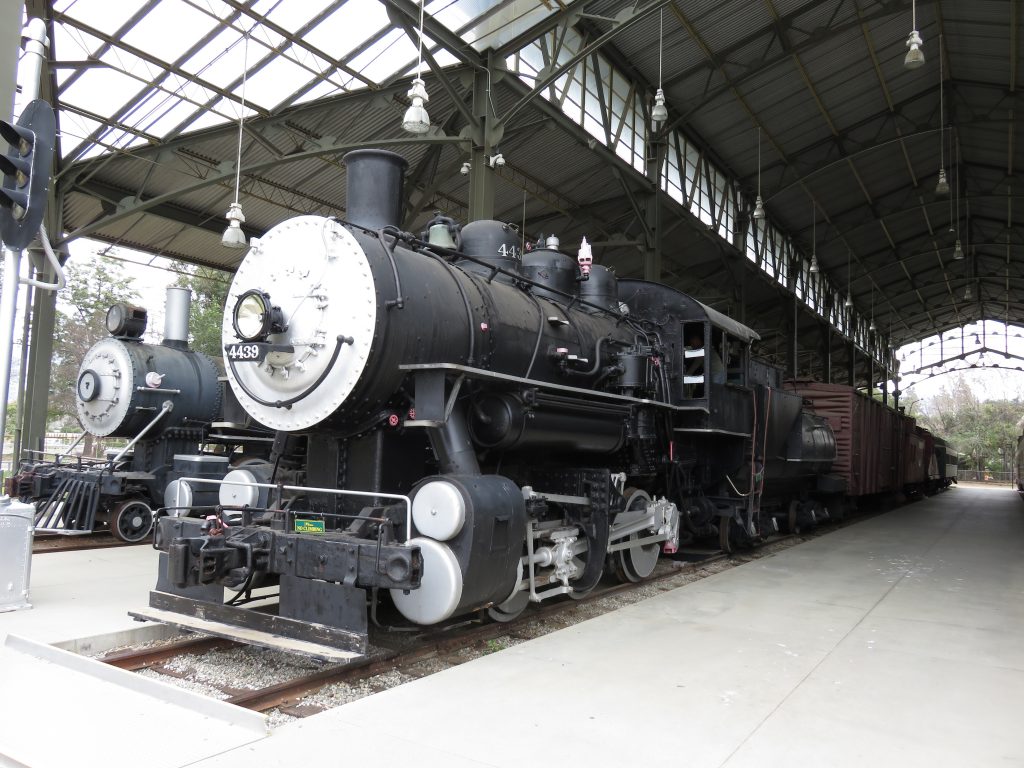 On our way to Travel Town, we'd seen a sign to "Walt Disney's Barn" and wondered what that was. My husband looked it up and discovered that it was exactly what it sounded like: a barn Walt Disney had in his backyard and used as his workshop. And it is open only on the last Sunday of the month… which happened to be the day we were there. So of course we had to go.
We stood in line for about an hour to get into the barn. Inside, there were some exhibits of models Disney built and other memorabilia. I can't say it was really worth it, but if you're a Disney fan, it might be. And I guess it is cool to say I've seen it.
We went from the barn to lunch at a Mexican place I found in Burbank, called Tequilas. It was not bad at all, and we left happy and headed to our last stop in LA: a gourmet marshmallow shop called Plush Puffs. They marshmallows were indeed good, and the build-your-own smores were fun. It was a shame the shop didn't have much seating, though. We ended up outside to eat our treats, which was a bit chilly. (In our defense, the weekend was unusually cold for LA – low 60s!)
After we had our marshmallows, we headed back to the hotel, picked up our bags and headed home. Despite the rain at the start and the chilly temperatures throughout, it was a really good weekend trip.
Trip details: mid-February 2019; Travellers: Me, my husband, our two kids (ages 9 and 11), and one additional 11 year old.