I have an Encinitas outing that was so nice we did it twice – once just me and my husband and once with the kids, too.
Start near The Lumberyard shopping center in Encinitas. Since we're not spending the entire visit at these shops, we find street parking nearby. Then, pick your favorite of the various restaurants in the vicinity for lunch. My favorite would be Tratorria i Trulli, but sadly they don't currently have lunch hours. Maybe those will come back as the pandemic recedes. In the meantime, there are many other options to choose from. If we do this outing a third time, I think I'd pick City Tacos.
After lunch, head south along Encinitas Boulevard until you get to the underpass that will take you to the Coastal Rail Trail. You'll go past Swami's Cafe and then not much further along, you'll see the underpass. The Rail Trail was not busy on either time we visited even though both visits were on beautiful Saturday afternoons. You can gaze west to the ocean, east to the expensive houses, or close by to the native plants along the trail, which included some really pretty flowers during our visit.
We walked south to Cardiff, passing through a small but charming garden area that includes succulents in a boat.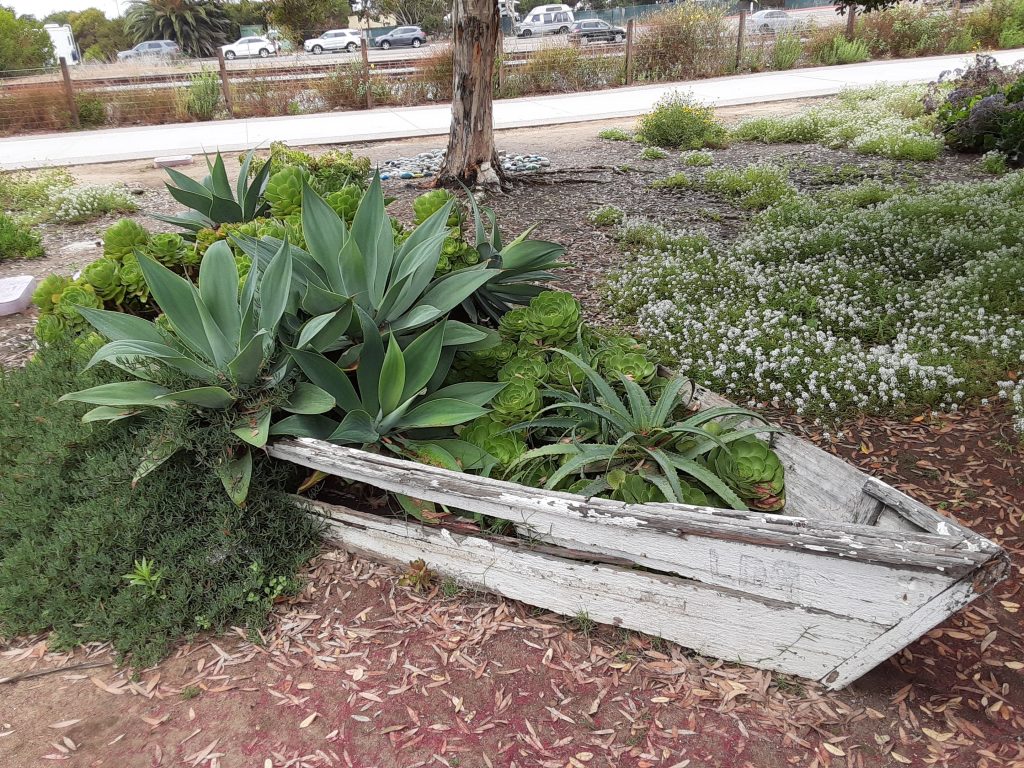 If you started your walk before you were hungry and are hungry by the time you get to Cardiff, you could stop in at one of the restaurants near Birmingham Drive, or you could see if the grill is going at the Cardiff Seaside Market. Their tri-tip is deservedly famous.
We crossed the 101 at Chesterfield, following the signs to "the Cardiff kook," which is a statue of a surfer at the entrance to the San Elijo State Beach campground. Locals often dress the statue for various reasons. On our first visit, it was decked out as a blonde woman for someone's birthday. On our second visit, it was wearing a slice of pizza, advertising a local pizzeria.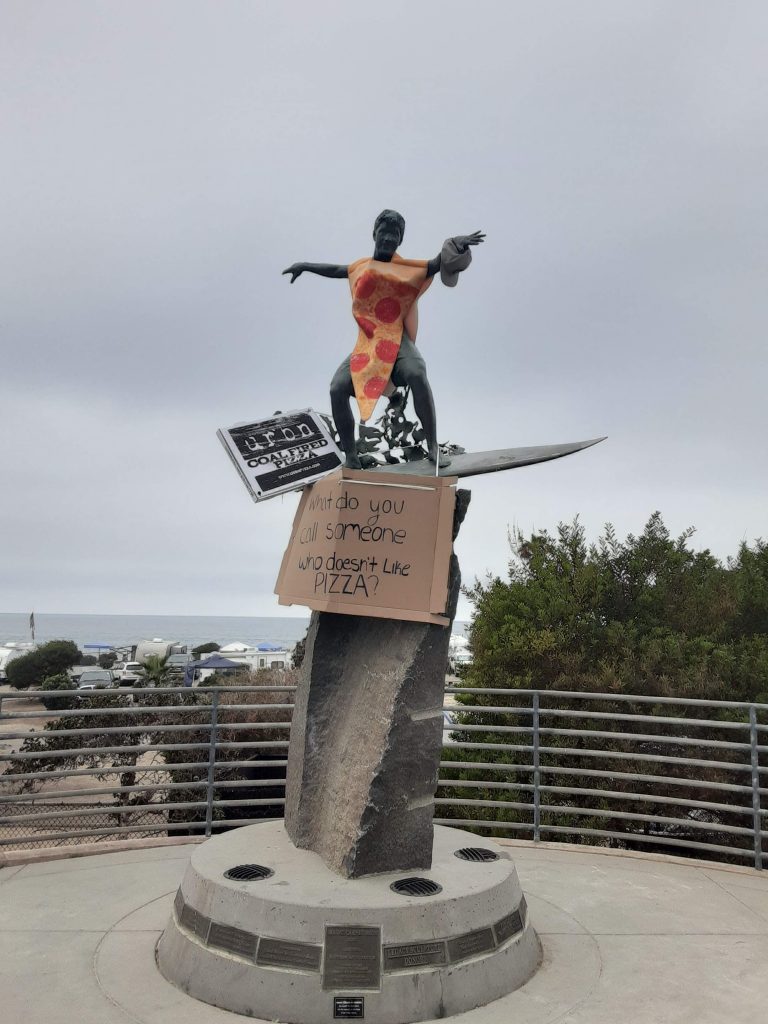 After admiring the statue, we went into the campground. There are some handy (and clean) public toilets there if you're in need of a pit stop. Then you can walk down some steps to the beach. On our first visit, the beach wasn't too crowded and the tide was low enough to allow for a pleasant stroll along the beach.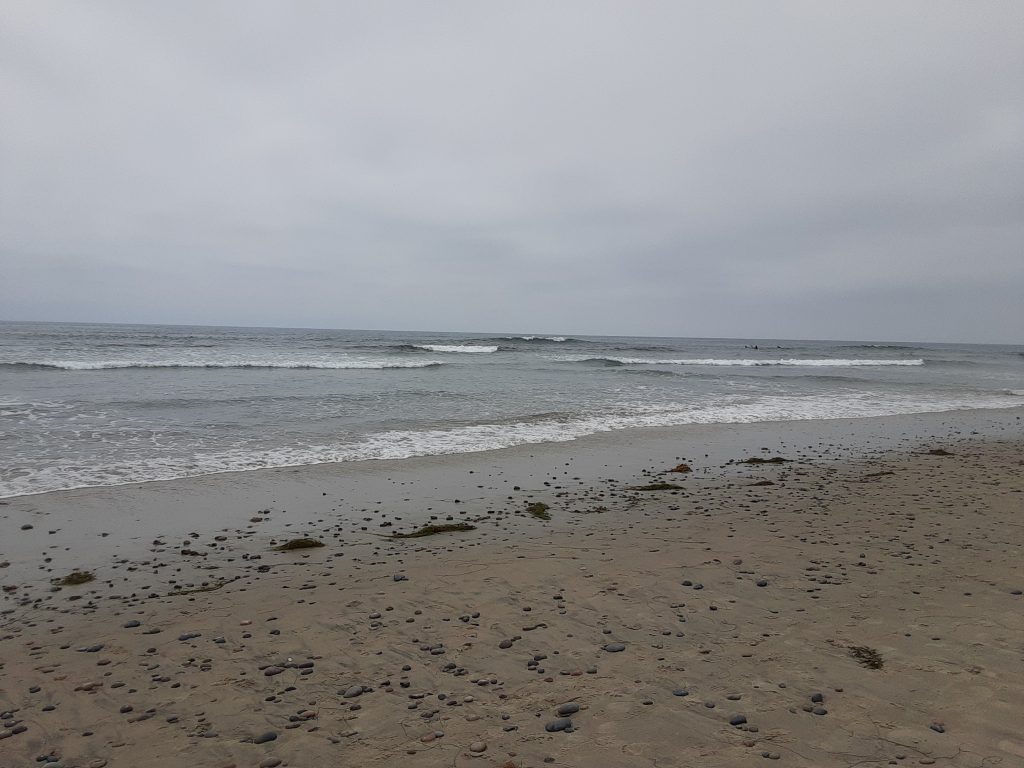 Our second visit was on July 3, and between a slightly higher tide and a much larger number of people, a stroll on the beach didn't seem so pleasant, so we headed back up to the campground and out to the path along the 101. There's definitely a fair amount of traffic noise on this path, but both times we walked it, we saw dolphins.
You walk past the Self-Realization Fellowship Temple (popularly known as "Swami's") as you head back into Encinitas. The temple has some beautiful gardens with an equally beautiful view if you're in the mood for a stop.
On our second visit, I noticed a kinetic sculpture. My younger daughter was getting tired of the walk so I didn't get to stop and admire it long, but I liked it. It is called Orpheus, by artist Jeffrey Laudenslager.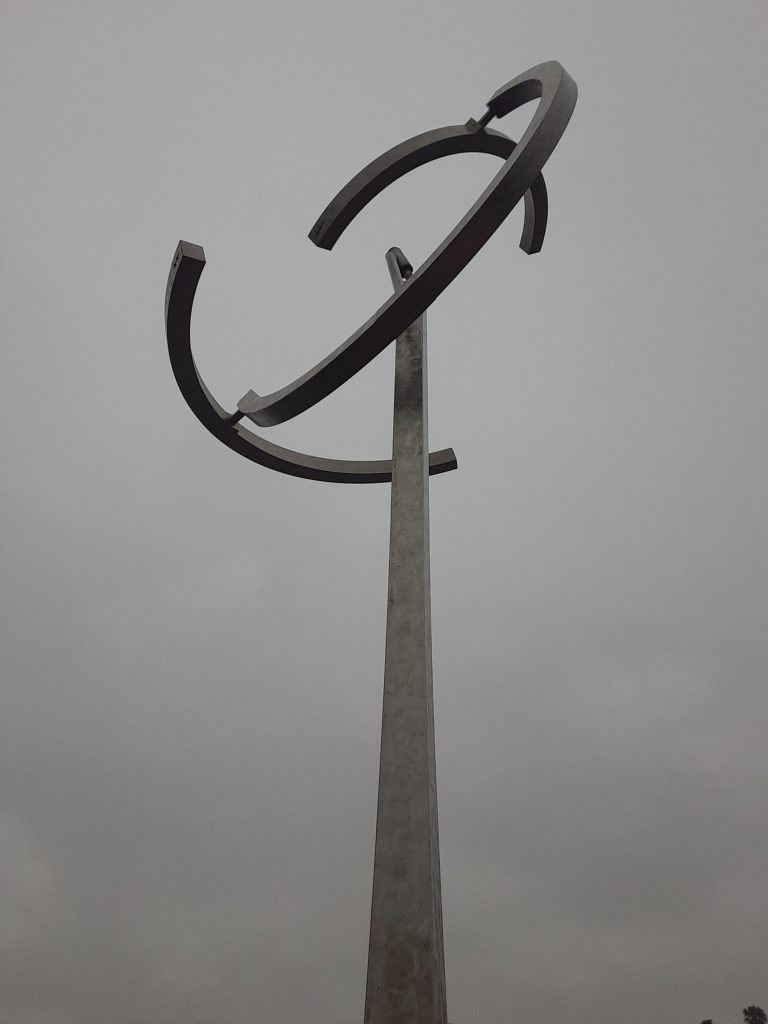 From here, it is a short stroll back to The Lumberyard, and what is perhaps my favorite part of the outing: ice cream at JoJo's Creamery. I think the Malted Cookie Dough is particularly yummy.
On our second visit, we'd parked near the J Street Lookout, so we walked up the steps to take one last look at the ocean before heading to our car. There was a young couple there having a picnic, which presents yet another option for how to have lunch on this outing, I guess! If you leave by way of 3rd Street, keep a lookout for two boat houses on the west side of the street. They are north of J Street.
This was such a nice way to spend an afternoon! I think we'd do it more often if we lived closer to Encinitas.