This week is my kids' Spring Break, and we decided that it would be a good time to venture away from home for the first time during the pandemic. Case counts are not as low as we'd like, but they're back down to less scary levels and we feel like we've figured out how to do things reasonably safely… so we rented a cabin in Idyllwild, a small mountain community a couple of hours north and east from San Diego, and set off to get a change of scene.
We decided to drive the Tesla even though we were surprised to discover that Idyllwild does not have any public chargers. There is a Tesla Destination charger at one of the local motels, but no charger that could be used by anyone who needs it. Still, the drive is not that long and there are superchargers roughly halfway between San Diego and Idyllwild, in Temecula.
The need to use the superchargers meant that our stop for lunch in Temecula was at a mall, not in the historic downtown area we've visited in the past. Oh well – my younger daughter really likes California Pizza Kitchen, and that was the first restaurant we saw as we came down from the parking garage. They had a well-spaced patio with shade, so everyone was happy.
Leaving Temecula, we had two possible routes to Idyllwild: a shorter route through Hemet that includes a quick, very windy (but very scenic) ascent into the mountains, or a longer route through Anza that climbs more gently into the mountains. The same daughter who loves CPK is prone to car sickness, so we chose the longer, gentle climb. We were rewarded with a sighting for Farmy Farms (yes that is the name of a real farm). We didn't stop but we did take the chance to explain why we thought they should have gone with "Farmy McFarmface" instead. Somehow, my kids had missed the whole Boaty McBoatface thing.
We pulled up to our cabin mid-afternoon and all immediately loved the place. My older daughter loved the trees behind the house. My younger daughter loved the attic room with a little writing desk that her older sister magnanimously decided to stop fighting her for once she saw how low the ceiling was. My husband and I loved the deck.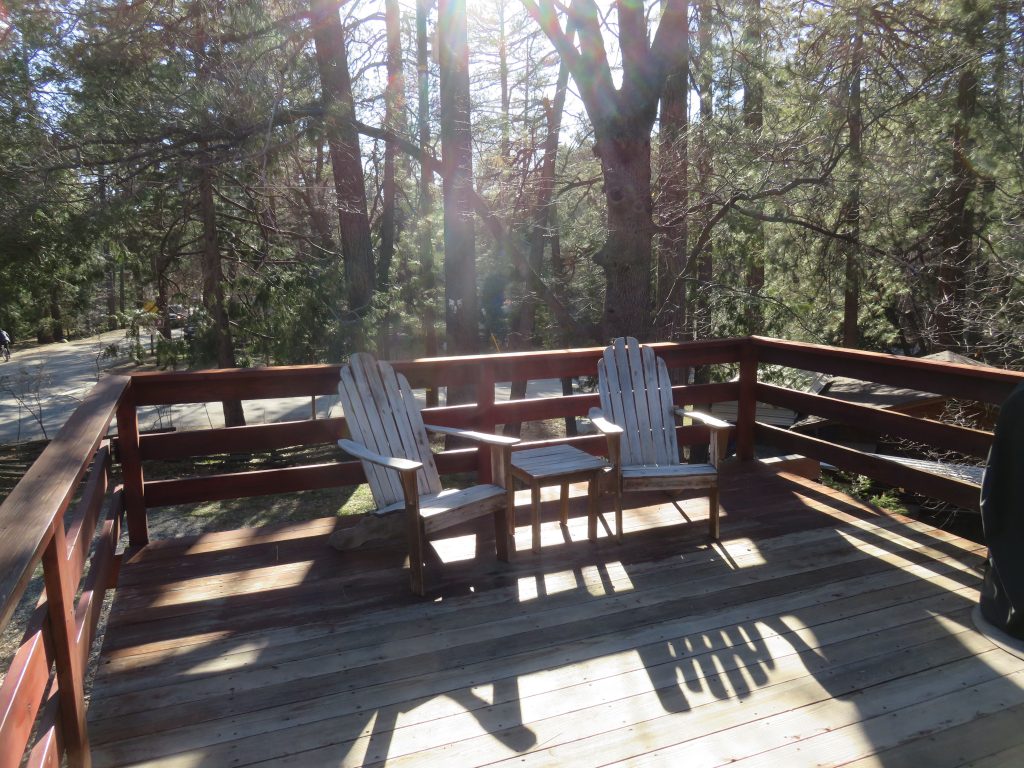 We walked into town – just a five minute walk away – to scope out the dining options and to buy some milk and other supplies. We'd brought leftovers to heat up for dinners, but were hoping to have lunch out the next day and wanted to see what the outdoor patios looked like.
Idyllwild is definitely a tourist town – there were at least three ice cream shops and two candy stores – but it is a pretty town. They have deer statues decorated by local artists positioned around town, and a pretty central square (more like an oval) with tall trees and benches for resting and enjoying the view.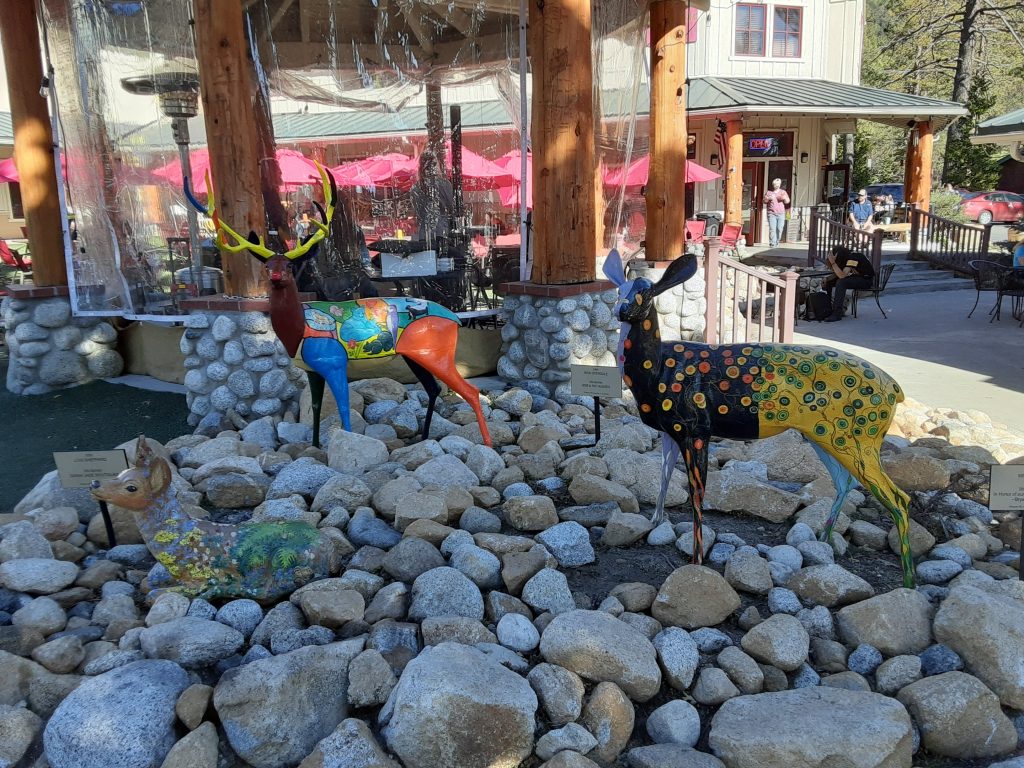 After our exploration, we sat and had a beer on our deck and enjoyed watching the birds and squirrels in the trees surrounding us. The most common birds were the Steller's jays, but there were also some brilliantly colored little birds that we think were western bluebirds.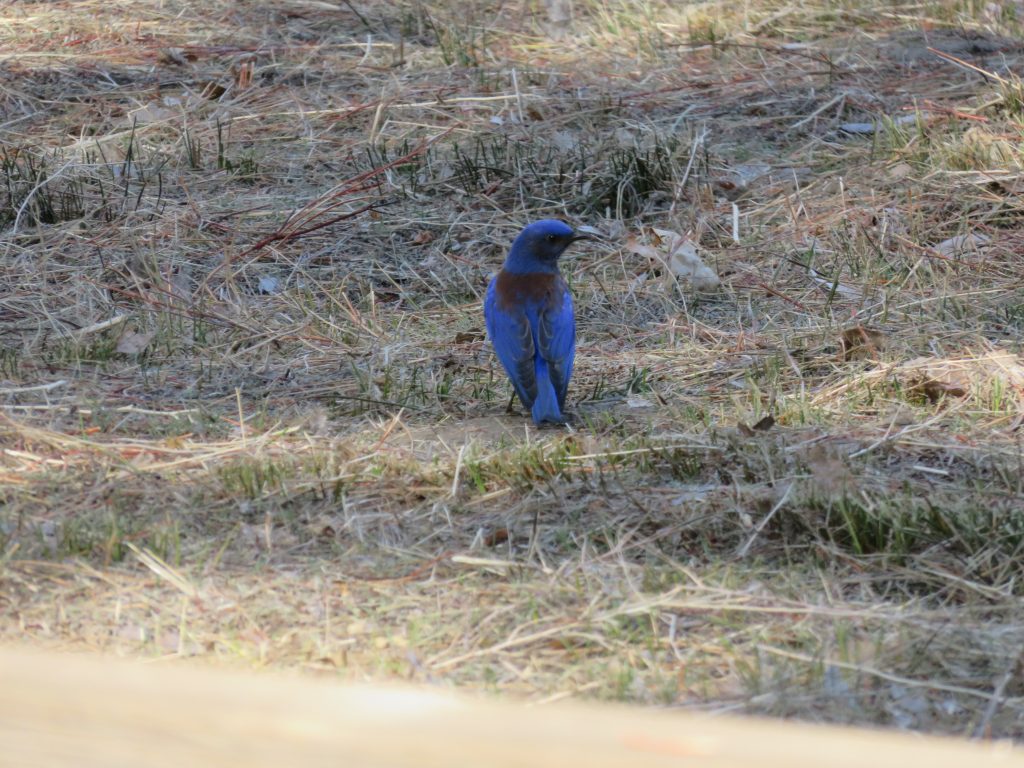 The next morning, we walked from our cabin to the Idyllwild Park and did a little hiking. We walked a portion of the Perimeter Trail and the Hillside Trail, cutting off from the Hillside Trail as it started a steep ascent towards the Idyllwild Nature Center and instead returning to the campground in the middle of the park by way of a spur from the trail, which had clearly been used by many campers. Our older daughter is our hiker, and she loved this spot. There were tall trees, a stream to cross, and boulders to climb on. There was even one tree that was climbable, not far from where we headed back to the campground. Our younger daughter is not so into hiking, but she was a good sport on the hike and also enjoyed climbing on the boulders. And of course, there were some beautiful views.
We took a short rest after our hike and then headed into town for lunch. We decided the Idyllwild Pizza Company had the best combination of food our kids would eat and an outdoor dining area with enough space to avoid being close to anyone else, and so that's where we headed. The pizza was pretty good and it was nice to sit and have a pizza and a beer, even if we were in a patio area that was nestled between propane tanks and a parking lot!
Our afternoon outing was a visit to Lake Fulmor, a short drive away. My husband and older daughter attempted to fish (no fish were caught but a nearby tree was hooked a couple of times). My younger daughter read, and I just enjoyed the scenery.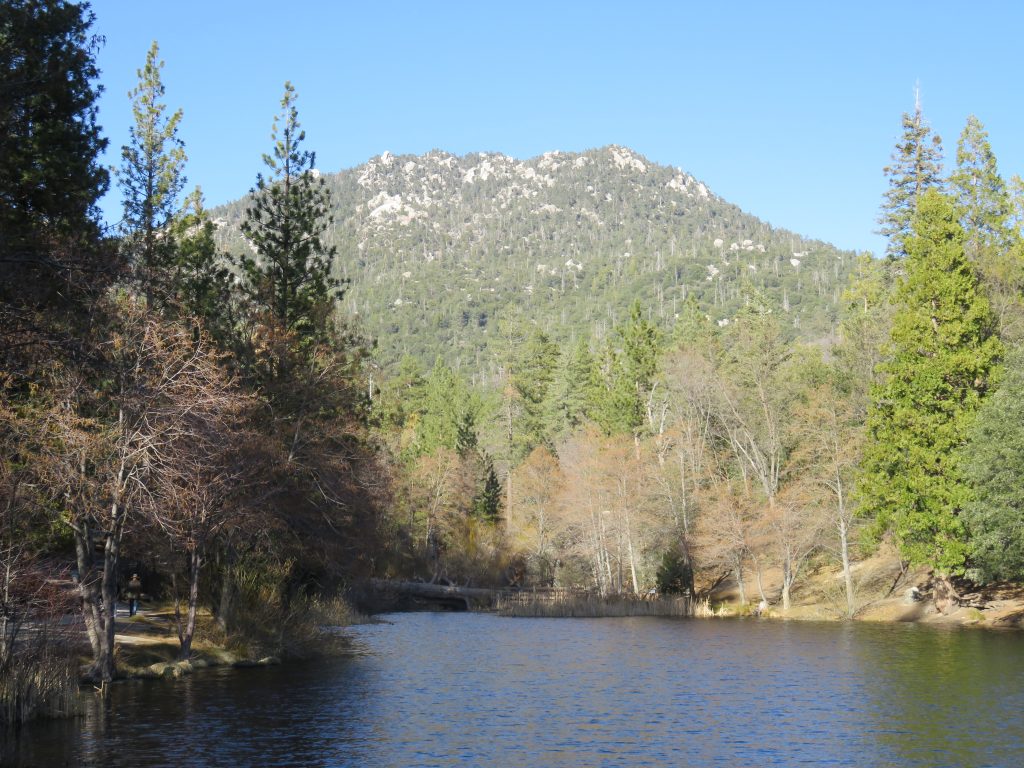 There were four or five ducks hanging out on the lake, and at one point two of them took off and flew down the lake, flying low and leaving a trail of ripples behind them. I did not manage to get a picture, but it would have been a classic shot, with the low-flying ducks, the ripples on the lake, and the mountains in the distance. Oh well, not everything that is nice to see must be photographed!
We had dinner at the cabin again and all agreed that we should have booked three nights instead of two. We had been uncertain of how we'd find traveling and how much we'd find to do that my hiking-skeptic younger daughter would enjoy and so had only booked a short stay. Next time, we will stay longer.
The next morning, my husband and older daughter returned to Idyllwild Park for a short hike while I packed up the house and got us ready to go. We left the house and went back into town for ice cream before we left. There is a place that sells homemade ice cream that was delicious. To be honest, the other ice cream shops probably had yummy ice cream, too. When we go back I will make a more thorough investigation.
We drove back via Anza and stopped in at an outdoor art gallery we'd seen on the way up. Ricardo Breceda's giant iron sculptures are a favorite stopping point for San Diegans heading to the Anza-Borrego desert but somehow, this was our first time seeing them.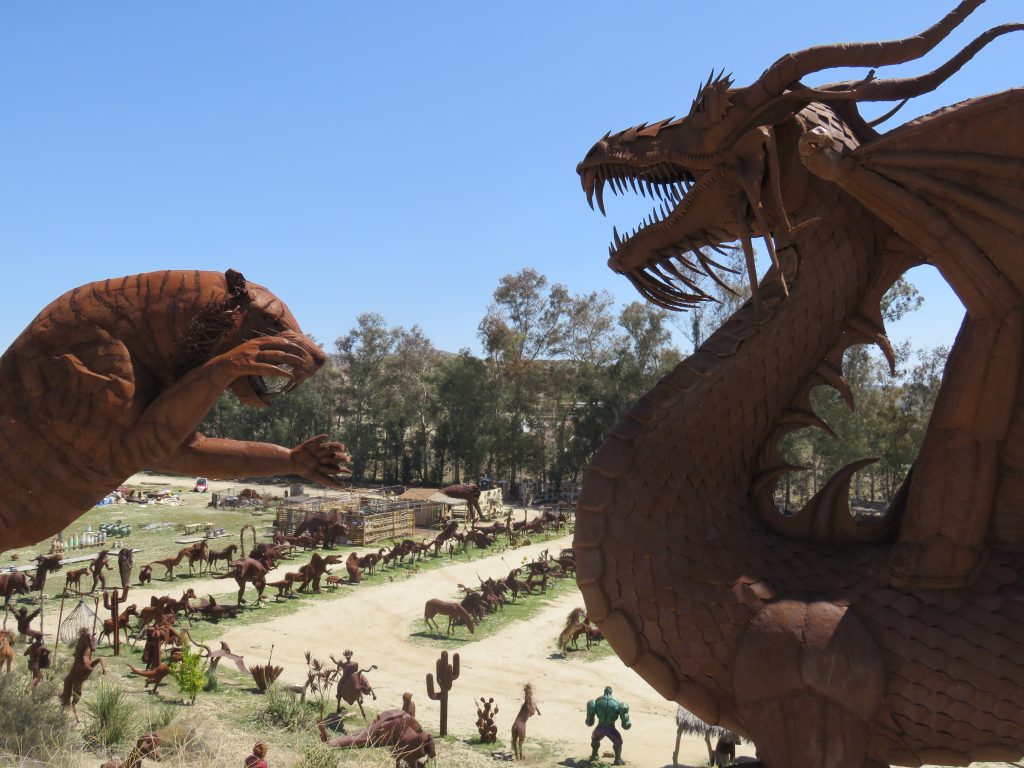 You can wander around the gallery for free, although there is a donation box if you want to support the artist. Instead of donating, we bought two small iron cacti, which will soon be installed in our front yard. They will be a nice souvenir of our first getaway since everything shut down last March.
We stopped for lunch in Temecula again to recharge our car and then drove home, having thoroughly enjoyed our short visit to Idyllwild. We'll almost certainly be back soon for a longer stay!