I remain in a mood to look back on old vacations. My 2020 vacation plans were scuppered by coronavirus, and although there are worse things than a "staycation" in San Diego, I've kayaked on Mission Bay too many times for that to have scratched my travel itch.
Luckily, I have years and years of old vacation photos and memories to review. Tonight found me looking back on a trip we took to Oregon when we were still a family of three… or three and a half – I was pregnant with our second child during this trip.
Our older daughter was two on this trip, which is not an age known for being easy to handle. I am sure she threw some meltdowns on the trip, but I don't remember them. I do remember some spectacular meltdowns from the California road trip we took when she was four (and her little sister was almost two), so it is not that I filter meltdowns out of my memories. I think it is more that my overarching memory of the Oregon trip is of being tired. I was about five months pregnant, and I had to beg off many afternoon outings for a nap in our hotel room.
It was a fun trip, and I have a lot of fond memories of it. Looking back, so many of my memories involve my daughter. It was the trip on which we discovered that brew pubs are the perfect place to eat out with a toddler. All the adults are happy and there's enough background noise that an occasional errant outburst is unlikely to be noticed. It was also the trip on which we discovered how much she liked doing puzzles. We bought several at toy stores around Oregon, attempting to keep her happy.
Looking back through the photos from the trip, I saw a lot of happy memories: Our daughter touching snow on Mt. Hood and not really knowing what to make of it, her playing in a splash fountain in Hood River. The windswept beach in Newport, and this moment when she saw the seals (sea lion?) and imitated their bark:
But I also was reminded of some other moments, like looking out the window at the beautiful view from the lodge at the top of Mt. Hood: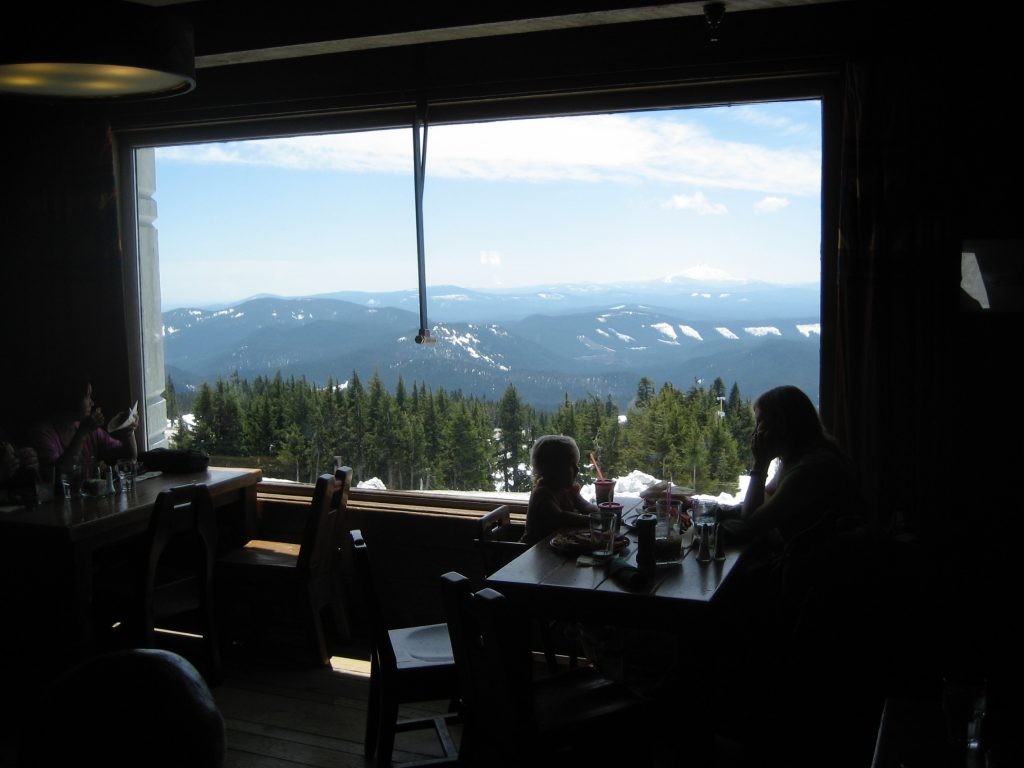 And watching a sunset over Newport Beach from our warm and not windy hotel room: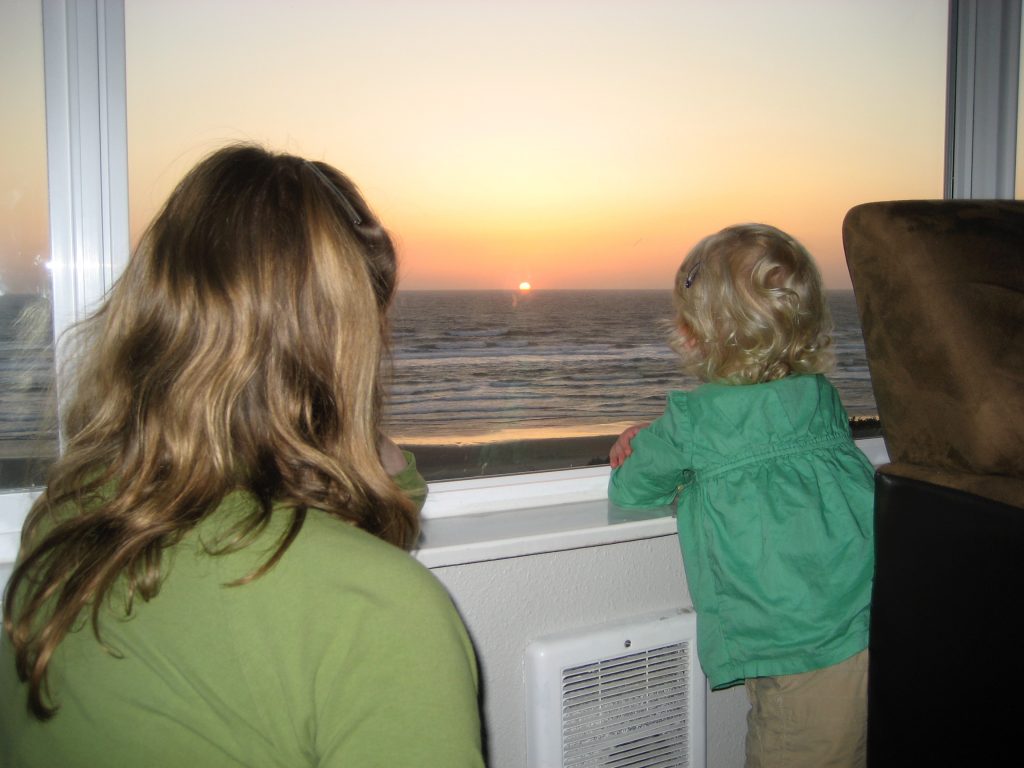 Even now, when my kids are 13 and 10, traveling with them involves some trade-offs. There are things the adults would like to do that just won't work for the kids, and we tend to prioritize our kids in those situations. We figure that we won't enjoy anything with kids whining at us, and we always assume (perhaps erroneously) that some day we can come back without the kids to pick up whatever we missed with them.
But it is also clear to me that traveling with the kids adds a lot to our trips, too. Things that seem commonplace to us are new and exciting to them, and as cliche as it is, seeing the world through your kids' eyes is refreshing. There are things we search out because they will like them that end up supplying some of our favorite memories Here's hoping we'll be back out on the road with them soon.