The single-day flight options from San Diego to Nova Scotia weren't particularly great, so we decided to include a stop in Boston on either side of our East Coast Canada summer vacation. On the way to our vacation, we just spent the night in the airport hotel: We arrived late and were supposed to leave early. Of course, our flight was delayed by a couple of hours… but that wasn't in the plan!
On the way back to San Diego, we had a bit more time in Boston—roughly 36 hours. Our flight landed at about 9 a.m., and we were able to get to our hotel near Beacon Hill, stash our bags with the bellhop, and head out to see the State House before lunch. My husband has a thing about state capitals. He always wants to stay a night in the capital city, and it only really "counts" (because of course he keeps a list) if he gets to visit the capitol building. And so, the Massachusetts State House was our at the top of our list of things to see in Boston.
We stopped first in a corner shop to buy some snacks and a diet Coke for me. I was feeling the effects of our early morning flight! We took our snacks to the Boston Common. My younger daughter was angry we didn't have her swimsuit so that she could have a splash in the Frog Pond.
Since we didn't have swimsuits, we headed over to the State House instead. It was nice. I don't share my husband's fascination with state capitol buildings so that's about all I can say about it. It did have a truly lovely library/reading room, though, which was open to the public.
After we left the State House, we went and got lunch. I'd found a place nearby with pasta and paninis, and that served us well.
We decided to check out some of the spots on the Freedom Trail. We saw King's Chapel, the Old South Meeting House, Faneuil Hall, Old North Church, and the Paul Revere House. I think the Paul Revere House was my favorite. It gives you the chance to think about Paul Revere as a person instead of an icon. There was also an interesting ranger program about Revere's second wife, Rachel, who maintained the house and family during Paul's frequent absences for business (and politics). It was also interesting to tour a house built in 1680 — it is apparently the oldest house in Boston. It is a small house, even with the additions various owners made over the years, so as you walk through it, you can't help but think about what it must have been like to have such a large family crammed into that living space.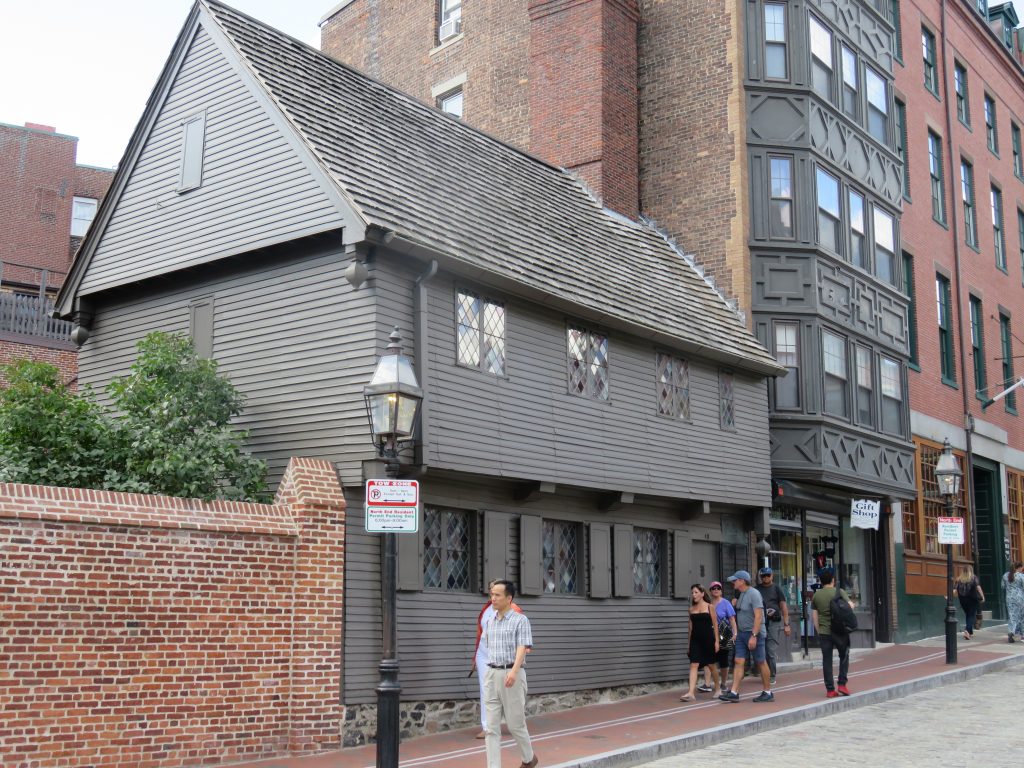 After visiting the Revere house, we walked back to our hotel and had a bit of a rest before heading out to meet an old friend for dinner. Since we like to sample craft beers, our friend suggested a place called Hopsters in the Seaport district. We enjoyed our food and beer, and the walk over to the restaurant. Also, there was a really cool park right across the street, the Children's Wharf park.
As we walked back to our hotel, we paused to enjoy some public art in the Rose Kennedy greenway. The kids really enjoyed the Steam Sculpture garden, a fun steampunkish sculpture.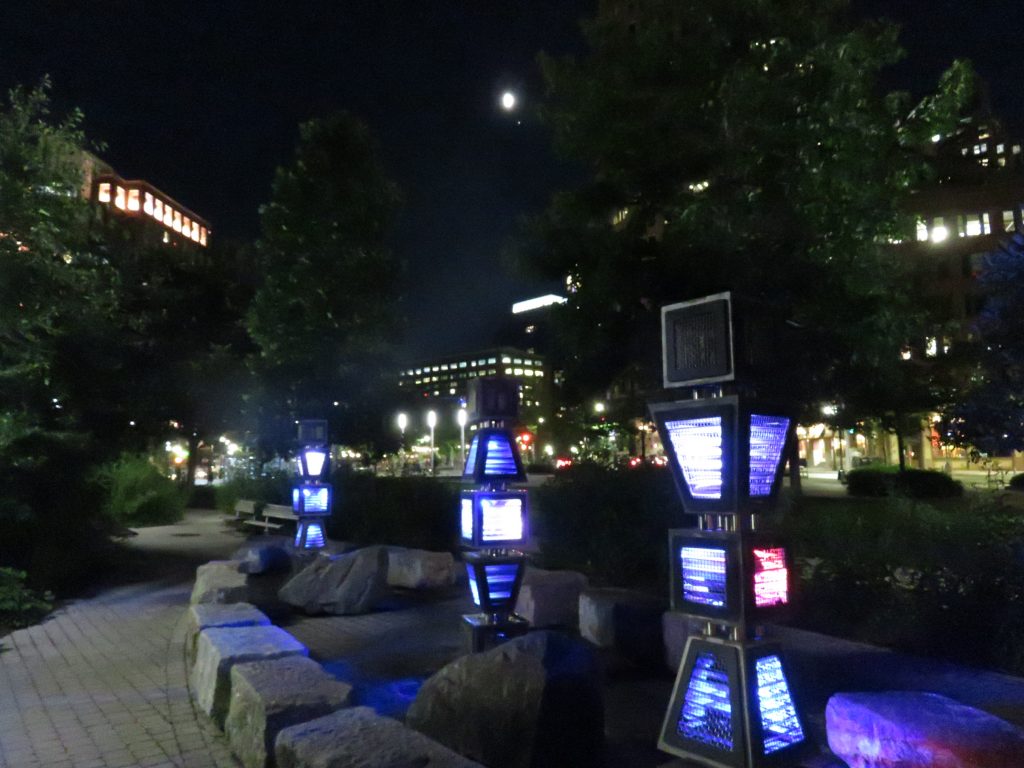 My favorite was Karl Unnasch's sculpture Operant, which was a dumptruck with stained glass windows, dropping a load of glowing rocks.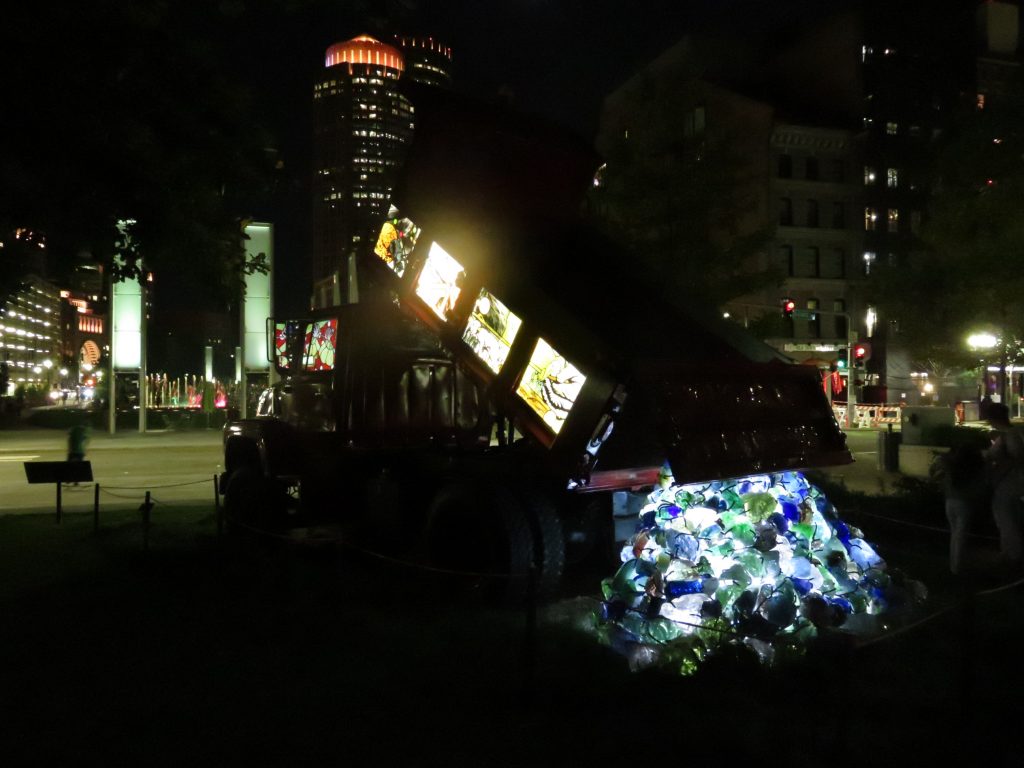 Our flight didn't leave until late afternoon the next day, so we had another half day to explore a bit more. Our main goal was to go back to the Freedom Trail and saw enough sites to allow my nine-year-old to get her Junior Ranger pin. We walked by way of the Boston Common and Public Gardens so that we could stop in and see the famous Make Way for Ducklings sculpture. We also stumbled across a sculpture of a dog in someone's front yard as we walked from the Public Gardens to the Esplanade playground (a stop my husband found to give the kids a chance to play). We surmised that this sculpture was in honor of a real dog who used to stand in the same spot. Later I found the real story: The dog who inspired the statue was still alive when the statue was made.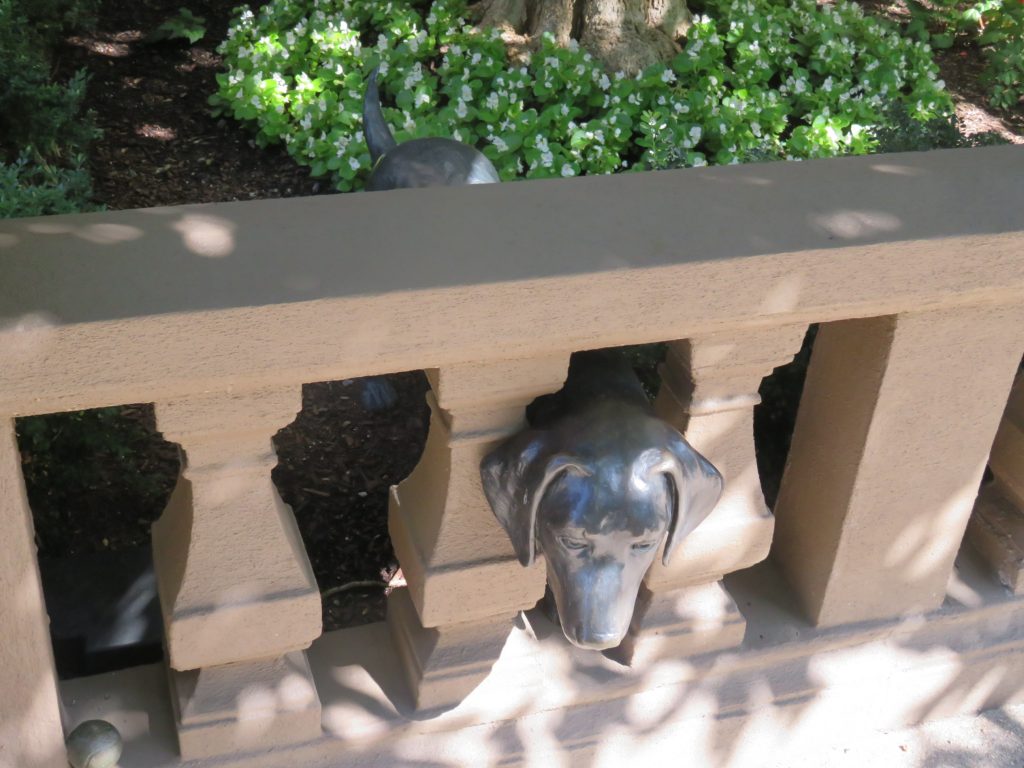 The highlight of the day for me, though, was finding the Patios at Boston Seasons, a cool outdoor patio with some snacks and drinks. I could have lounged there for much longer than we did.
The highlight for my nine-year-old may have been the short ride we took on the T. We had thought we might go to the science museum, but we realized we didn't have the time to spend there to justify the high cost of the tickets. She was really unhappy about that — so we decided to do one of the other things she'd asked to do: Ride on the subway. She was delighted with it! And we did arrive back at Faneuil Hall less tired. My nine-year-old completed the requirements for her junior ranger badge, and then we headed to Quincy Market for a quick lunch before going back to the hotel, gathering our bags, and getting a ride to the airport.
All in all, our short time in Boston was a lot of fun. We all thought we'd like to go back sometime with more time to spend.