Both of our kids were out of town for spring break this year, so my husband and I got a chance to try some new restaurants without worrying about whether there would be something on the menu that our children would eat. I'll share four of the restaurants we tried, in four different parts of town. I'll go in the order in which we visited them.
Mexican Lamb Barbeque in Chula Vista
A friend heard my husband talking about how much he likes lamb and told him about Aqui Es Texcoco, a restaurant in Chula Vista that specializes in lamb barbeque from a specific region of Mexico. We decided to start of our kid-free week with a trip to check it out.
Even though Chula Vista is only about 20 minutes from our house, we don't go down there very often. So before heading to dinner, we went over the the Bayfront Park for a stroll. It was a nice stroll… but not a very warm evening, so we didn't linger long.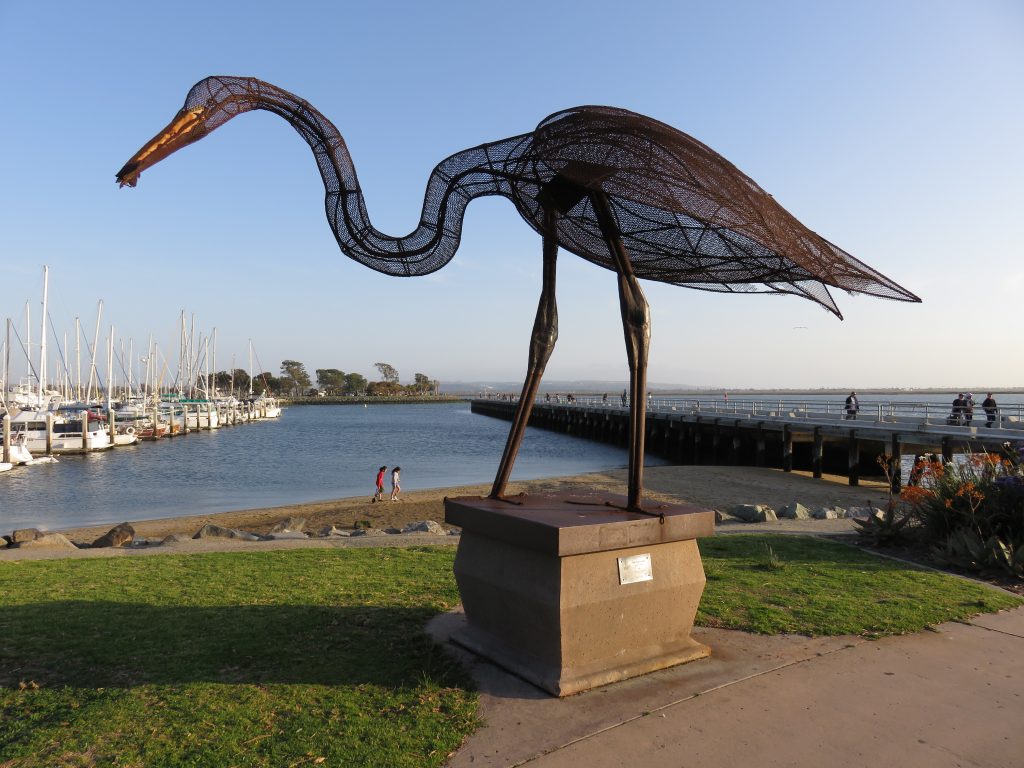 Aqui Es Texcoco was a short drive away. It is an unassuming storefront in a strip mall on Broadway. When we walked in, the waitress greeted us in Spanish, but quickly switched to English once she saw we didn't understand. She explained some of the options on the menu, and recommended that we try the lamb barbeque plate. We took her advice, and were not disappointed. We got the meat and rib option. You could tell the difference between the two cuts, but both were delicious. Unlike my husband, I don't usually care for lamb – I find it has a distinctive musty taste that I do not like. There was no such taste in this lamb – it was just wonderful.
If you visit, I recommend also trying the agua frescas, which are made on site. I had the tamarindo and my sister had the jamaica (hibiscus). Both were refreshing and not too sweet.
Could we go back with our kids? Yes. There are quesadillas on the menu!
Asian Fried Chicken on Convoy Street
Convoy Street is one of my favorite destinations for good food, and also an area that frustrates me because I think it has the potential to be so much nicer to visit. It is absolutely packed with great, interesting restaurants, but it is perhaps one of the least walkable parts of town. Convoy is a busy street, parking is tight so cars are circling… just not at all a nice place to stroll.
I bore my husband by ranting about how the city should revamp the area every time we visit, but it is worth the hassle (and enduring my rants), because the restaurants are so good.
This spring break, we finally got to check out a place called Cross Street Chicken and Beer, which I've been curious about for quite awhile. It was wonderful! The menu is exactly as the name advertises – chicken and beer. The beer is the standard San Diego craft selection (so good), and there are several options for the flavor on the chicken, from a standard fried chicken to a garlic parmesan to some interesting Asian fusion options. We had the soy garlic and the Sriracha lemon, and both were delicious. There is also a really yummy cheesy corn starter that I highly recommend, even though you know you're going to get more chicken than you can possibly eat, and various other starters and a couple of other entree options.
Could we go back with our kids? Maybe – depends on how spicy their chicken strips are. We weren't about to waste one of our choices finding out!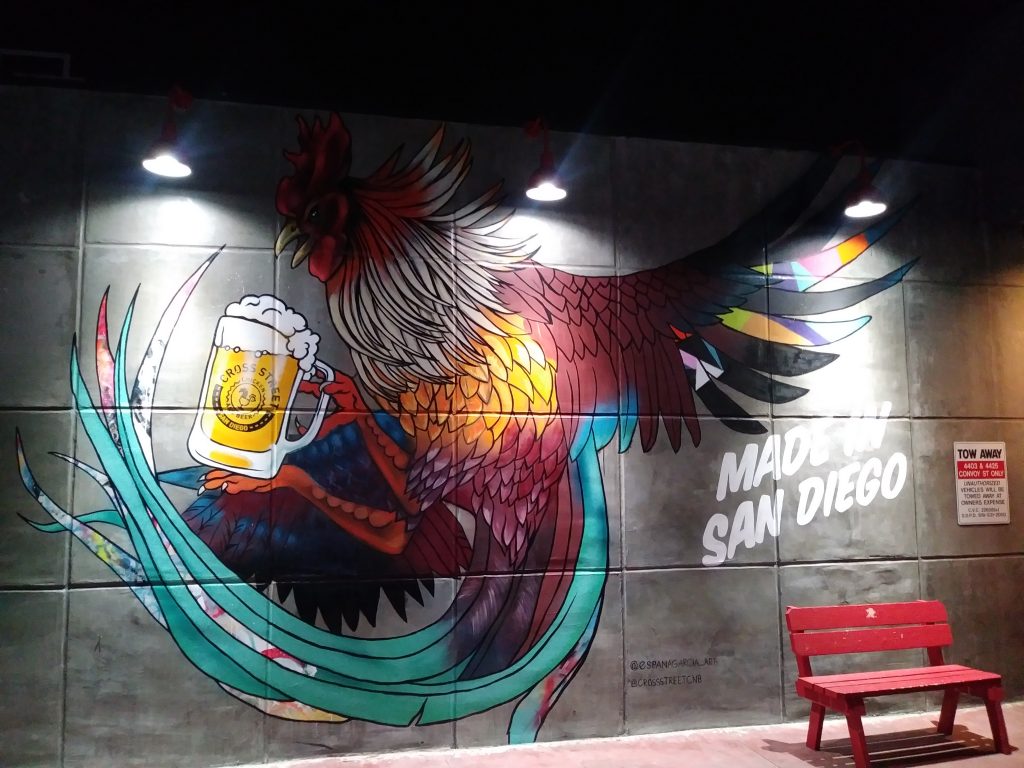 A New Zealand Brew Pub in University Heights
When Kairoa, a New Zealand brew pub, opened in town, we knew we had to visit. In fact, our visit over spring break was our second, but the first time we arrived not long before a private event was going to start and had somewhat surly kids in tow… so didn't feel like we'd really appreciated the place.
This time, we went earlier and everyone in our party was happy to be there! The food is very good, and I think it is fair to say the menu is New Zealand inspired. They have a savory pie on the menu every day, and as luck would have it, the day we visited it was steak and cheese, which is my favorite type of NZ meat pie. There are also sausage rolls on the appetizer menu, which makes my husband happy.
The beer is pretty good, too, and the space is nicely decorated with some nice touches that nod to the NZ theme, like end tables in the waiting area shaped like sheep.
The night we visited, the dessert menu included pavlova, which of course my husband ordered. Then the waitress came back to say that the pav had failed so they couldn't sell it to us. My husband somehow convinced her to bring it out anyway (we think perhaps by speaking earnestly of his own failed pavs) and it was actually quite good! Plus, they brought him the rest of their failed pav in a to go box, so he left quite happy. I have an "Anzac biscuit tart" for dessert, which was a mini tart with a crust made of Anzac biscuit and a creme custard filling. It was also very good.
Could we go back with our kids? Well, we went with them once, and they didn't find anything on the menu they liked. Maybe we could try brunch.
Pupusas in National City
Believe it or not, I'd never had a pupusa before we decided to try Silvia's Pupuseria in National City. We picked it based solely on the strong ratings on Google, and it did not disappoint. I picked two pupusas, one chicharrón (shredded pork) and one papas (potato). Both were delicious. I don't remember which ones my husband picked, except that one of them had an edible flower. He said his pupusas were delicious, too.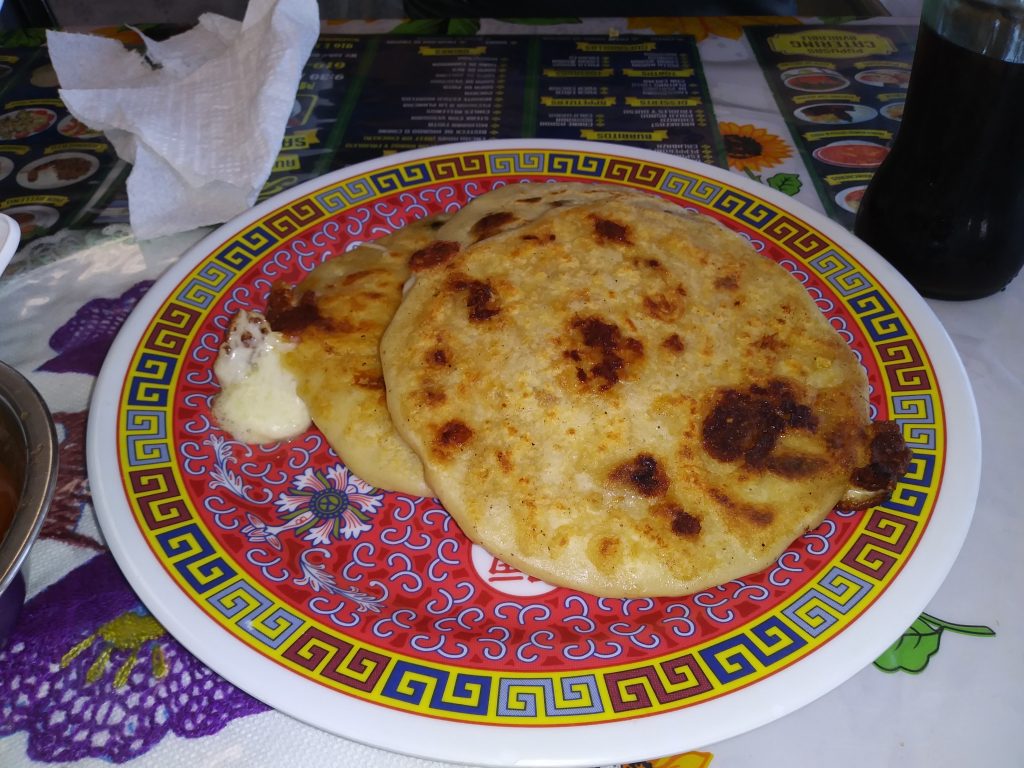 When I checked the menu online, there were only a few types of pupusas listed, but the menu is actually pretty big, and we'd definitely like to go back and try more options.
Could we go back with our kids? Probably. There is a cheese pupusa that isn't terribly different from a quesadilla, and the kids might be convinced to try that.
One of the great things about living in a city is the wide range of different and delicious restaurants to try. There are many, many more restaurants on my "to try someday" list – so there will probably be more posts like this to come!