I wrote about the first part of our recent vacation in New Zealand earlier, covering our time in Wellington, Rotorua, and Waihi Beach. In some ways, leaving Waihi Beach after nine incredibly relaxing days felt like the end of our holiday, but it wasn't. We still had more things to see and more fun to have!
Our first stop after leaving Waihi was Paeroa. We stopped for a morning snack – and to see the "world famous in New Zealand" giant bottle of L&P. L&P (or Lemon and Paeroa) truly is a local drink. It is a bit like a mix of cola and lemonade. If you visit New Zealand, you should try it! And if you find yourself in Paeroa, you should stop and take a picture with the giant bottle.
After leaving Paeroa, we decided not to take the fastest route to Auckland. My husband had never seen the west side of the Hauraki Gulf, so we decided to detour off Highway 2 at Highway 25, and head up to Miranda to drive along what is called "the shore bird coast" and on up to Kawakawa Bay, and then over to Clevedon and from there into Auckland.
It was a beautiful drive, but I don't have many pictures from it. As we drove up towards Matingarahi Point, my husband commented that the drive reminded him a bit of driving around Rarotonga: you drive at a leisurely pace looking out at beautiful calm, turquoise water. Not far past Matingarahi Point, the road turns inland. The stretch between Orere and Kawakawa Bay is a bit of a winding road, so we decided to stop in Kawakawa Bay to let me and my younger daughter recover from a bit of car-sickness.
I think that at high tide, Kawakawa Bay is probably breathtakingly beautiful. It wasn't too bad at the time we visited, but the view out to the water included quite a large stretch of mudflat. Locals were walking out to look for shellfish.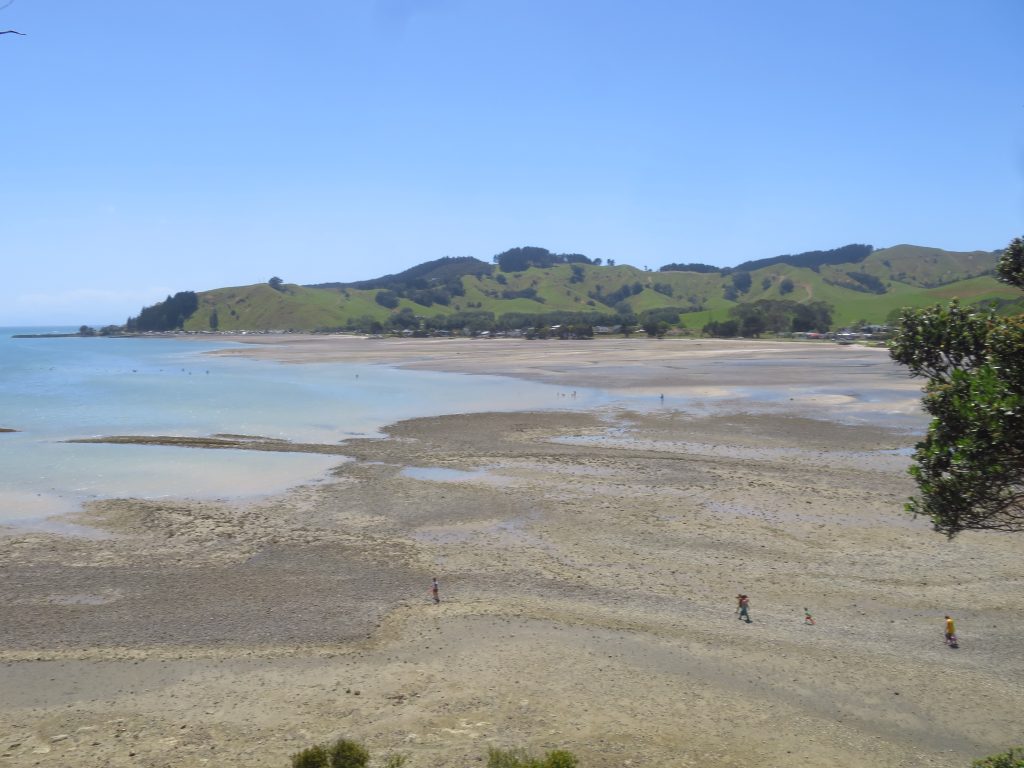 Once my daughter and I were feeling like getting back in the car, we drove on to Clevedon for lunch. That meal was my husband's pick for his favorite meal in our "awards show" wrap up of the trip! The rest of us liked our food, too – and I have to say, the chicken fingers the kids had were some of the best chicken fingers I've ever finished for my kids.
We usually stay in the city center when we visit Auckland, but this time we decided to try something different and stayed in Takapuna, one of the inner suburbs of Auckland. We arrived early in the afternoon, so we decided to do a little exploring before dinner.
We walked over to Smith's Bush, a small patch of native forest in the middle of the city. It was about twenty minutes' walk from our motel, and we were feeling the summer sun by the time we arrived. But it was cool and shady once we entered the forest. Several people were clearly there for exercise – we got looped multiple times by a couple of joggers and several speed walkers. We walked slowly, reading about the trees and epiphytes, and enjoying the forest. The path was a raised boardwalk, so we could stroll along, looking up and admiring the sunlight filtering through the tall trees without worrying about tripping on tree roots. (The boardwalk also protects the native plants from anything visitors might tramp in on their shoes.) We saw several types of native trees, and also saw a silver fern. My older daughter really wanted to see a silver fern, so it was lucky there was one here!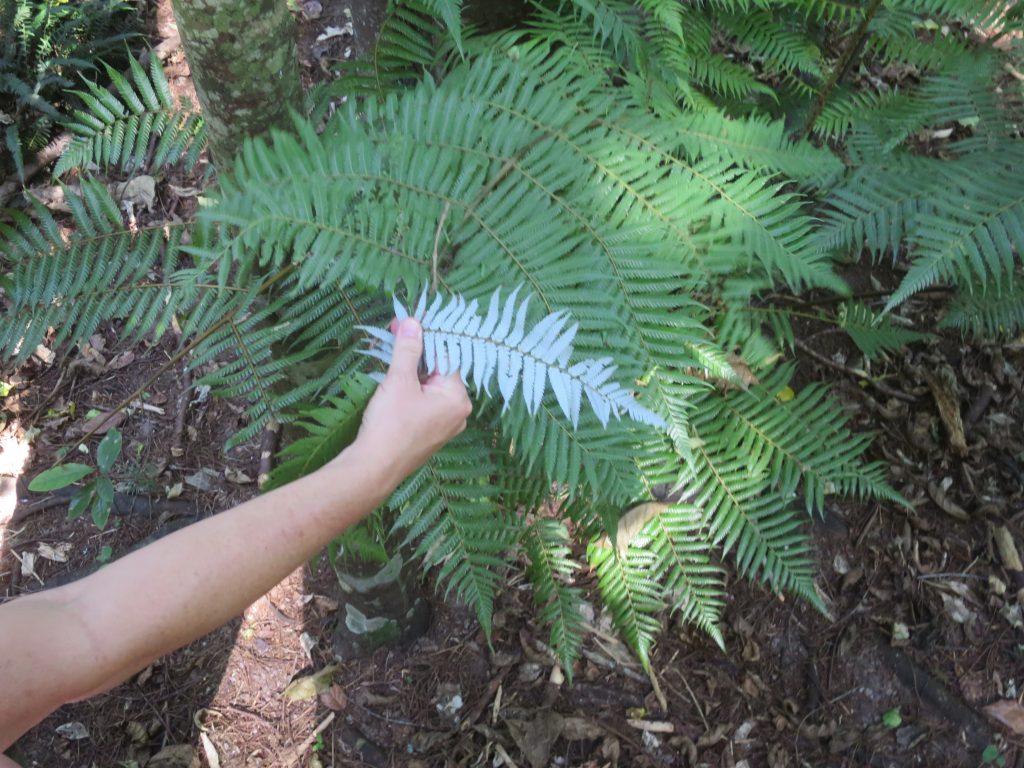 We had a small rest in our motel before heading out to dinner at the pizza/pasta place in Fortieth & Hurtsmere, a cool restaurant alley in the central part of Takapuna. Afterwards, we strolled over to check out the Takapuna Beach Reserve playground and confirmed that it is indeed a very good playground (it has been voted one of the best in Auckland!) but had been a bit spoiled by the relative lack of people on the playground we visited in Waihi Beach – the kids thought this one was too crowded, so we walked back to our motel, skirting Lake Pupuke. It is a large and nice-looking lake. I think if we'd been staying in the area longer we might have gotten out for some kayaking of SUPing on it.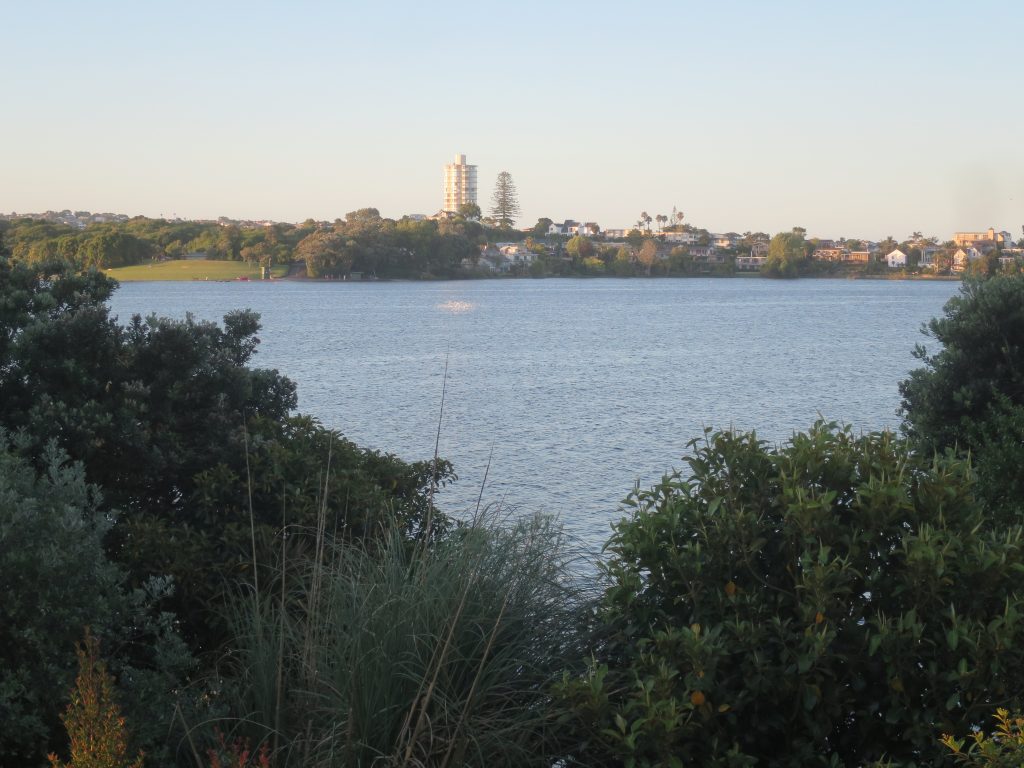 We started the next day with a visit to Devonport. My 9 year old had requested a visit to a kids' museum. The only kids' museum I could find in Auckland was not at all convenient for our other plans for the day, but I did find something that indicated that the Torpedo Bay Navy Museum had some fun kids' activities, and she said that sounded like it would do.
The Navy Museum turned out to be really interesting. It is small enough to take in most of the exhibits even if you are tagging along after a 9-year-old doing a scavenger hunt. I particularly enjoyed the American Bullshit Sifter, used by Kiwi service members to "sift" the stories told by the visiting Yanks whenever they got a little far-fetched.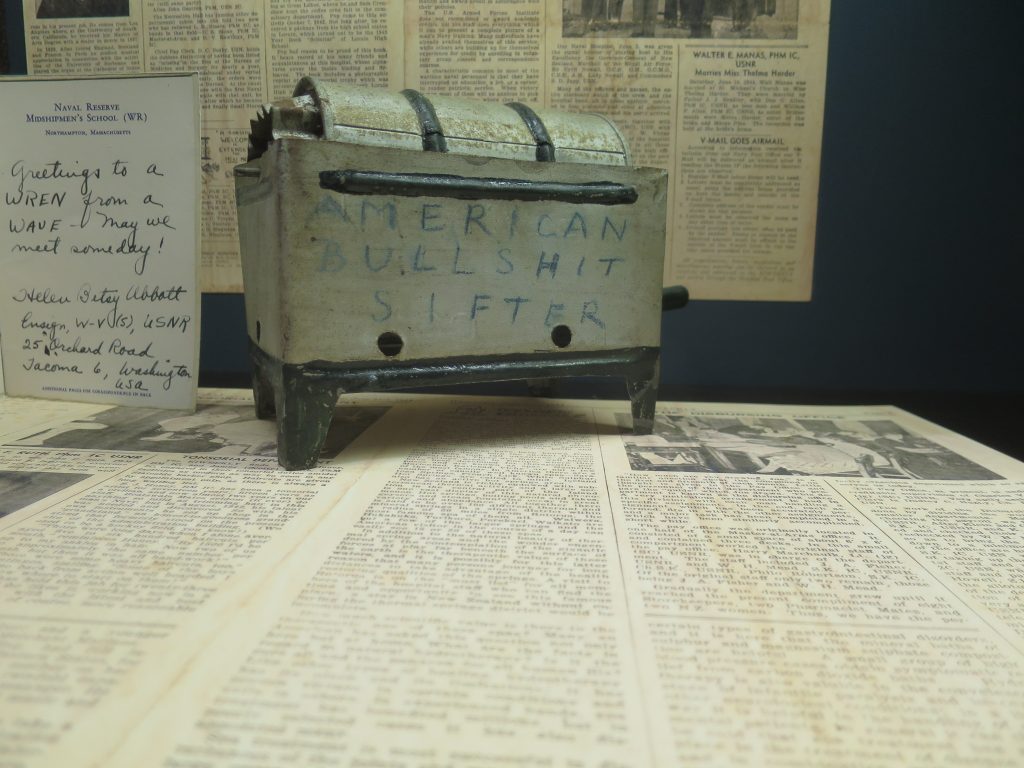 After we were done at the museum, we walked up North Head to visit the old tunnels that housed defensive guns and to take in the spectacular views of Auckland.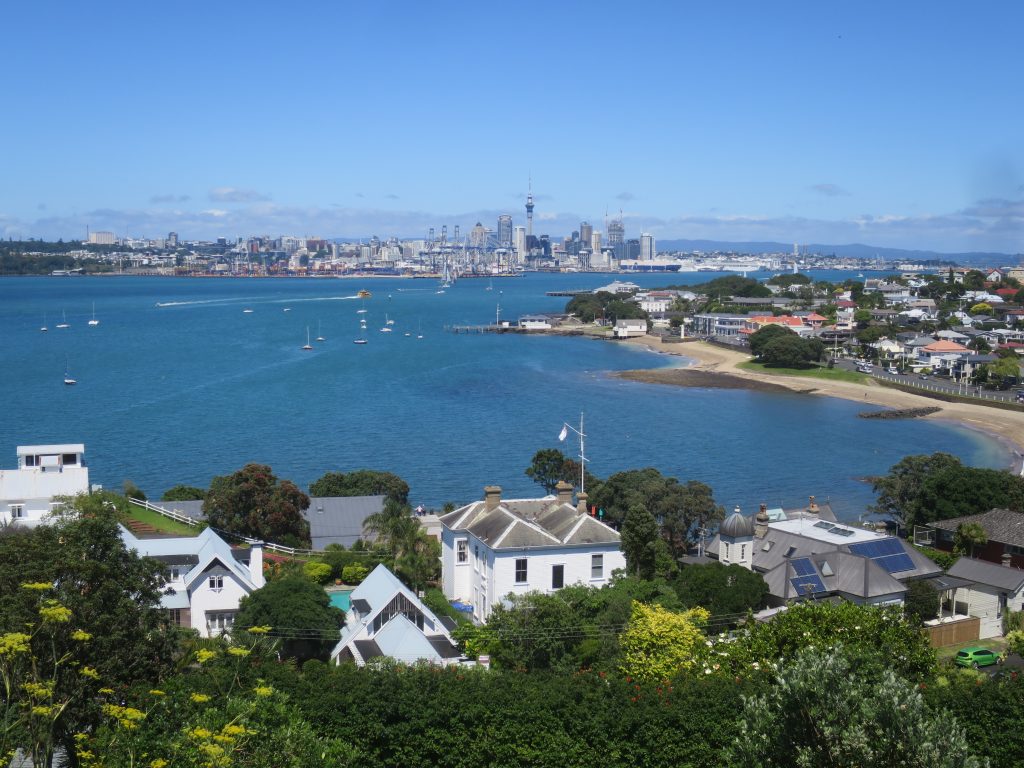 Then we drove out west for lunch. We were planning to meet up with a friend out that way later for dinner at his house. We had lunch at the Hallertau Brewery and Biergarten. I'd found this via a web search, but it turns out to be a very popular outing for Auckland families – we were lucky to get a table. We all enjoyed our food and my husband and I enjoyed sampling the beers.
After lunch, we drove on out to the Muriwai gannet colony. My 11-year-old loved it. My 9-year-old hated it. I thought it was pretty cool. There were thousands of birds there. At the time we visited, there were mostly adults and fledglings (adolescents), with a few babies still around. My 9-year-old hated it in part because of the smell, and she's right: It was pretty strong. But the birds are amazing, and the cliffs and beach are beautiful.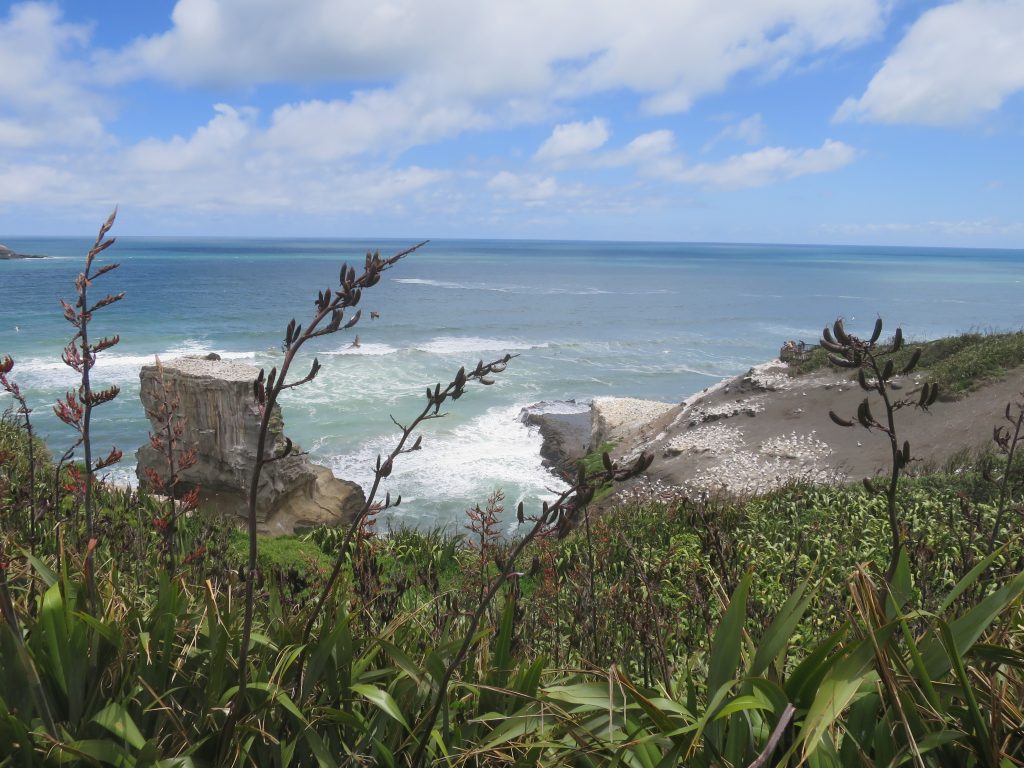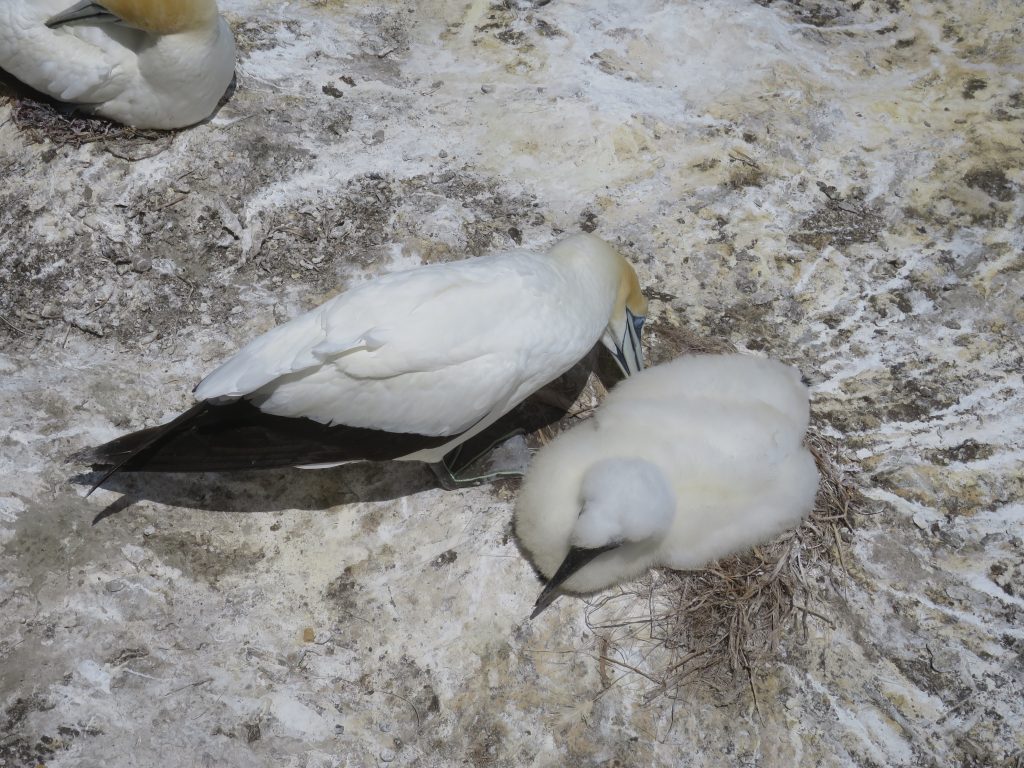 The next day, we drove into the city center because the kids insisted we needed to go up in the Sky Tower like we had done on our prior two trips. Apparently, this is now a tradition. While there, we watched several people do the guided free fall from the top deck. To each their own.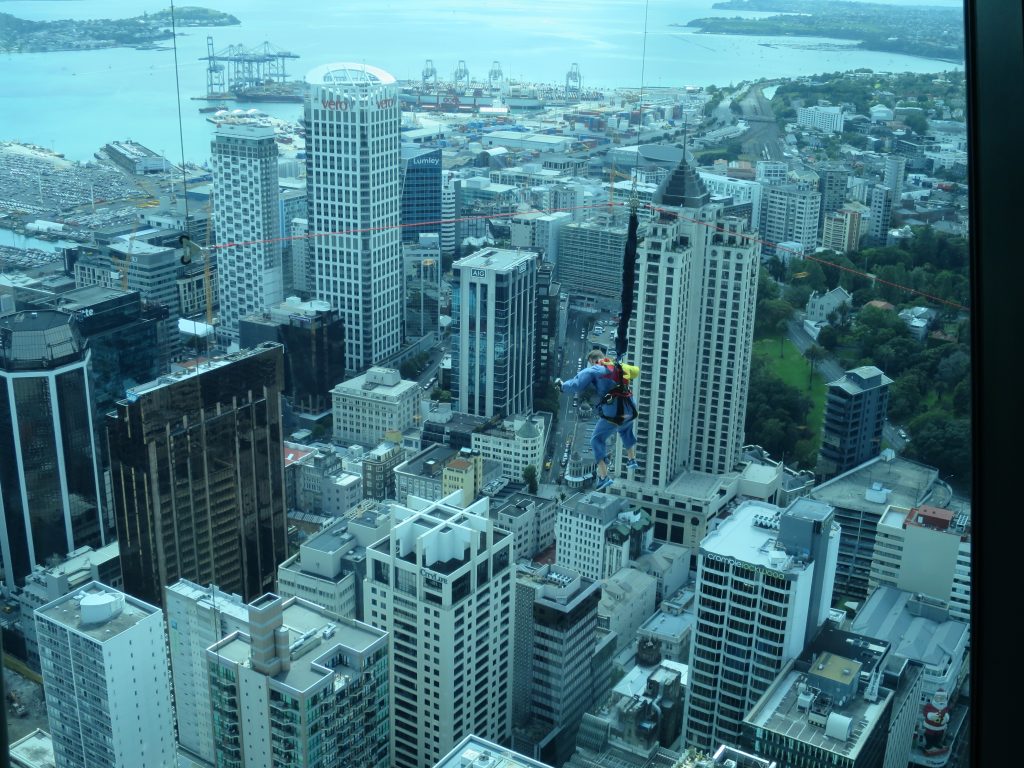 We left the Sky Tower and headed over the Wynyard Quarter for lunch with some friends, and then spent a pleasant afternoon strolling around downtown and doing some souvenir shopping before meeting up with some other friends for a picnic in Cornwall Park. One of my favorite things about Auckland is the number of parks sprinkled around the city. They always have big grassy areas and huge shade trees, which just looks luxurious to my desert-raised eyes!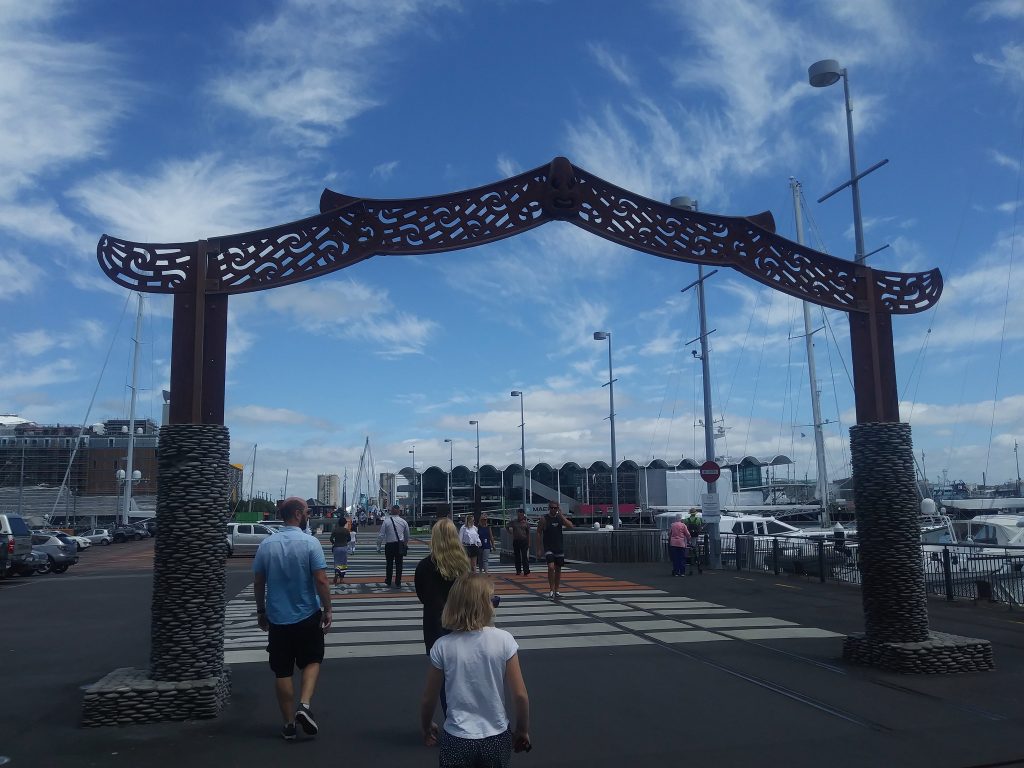 The following day was our final day in New Zealand. Our flight left in the evening, so we drove back to the city center after checking out of hour hotel mid-morning. My husband headed out for a last beer or two with friends while the kids and I did some last-minute souvenir shopping (I finally made it to my favorite souvenir shop, Pauanesia). Then we went to the Auckland Art Gallery for a bit before grabbing one last New Zealand ice cream, visiting one last playground, and heading back to our friends' apartment for a shower before our flight.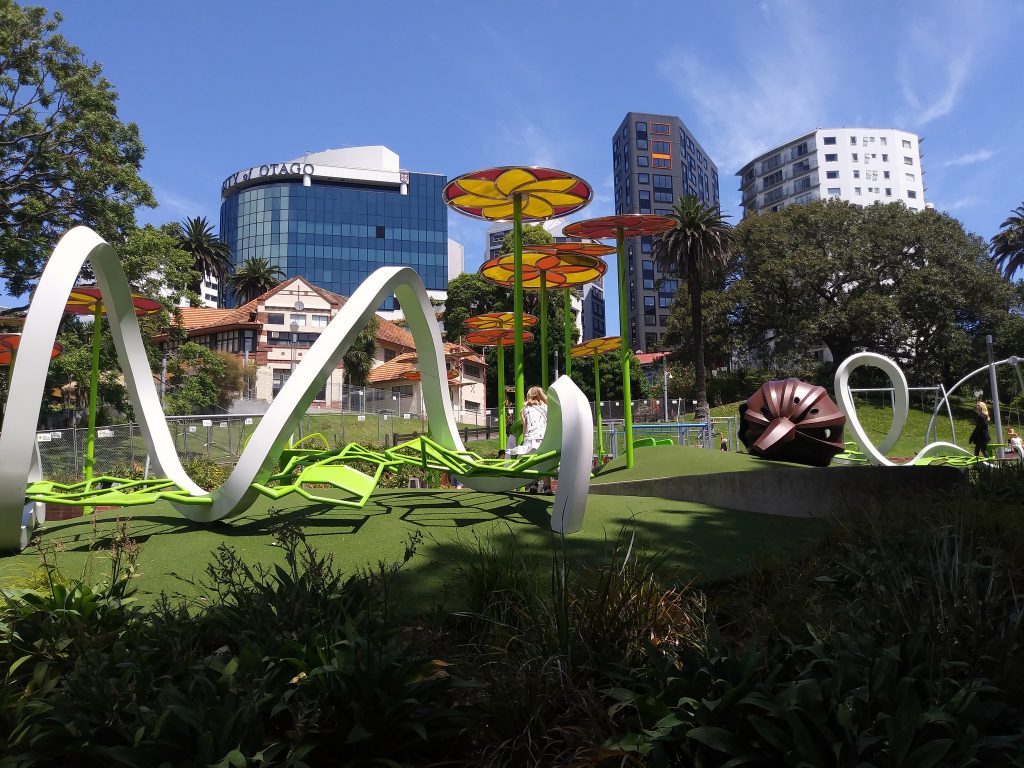 Trip details: Late December 2018 – early January 2019; Travellers: Me, my husband, and our two kids (ages 9 and 11).